IIM Kashipur's MBA internship programme to aid development in Uttarakhand
IIM Kashipur's "experiential learning" programme aims to help students build skills in sustainable rural development while on the job.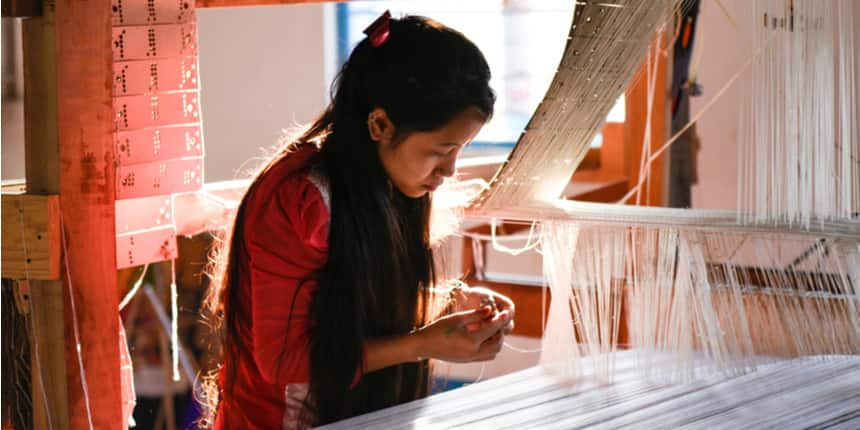 NEW DELHI: From October 2021, Mulya Creations, a small, local startup in Dehradun, Uttarakhand, which creates eco-friendly textiles with the help of local craftswomen, has received additional help from the Indian Institute of Management (IIM) Kashipur.
The start-up, which serves around 2,000 customers, has five students from one of the premier management institutes of India to help with their operations as part of IIM Kashipur's new experiential learning programme.
Also Read | How B-schools became centres of public policy training

As part of it, IIM Kashipur is sending MBA students to work with local organisations or startups tackling issues relating to environment, sustainable development and local governance. Divided among different groups, the IIM Kashipur students will work on 55 such projects with nearly 20 organisations across Uttarakhand. The present batch is working on developing seed banks for seeds from the mountains, biodiversity planning, improving reading and comprehension of primary school children, and helping brand and market the products of local cooperatives.
Functioning as a year-long internship, MBA students will be expected create innovative, practical solutions to local issues to bring development in the region.
The programme is in line with other B-schools' efforts to launch programmes that deal with environmental, social and governance-related issues. IIM Ahmedabad, Lucknow and Indore have all launched new courses or centres related to these fields in the past few months.
'Experiential learning'
Experiential learning is a newly-framed initiative of IIM Kashipur which seeks to enhance the involvement of the institute in the developmental issues of Uttarakhand.
The programme spans the entire course of MBA from the first year to the end of second year where students will have to work 24 weeks with a local firm or organisation. The students will be working in three sectors: sustainable development, rural development, and development of small and emerging firms.
Also Read| 'We don't get worked up about rankings': IIM Udaipur Director
"This initiative seeks to connect its students across programmes with organisations in the region addressing agendas related to economic and societal development. Hence, it will create mutual value for organisations and students. While organisations can derive helping hands on their intellectual, research, and field requirements, students will receive the invaluable 'Experiential Learning'," said IIM Kashipur in a statement.
Officials said that such a programme is unique to IIM Kashipur among the newer IIMs.
"None of the second generation IIMs have tapped into this. It is a mature agenda which is taught in business schools in Europe, US and Canada. This is intended to replicate the models that are practiced by these top niche-business schools world-wide," said Vivek Roy, assistant professor of operations and supply chain management at IIM Kashipur. Roy also heads the experiential learning programme.
At present the programme is only available for IIM Kashipur's flagship MBA programme.
Mutual value
IIM Kashipur officials said that the programme works like a partnership model where students will gain practical experience and the local firms will gain manpower.
"Local firms face multiple issues in terms of product. These might be a lack of value chain, lack of opportunity to reach wider markets, lack of transportation. These are mostly small firms with no real resources. Sometimes they have a product and they don't know what to highlight and what not to," said Roy.
Officials said that, through the partnership, students will be able to give specific operational or marketing inputs to the organisations.
Also Read| IIT Vs IIM: How the IITs are outpacing IIMs in NIRF rankings
"Students bring many conceptual ideas and attributes to highlight the organisation's products with our excellent resources, existing literature and other means of support," said Roy.
"For example, sometimes firms which are working on organic products don't know which plus points to pitch to the consumers. In Uttarakhand, there are lots of small producers which produce atta [wheat flour] without extracting the fibre. But they are not sure which part to highlight and which part to not. This is where our students come in."
Officials said that the partnership also helps the local firms by allowing them to hire some of the brightest talents of the country which, otherwise, they would not have been able to afford.
"Most of these are small firms. They can't make an advertisement campaign. They usually have a lone staff or few staff in general. Usually, they can't afford to hire an IIM graduate. This programme allows them this opportunity. For students, working for them brings experience and understanding of practical problems. This is only possible due to the unparalleled access these firms are providing our students," said Roy.
Facing practical problems
Access and long-term engagement sets this programme apart from regular internships.
"In a regular internship model, there is a small engagement of three to four weeks. Also, usually in the regular internships, students work with scaled-up firms and with a different set of problems," said Roy.
"Most of the B-school graduates eventually venture into startups. Through this programme, they would be better aware of the problems faced by young firms. They would be better aware of existing recruiting. It would also expose them to an organisational agenda from a practical viewpoint," said Roy.
Also Read| Being future-ready: IIMs, PGDM institutes bat for STEM-embedded MBA

IIM Kashipur officials said that as per the agreement, the partner firms will not be obliged to pay students any stipends.
"Students are engaged in a year-long project. We are not asking for stipends. Monetary support is not our focus. The idea is to create a focus on the diverse problems that the students can face. Our focus is on development in the region as well as to polish the skills of the students."
Instead, IIM Kashipur itself is reimbursing students for field visits.
"We see this as an investment in the region from our end. The students will be working with local organisations from Rudrapur to Rudraprayag," said Roy.
Creating employment
The institute said that the programme will help the local firms create employment and an entrepreneurial ecosystem. It has the potential to create and develop agro-tourism, foster home-stays, and help micro, small and medium enterprises (MSME).
Students are divided into groups of five. The groups will have to work 20 hours per week, or four hours per person, in the local firms or organisations they are assigned to.
Students are expected to come up with a field agenda by meeting up with the organisations and learning about their products and their problems. They are expected to meet up with retailers in the market and learn why a product has value in that particular market.
Students will also have to submit reports every fortnight which will be followed by a mid-term review before the final presentation at the end of the year.
The institute also allows students to choose projects on a first-come-first-serve basis.
"The programme works much like placements. Before an academic session begins, we will contact and coordinate with multiple local firms in our region and come up with a huge pool of projects. Students will then be given the option to choose a project of their preference," said Roy.
"We believe that innovative pursuits cannot be forced and that genuine interest is required for such projects. For genuine choices to emerge, we let students have the freedom to choose their groups and claim a project of their choice," said Roy
The programme will start in June during the first year of MBA and is scheduled till February in second year of MBA.
"Students could also study these organisations as a case study. These case studies can then be utilized in classrooms to enhance the classroom teachings," said Roy. "Such reports can be an untapped frontier."
---
Follow us for the latest education news on colleges and universities, admission, courses, exams, schools, research, NEP and education policies and more..
To get in touch, write to us at news@careers360.com.
Know More About
NIRF Rank
33
Rating
4.2/5
Download Brochure