'There is no trust in equal-opportunity cells': Sonjharia Minz
'There is no trust in equal-opportunity cells': Sonjharia Minz
A computer scientist and VC of Jharkhand's Sido Kanhu Murmu University, Minz is only the second tribal woman to lead a university in India.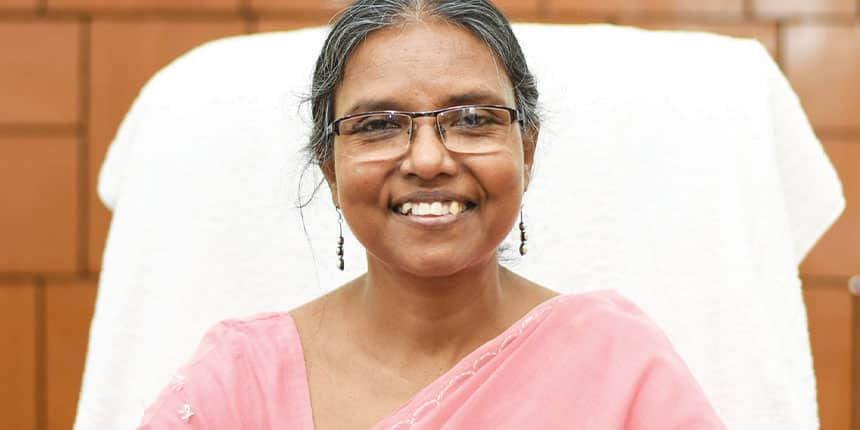 New Delhi: Sonajharia Minz became only the second tribal woman to lead a university when she was appointed Vice-Chancellor of Sido Kanhu Murmu University in Dumka, Jharkhand, in 2020. A computer scientist by training, Minz argued that in addition to discrimination in university spaces, absence of opportunities to study science at the school level also harms the education and careers prospects of Dalit and Adivasi students. Trying to change things on the ground at Dumka, she spoke to Careers360.
Q. You are only the second tribal woman to hold a Vice Chancellor's post in India. How did that happen? Let's start with your childhood.
A. My parents were based in Ranchi which was in Bihar when I was growing up in the late 60's and the 70's. My parents come from the Oraon tribe. My father's village falls on the border of Chhattisgarh and Jharkhand. My maternal grandfather was a veterinary doctor, so my mother had been to various places in Bihar and grew up in Santhal Parganas. My father's education has been primarily in Jharkhand but he did his masters and PhD in Chicago. So that's how the first language I learnt became English, the first language that was spoken at home.
My father studied in the US but decided to come back to India. Because of the kind of social environment we come from, he had his commitments to society. I have also grown up with this additional commitment. Education always helps in one's own social mobility. But social mobility, especially for Adivasi societies, is difficult as an individual's mobility because Adivasis think of society as a whole rather than the individual.
Q. What were your student years like? Did you face discrimination?
A. Yes, even I was a victim of discrimination. If students from the Adivasi community perform well they are asked, "Why are you performing so well? You are not supposed to". I was actually told this by my Class 7 Sanskrit teacher. He was one of the only three non-tribal teachers in the school. So, can you imagine what tribal students must go through in the university spaces where teachers are primarily non-tribal?
Leaving Ranchi for studies was my parents' decision. There had been many cases of discrimination, especially in academics, in places like Ranchi University. So, they decided to send us out of Ranchi. I completed my pre-university from Bengaluru and my BSc and MSc at two autonomous colleges under Madras University in Chennai. For MPhil and PhD, I came to JNU.
Q. The problem of prejudice and casteism in elite institutions like the IITs has been in the news lately. There's a court case in the US over casteism in the technology sector.
A. I will say modern education has done nothing to create clarity. The current education system has done nothing to clean India's mindset. This [prejudice] is so ingrained that even if students from the upper caste go to other countries, they continue to discriminate. The laws of that country do not change their attitude.
On one of our journeys from Delhi to Chennai, I met a teacher on the train who said he was from IIT Delhi. He made several dismissive statements about the reserved category students such as, "people who come through reservation know nothing". He said they are "good for nothing" – he didn't know where I come from. We did talk, but not about each other's backgrounds.
People have to change their mindset. And this is not only in the technology sector but everywhere.
The postgraduate medical student who died by suicide in Maharashtra is another example.
Our country has policies, rules and regulation. The problem is implementation. Having no complaints does not mean there is no discrimination. How many of the equal opportunity cells actively redress the complaints of students? If they register complaints, are they heard? The complaint is not redressed.
There is just no trust in such cells.
Q. There is resistance to reservation in appointments in elite science and technology institutions. What is the experience of faculty members?
A. Faculty-members from the reserved categories are less in number. A very small number of candidates from across institutions can get into PhD. Even there, the kind of oppressive environment that prevails prevents them from completing.
Discrimination is common. An assistant professor appointed to the psychology department of a reputed university in 2019 had to face this. She confided in me. She was responsible for sweeping the office to dusting the table of the head of the department. This was in 2019. She had even told the vice-chancellor about it. She complained to the highest possible authority, but this is a problem the SC-ST communities face. Their complaints are never addressed.
Also, now that I am the vice-chancellor of a state university, I would like to talk about this region, the Santhal Parganas, and give you an example from this region. Out of the 26,000 students who got admission to my university in an undergraduate program in 2020, not even 4,000 have opted for science, and only about 1,000 are doing commerce. So, science and commerce together have a very narrow pool in this region. Why is it so? It is because the schools in this area do not have science. I am talking about this specific region; government schools don't offer science, they don't have the infrastructure. Only in some towns like Deogarh, there are certain private schools which offer science. This is what I've discovered as the Vice-Chancellor of this university over the past ten months.
How can students from remote areas who cannot afford a private school fee study science? This shows the access issue. The poor do not get to study science. And we also know what percentage of the poor are Dalit and Adivasi. When the students do not have access to science in school, how will they reach PhD?
Q. What changes do you intend to make?
A. Any problem that is humanly created can be solved. I have brought the scenario to the state government's notice, and I hope that it also starts addressing the issues. I am sure the problem will be resolved. I am giving it 15 years. We will not see any fruit, admission to IITs or admission to undergraduate programmes in my university will continue to be lopsided and not proportionate, before at least another 15 years.
Write to us at news@careers360.com.
More From Pritha Roy Choudhury