Academics stress on need for urgent reforms in higher education on Developing World Class Universities in India
Academics stress on need for urgent reforms in higher education on Developing World Class Universities in India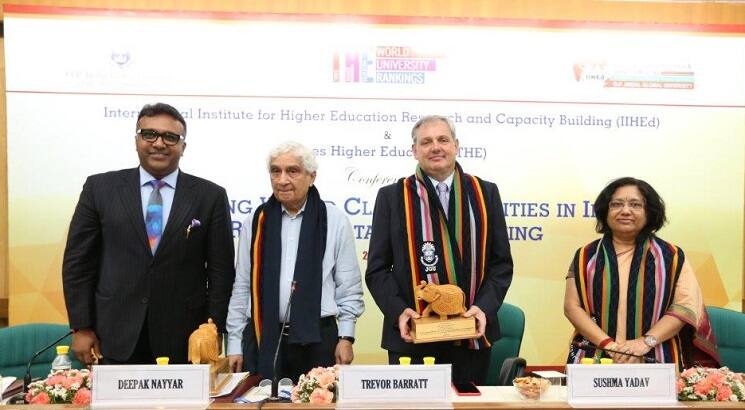 NEW DELHI, MAY 8: Expressing serious concern over the state of higher education in the country, experts have suggested the need for urgent academic reforms, quality benchmarking systems and pursuit of international rankings. It was recognized that a "mirror" should be held to the education system in the form of rankings which must be "objective" and the higher educational institutions must look at the reality by looking at rankings regularly.
Referring to serious challenges like the availability of adequate resources, qualified faculty and a eco system in the form of favourable policy environment and strong academic leadership, it was emphasized that these issues must be addressed in the quest of Indian universities to enter international rankings.

These observations were made at a day-long Conference on 'Developing World-class Universities in India: Role of Data Benchmarking' organized by the global rankings organisation, Times Higher Education (THE) and the O.P.  Jindal Global University (JGU).
In his inaugural address, Professor (Dr) Deepak Nayyar, Emeritus Professor of Economics, Jawaharlal Nehru University and former Vice-Chancellor, University of Delhi, highlighted systemic flaws which stifled excellence in the higher education. Calling for innovative structures of governance, he emphasized the appointment of competent persons as Vice Chancellors who have the courage to stand up. Quoting a former Chief Justice of India, Justice J.S. Verma, he said, "A good Vice Chancellor is one who does not have a past and who does not want a future". 

Dr. Nayyar also stressed the importance of working on the fundamental issues of education while addressing structural and operational gaps, local needs and provisioning of equal opportunities for all before focussing on higher rankings. "We need to boost the quality of education, create exemplary academic institutions on par with global counterparts. IITs and IIMs have met global standards, but there is still a need to provide qualitative opportunities to other institutions at large. This will eventually create more opportunities for the masses," asserted Prof (Dr) Deepak Nayyar.

In his welcome address, Professor (Dr) C Raj Kumar, Founding Vice Chancellor, O.P. Jindal Global University (JGU) underscored the need to strengthen internal mechanisms in Indian universities for improving quality. "Posterity will not forgive us if we do not strengthen current internal mechanisms, which is expected of us by the society at large". This year, Dr. Raj Kumar pointed out that seven Chinese universities have made it to the list of top 200 Universities in the world by focussing on research and attracting massive funding and they also contributed to increase of GDP and thereby to nation-building. India has an opportunity and the current reforms relating to autonomy and the institutions of eminence, if pursued in the right spirit has the potential to help Indian build world class universities in the future. 

Professor (Dr) Sushma Yadav, Member, University Grants Commission, Professor, Indian Institute of Public Administration, said India is progressing towards developing world-class universities and intends to create and nurture 20 public and private world-class universities, which will consciously improve their position in the global higher educational rankings. "Despite a competitive world, we don't wish to join the rankings bandwagon before adequately addressing the demands of our populace. Emerging economies like ours need educational reforms and resolving of issues at the fundamental level. Data plays a pivotal role in accomplishing this. We need to interpret data for public good and be mindful of basic issues affecting the nation," said Prof (Dr) Sushma Yadav.

Trevor Barratt, CEO, Times Higher Education (THE) opined that global benchmarking powers reputation, strengthens research and derives quality. Multiple factors and processes such as performance data from universities as well as reputation and bibliometric data from academics are assessed before compiling the world university rankings. More than 1,457 institutions have submitted their data, while 3,513 universities have voted for it and 63 million citations analysed for 2018. Elaborating on the rise of China with many of its higher educational institutions entering the global rankings, he emphasised that Indian institutions need to evolve. "China has increased its funding for education 360 times in 31 years and now stands at £3.2 billion. While China will have 37.4 million enrolments of students by 2020 – in the 18-22 age group – India will have 27.8 million students," Trevor Barratt stated.

Phil Baty, Editorial Director, Times Higher Education, mentioned that institutions wishing to succeed via benchmarking and rankings should have a robust proportion of foreign or foreign-qualified faculty, a reasonably healthy mix of domestic and foreign students, and a faculty-to-student ratio not less than 1:20. He highlighted the importance of a good teacher-student ratio of 1:10. "Educational institutions should engage in applied research and innovation through strong financial support. They should pursue research collaborations and promote a culture encouraging faculty members to publish regularly," noted Baty. He also presented the trajectory underlining India's growth in rankings from a global standpoint.
---
Follow us for the latest education news on colleges and universities, admission, courses, exams, schools, research, NEP and education policies and more..
To get in touch, write to us at news@careers360.com.