Meet the AIIMS professor who also has a PhD from IIT Delhi
A neurosurgery professor at AIIMS Delhi joined IIT Delhi for PhD, built a system to develop and test spinal implants using computers and cadavers.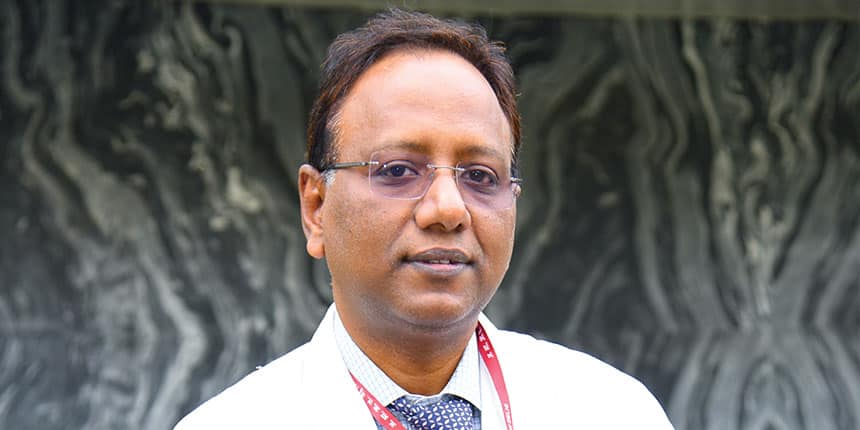 New Delhi: After earning his MCH in neurosurgery at the All India Institute of Medical Sciences Delhi in May 2004, Dr. Deepak Gupta sought to explore his interest in biomechanics. He joined an institution just down the road from AIIMS – the Indian Institute of Technology Delhi. Moving between cadavers and computers, he de-signed a cost-effective system of developing and testing spine implants for patients. Gupta was pursuing a PhD at IIT Delhi when he led the team that performed India's first craniopagus surgery to separate conjoined twins fused at the head. Now a professor at AIIMS and an adjunct professor at IIT Delhi, he spoke to Careers360.
Q. Which was your main ambition – to be a doctor or an engineer?
A. I was an aimless child. I come from a middle-class background. I had no idea what I was going to do. When I was in Class 11, I took up engineering – we had an option in those days, in 1985, to take engineering or biology. I took engineering but did not like it. I requested my principal to shift me to biology. My parents always wanted me to become a doctor. I wanted to become a surgeon. Nobody ever guided me and I proceeded step by step. I became a general surgeon and then had to decide what to do next. I would see many patients die of trauma during my MS days because of a lack of neurosurgeons. Plus, there was a lot of negativity and confusion about brain trauma or tumours. I decided to take up neurosurgery.
Also Read: Why a neurosurgeon is now studying engineering at IIIT
Q. Where did you complete your MBBS?
A. I completed MBBS at the University College of Medical Sciences (UCMS), Delhi University; I did my MS in Surgery from Lady Hardinge Medical College and MCH in neurosurgery at AIIMS.
Q. What took you to IIT Delhi?
A. IIT Delhi is just one km from AIIMS – I saw it every day. When I became a faculty member in AIIMS, I wanted to do something different. Because I am a spine surgeon, we do a lot of instrumentation for the patients. We fix spines with stainless steel rods, for example, which costs approximately Rs. 500. The same operation can be done with expensive implants. Multinational companies make titanium implants which can cost over a lakh. I wanted to see if the steel implants are as good as the titanium or other more expensive ones. But the question was, how do I get them tested? I read about "finite element analysis" or FEA. In FEA, a structure is broken down and analysed in a computerized simulation. Using special software, you can combine structures having some special properties – bones, ligaments, other tissues – and assess the strength of the system. I was aware of FEA being used at IIT Delhi. I wanted to work on a cost-effective im-plant for Indian patients and to have our own patents.
I met Dr. Sudipto Mukherjee in IIT Delhi. He is a professor of mechanical engineering and looks after the mechatronics lab. I realised that I would be the first surgeon from the neurosurgery department to do a PhD as an in-service candidate in IIT. Doing a PhD is not easy – we cannot neglect patient care and we can do it only after completing five years in AIIMS. Once my five years were up, I enrolled in IIT Delhi. My PhD lasted for seven years. I earned my degree in 2019.
I worked in the IIT Delhi lab every weekend during all holidays. I never allowed my routine work as a neurosurgeon to suffer.
Q. You took longer than five years to complete?
A. I took a little more time than five years as there were logistical issues. I wanted to do CT scans on a cadaver. We had to file for ethical clearances to allow us permission to do scan cadavers in the hospital machine during off-duty hours.
Secondly, I had a problem with the testing system. I was looking at the spine's bio-mechanics, so we needed a motion testing system. That costs approximately Rs. 2 crores. I did not have so much funding. I sat with my guide and decided to make something like that in IIT Delhi itself. We developed a very innovative seven degree of freedom, Stewart Platform Model, also called a panel manipulator. We have a patent for this as well. We spent Rs. 5 lakh on this, just a fraction of Rs. 2 crore. Usually, we cut the cadavers' heads to perform experiments. I did not get permission from my forensic department for that. I decided to work on intact cadavers, of unclaimed or unknown bodies. The special motion system we designed could fit in those cadavers well. Three years were spent on just designing the machine and the tools needed for my work.
My next challenge was to do the FEA part. I joined some young students of IIT Delhi. We took data of regular patients coming to the AIIMS Trauma Centre and developed Indian population data. I used it for comparison with my cadavers' data. Finally, I did experiments on the cadavers with various implant systems, Indian as well as expensive western ones.
IIT Delhi provided special machines and cameras with which I could measure the movements of the cadaver in degrees and at every level. Once the moments were captured, I ran some experiments using simulations on the computer. Finally, I tried to break the implant. There are special tools available with which you can simulate blasts and accidents on the computer, and you can create fractures in bones. I then compared the results of these experiments with those on the cadavers and found an excellent correlation between the two. We validated our model on statistical analysis. Now we have the first Indian computational FEA model of the craniovertebral junction (CVJ) part of the spine. This model has been designed, developed and validated in IIT Delhi as a part of my thesis. We have filed a couple of patents.
Also Read: Sci-Hub's legal representation in India a first for the platform: Founder Alexandra Elbakyan
Q. Can you explain what your work means for patients?
A. We have an Indian system in place now for Indian patients. Data from Indian patients and this system can be used for designing newer implants. Any kind of testing for the spine is also possible with the model we have developed. It can also be taken forward and used for the brain – to understand what is happening in the brain in blast injuries, traumatic injuries, and how much damage has been sustained. The computer system can also read that out.
If we know at what velocity the person fell from above, we can anticipate what amount of force had been exerted on the brain and what amount of injury has occurred. This is just the beginning. I am told that few other neurosurgeons have taken up engineering while in service, and I am sure still more will explore and collaborate. This is doable.
Q. How do you manage time?
A. Because of my work, IIT Delhi has enrolled me as an adjunct faculty. So, right now, I am a professor of neurosurgery at AIIMS, and I am also enrolled as an adjunct faculty in IIT Delhi. We do have times if we prioritise our work. My priority, I must confess, is my neurosurgical work. I don't let it suffer. Whenever I am through with that, I work at IIT. I also play table tennis. It is just that you have to be awake for some extra hours.
Also Read: Will Odisha's 15% quota for government students in BTech, MBBS help?
Q. What are your future goals?
A. I have had offers to leave AIIMS and join some private setups and have a luxurious life, but there are many more complex operations that I have learnt here over time. I believe I have gained enough expertise now for specific surgeries. Till the time I am required here and I can help my patients, I will stay.
You must have heard about craniopagus surgery. In 2017, a pair of conjoined twins from Odisha joined at the cranium, had to be separated. This was the first successful surgery in India. I was leading the team. AIIMS gives us a lot of opportunities.
Write to us at news@careers360.com.
Know More About
NIRF Rank
1
Rating
4.8/5
Download Brochure