Why a neurosurgeon is now studying engineering at IIIT
After a decade with NIMHANS as a student and teacher, Vikas V enrolled in IIIT Bangalore to study data science and robotics. He wanted to help patients who were paralysed.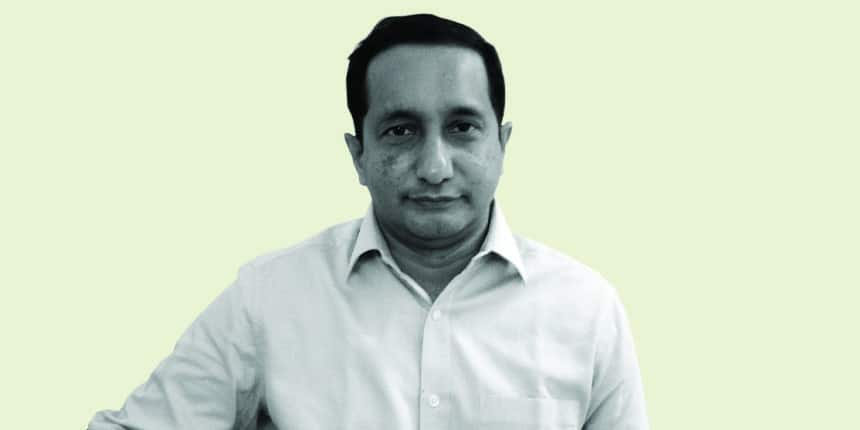 New Delhi: By 2017, Vikas V had already spent over a decade studying medicine. He had completed his super specialization in neurosurgery and was teaching at the National Institute of Mental Health and Neuro Sciences (NIMHANS), Bengaluru. But he still wasn't done. Dealing with over 6,000 trauma cases that left many patients paralysed, he looked to technology for solutions. He enrolled at International Institute of Information Technology (IIIT) Bangalore that year to study data science and robotics. In a highly unusual career, Vikas V is now developing a robot that can perform brain surgery. He spoke to Careers360. Edited excerpts below.
Q. You are a doctor by profession. What made you pursue a PhD in the field of technology?
A. I was always looking at technological solutions as there is a lot of scope in medical technology. The general public understands it all the more since last year as the pandemic led to a surge in demand for equipment like ventilators, oxygen concentrators. There was a sudden realization that we don't have enough of them or we don't have the technology. This has been a consistent problem. It's not about a low-cost solution – it's that the solution is not available at all. The IPR (intellectual property right) is always in the West.
Sree Chitra Tirunal Institute for Medical Sciences and Technology might have the opportunity in making technology and be a hospital at the same time. But it takes a lot of experience to understand how to go about it because the current medical curriculum does not focus on research. One can understand setting up a research plan and a research project only when they become a consultant. They are not a part of the medical curriculum. So, IIIT Bangalore was great in that way. Over the past five years, it has done some significant work.
Q. You said IIIT Bangalore had taken a significant risk by giving you the opportunity. Why?
A. Until now, you did not have a common mechanism by which a doctor could apply for an engineering course in a formal engineering college. Even now, there are only online courses. Five years ago, in 2015-16, even those didn't exist, nor the degrees. I would not have qualified, either by the Medical Council of India [MCI] or the All India Council for Technical Education [AICTE] processes. In the MCI office, there are no guidelines that my PhD in data science fits. So, in giving me admission for PhD, sir (S Sadagopan, director, IIIT Bangalore) had taken some risk. The institute not only admits a person [from a different background] but also has the responsibility of guiding them. I joined IIIT Bangalore in January 2017. I am in my ninth semester now.
Q. What exactly are you working on?
A. We started working in an area called rehabilitative robots, basically for people who are paraplegic [paralysis in the lower body] and quadriplegic [total paralysis]. There are robots designed which can help people walk to some extent. You must have heard about Japanese robots and German robots. But that technology is rarely available for people here.
Also, being a neurosurgeon, I manage something like 6,000 trauma cases, including head injury and spine injury cases, and it is a huge number. But, the post-trauma after-effect is that these people suffer for their entire lives. This was one of the focus areas I started working on, which will help such people lead better lives. We began with upper limbs. It's a hand robot. Incidentally, this is funded by the ministry of social justice empowerment. Neurosurgery is very complex. There is a particular limit to which you can gain expertise, so there is a big gap between what is necessary and what is available.
Q. How are data science, robots and robotic platform connected with neurosurgery?
A. Technology is very advanced; we are under-utilizing technology. If you look closely, you will see that we do not have a made-in India robot. We do not have people who have expertise in developing robots. We are developing neurosurgical robots. If you search for neurosurgical robots, you will find that little has been done, unlike in the case of general surgical robots. We are building two robotic platforms. I call them platforms because they are not actually meant to be one device; the idea is to create a diversified platform.
In PhD, my area of work is data sciences. The idea is to make autonomous surgical robots. We are working on rehabilitative robots. I am also working on surgical robots.
Q. Can you tell us more about the robot you have developed for surgical interventions?
A. Everything within the brain is packed very closely. The idea is to go through very narrow corridors; it is something like negotiating a maze. We have to reach a particular target which is very critical. For that, you need a tool that is flexible and which can follow a path. You need to appreciate the complexity involved. There should be some robot which should be able to do this. That is the objective. We call this the "elephant trunk robot" as it is flexible and hollow like an elephant's trunk.
It is very easy to develop large devices; the problem comes when you try to make them smaller. Most robotic systems are not scalable especially when smaller products are in the centimetre or millimetre range. Larger designs have the freedom of using robust actuators and control systems. The actuators and control systems become very expensive when sizes are reduced. The platform we have developed is scalable, that is the prototype can be made into a very small device without corresponding increase in cost or significant change in technology. The robot is flexible, can move, and can help conduct activities inside the brain. You can also put in other devices through that to perform surgery. All these have been possible because of the help and cooperation of the development team in IIIT Bangalore including Dr Madhav Rao.
Q. You are a neuro-surgeon, a teacher and also doing doctoral studies. How do you manage?
A. So far, I have been successful, and ultimately, you need to balance something. If you have the intent, you have to manage. I do surgery; I also do robotic surgery. It is possible, and there is enough scope. It also depends on the team, and yes, I would always talk about professor Sadagopan. It is a big challenge for an IT institute to do this kind of thing. Doctors can always have ideas but we need to have people on the other side who acknowledge our requirements. Our wavelengths have to match, and it is not just one person but of a group of people with very diverse expertise. You cannot ask for a robotic engineer. We need electrical, mechanical, IT engineers, and then we set up a team with engineers with expertise in various domains.
Q. Where did you grow up and where did you study medicine?
A. I am from Kerala. My father was working in Bengaluru and was associated with National Textile Corporation. My mother is a homemaker. I grew up in Bengaluru and completed school and college from there. I did my MBBS at Kempegowda Institute of Medical Sciences, Karnataka, and MS in general surgery from Ramaiah Medical College. I joined Sree Chitra Tirunal Institute for Medical Sciences and Technology, Thiruvananthapuram in 2009 for my MCH in neurosurgery. I completed 10 years with NIMHANS last year.
Write to us at news@careers360.com.
Know More About
NIRF Rank
76
Rating
4.6/5
Download Brochure