NEET 2021: Why resident doctors, MBBS interns across the country are protesting over pay
NEET 2021: Why resident doctors, MBBS interns across the country are protesting over pay
Despite getting in through NEET, doctors' stipends vary widely. The COVID-19 pandemic showed how poorly MBBS interns, PG students are paid.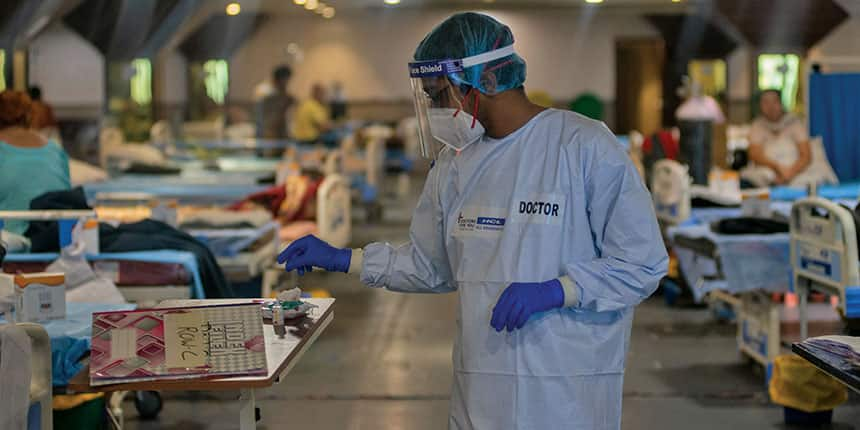 NEW DELHI: Medical students have been one of the busiest groups since the COVID-19 pandemic struck. Pushed to the frontlines, they have had to pull all-nighters and 24 hours of duty, all the while handling the devastating deaths around and within their own families.
However, these frontline workers, hailed by governments across India, are underpaid and have had to also find time to organise sit-ins and protests to get their due. Stipends have been a thorny issue for both undergraduate medical students on their "compulsory rotatory residential internship" which they must complete to be awarded an MBBS degree, and resident doctors pursuing postgraduate studies.
Also Read | NMC asks medical colleges to pay residents stipend till fresh batch arrives

Despite securing medical seats in government colleges through a common platform, the National Eligibility cum Entrance Test (NEET), there is a massive disparity between stipends provided by different state governments. Stipends are decided by state governments and there is no standardization. State policies do not always extend to private colleges either.
Despite several states announcing an increase in stipends during the year of pandemic, the disparity continues to be stark. At the time this was written, interns and resident doctors were protesting in Uttarakhand and Tamil Nadu. Uttarakhand hiked stipends by Rs. 10,000 following protests but it still was a state providing one of the lowest stipends. For private college students, stipends can be as low as Rs. 5,000 per month. They are not clear if the hikes are meant for them at all.
All the while, students are worried about their mental health.
MBBS interns and protests
Medical interns are paid by the respective state governments and the stipends can vary from Rs. 17,000 to Rs. 45,000. Interns have protested against this for years. The National Medical Commission's draft regulations on internships have once again left the decision on stipends to fee-fixing authorities of the states or institutions.
"Protests have been a part and parcel of medical internship," said Prashant S, national convener of the Indian Medical Association's (IMA) Medical Students Network. "Every year medical students protest in one state or the other related to the stipend issue. There is no standardization of stipends."
Also Read | Illegal for medical colleges to not pay stipend to students after availing service: NMC

In the last week of June, hundreds of interns in Uttarakhand raised their voices against the paltry stipends given to them. The state government, at the time, paid interns only Rs. 7,500 per month. It was raised to Rs. 17,000 but only after the Uttarakhand High Court intervened.
But this is still low by the standards of other states. In Karnataka, for example, it is Rs. 45,000 per month.
"Whether you are doing it in Mumbai or Delhi, MBBS admissions are done through NEET. The government has made such a platform that you come and give exams and we'll give you an MBBS seat. If everything is decided by NEET, then why have they kept different stipends in different places?" asked Shulabh Kuriyal, state convener for IMA Junior Doctor Network(JDN) in Uttarakhand.
On COVID-19 duty
Students also pointed out that their workload has increased at least three-fold due to COVID-19 pandemic and related complications.
"There has been an exponential increase in the number of mucormycosis patients. Postings that were relatively stress-free for the interns have been hectic this year. Because mucormycosis affects the brain and the eyes, working in departments such as ENT, ophthalmology has been hectic," Prashant. "As treatment, they are given anti-fungal medication which in turn affects the kidneys. Now we have to go and check their hemoglobin count and countless other tests. It is a vicious cycle."
Medical students said that they have had to work for hours without sleep due to the increase in patients with post-COVID-19 complications.
Also Read | Medical students oppose NMC draft rule on stipend for MBBS interns

"In government hospitals, sometimes students have to work for 24 hours continuously. They have night duty also, sometimes morning duty in between in scheduling. Because of mucormycosis many references have to be done. The same patient has to be sent to different departments. Sometimes at ENT, sometimes medicine, then you take their X-ray or ultrasound. We have to do every kind of work," said Kuriyal.
Despite similar workload, the pay varies widely. "Medical students in Delhi doing their COVID-19 duty face the same danger we face in Uttarakhand. We are running around the same as them," Kuriyal said.
"There might be differences in terrain in places so they might need further incentive in places to attract more doctors but the work we do is the same. There should be some basic standardization of pay," said Prashant.
Resident doctors
Similar complaints have also been raised by postgraduate students or resident doctors. In mid-July, resident doctors in Tamil Nadu protested against the disparity in stipends.
"No official response from the authorities so far. Whenever we meet authorities they give assurances but there has been nothing official so far. The response is positive but we have no written statement to show for it," said Keerthy Varman of Tamil Nadu Resident Doctors' Association.
The resident doctors are typically told their government is short of funds.
"Tamil Nadu has 24 medical colleges and 11 new ones are coming up. This means the number of MBBS seats is also growing. The government is saying that the fund is being divided. This is the response," said Varman."We are asking for parity, not more. We are one of the least paid in the country. We are asking to be paid at least equal to other resident doctors in other states. We made sure our protests did not affect services."
Also Read | Why a neurosurgeon is now studying engineering at IIIT

Recently, states such as Karnataka, Rajasthan, Andhra Pradesh, Maharashtra, Gujarat and West Bengal increased stipends of this group.
According to figures shared by the TNRDA, resident doctors in Tamil Nadu get stipends between Rs. 37,000 to Rs. 42,000 for MD/MS. As per the figures, the highest stipend is paid in Gujarat – between Rs. 84,000 and Rs. 87,500.
"Government should make the salary uniform. It's a better choice rather than fighting every time. Final goal is that there should not be disparity among states," said Varman.
Following the protests, on July 29, the Tamil Nadu Government announced an increase in stipends for medical interns to Rs 25,000 . As per the revised stipends, resident doctors will get between Rs 48,000 and Rs 50,000 and an annual increase of 3 percent.
Stipends in private medical colleges
According to students, the situation is even worse in private medical colleges.
"In Uttarakhand, we only get Rs. 5,000 in private colleges. At the same time, they charge Rs. 20 lakh for a year in fees. With Rs. 5,000 we can't even pay for a room," said Kuriyal, who is a student of a private medical college in Uttarakhand.
"Moreover, there is no security from the government," said Kuriyal. "If we fail to save a patient, anyone can lift their arms against us. We have to work in this environment of fear, even then the government thinks the stipend is enough. We even bring out our own sanitizers and PPE kits."
Uttarakhand's decision to increase stipends may not help students in private colleges. "We had talked with the principal and he said they'll have to wait for official orders for clarity on whether our stipends will be increased. As of now, there is no clarity. The chances look slim," said Kuriyal.
Separate welfare board
The resident doctors' association has been demanding that the ministry of health and family welfare creates a separate welfare board for medical students to address problems they are facing and hear their complaints. At present, there's a rising concern over the mental health problems young doctors are facing due to the pandemic.
"Many friends, more than 750 doctors, have died during the pandemic. Many of us face depression and other psychological problems. We are also getting affected by all these deaths," said Varman. "Doctors in my age group are dying. We are afraid yet we are trying to save everyone. It is very stressful. Our parents are affected; our relatives
are affected."
"A friend's father died. Two days later, he came for his duty in the COVID-19 ward. In spite of all this the government is not acknowledging our struggles," said Varman. A separate welfare board with representation from students is needed, said Varman.
Resident doctors also called for proper implementation of duty time restrictions. According to the
doctors, they work for more than 100 hours a week, even taking emergency cases that can lead to 24 hours of duty. According to the health ministry, a post graduate need not work for more than 48 hours in a week and not more than 12 hours in a day.
"Suicide has increased among doctors. In June-July, 10 doctors had died by suicide. All of them were under 30 years," said Varman. "This should be the utmost concern for the government."
Write to us at news@careers360.com.