Meet the law student whose PIL led to the formation of Delhi's pollution monitoring body
BA-LLB student at a Noida law college, Aman Banka had been trolled online for raising concerns about the environment, filing PIL.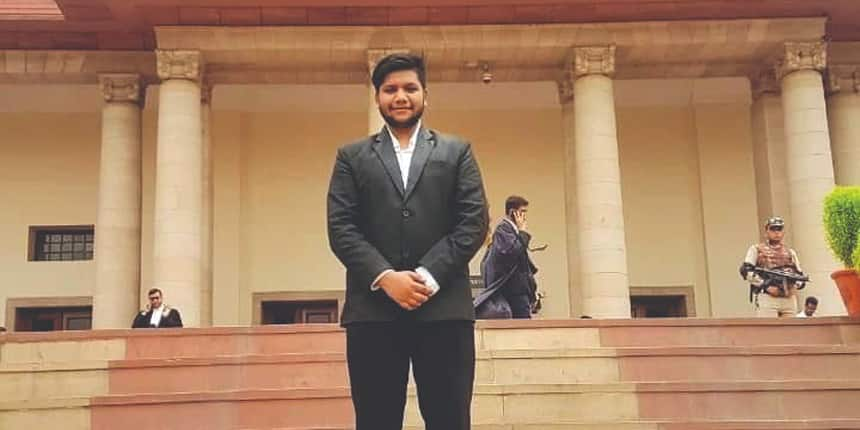 NEW DELHI: Aman Banka, now in fifth year of BA-LLB at Lloyd Law College, Noida, was trolled online "for raising concerns on environment related issues" in 2020. That year, Banka and a school student, Aditya Dubey, had dared to file a public interest litigation [PIL] in the Supreme Court seeking a complete ban on stubble burning in Punjab and Haryana from September to December.
They also asked the apex court to direct the states to provide stubble removing machines free of cost to the small and marginal farmers to prevent air pollution in winter in Delhi-NCR, especially while the Covid-19 pandemic ravaged the country.
Originally from Kolkata, West Bengal, Banka also filed an application with National Green Tribunal, set up to handle environment related disputes, against corporations like Pepsi, Coca Cola, Patanjali and others to stop them from selling drinking water and other beverages in PET bottles till they formulate and implement the Plastic Waste Management Rules, 2016 and start collecting 100% of waste generated by their business. As a petitioner who was still in law school, Banka found the process of filing petitions and handling cases quite challenging. But he also learnt a lot.
Also Read | LLB, LLM fees rise 3-fold at Osmania University; 'cannot afford this', say students
PIL a 'publicity stunt'
Banka doesn't have lawyers in the family and the others he and Dubey approached were sceptical. "People thought it was a publicity stunt," said Banka. "Several lawyers we initially approached refused to take up our case as we were students. However, lawyers like Prashant Bhushan encouraged us to go ahead."
Banka faced challenges in reading and understanding judgements. "While my classmates helped me in drafting, initially it was difficult to find a senior or a lawyer to review the drafts," said Banka. He also faced ridicule. Several batchmates dismissed his efforts as "PR work" and even now, he occasionally has these comments directed at him, online and offline. "While my college was very supportive, including our college director, mostly people trolled online," said Banka. "But later, when our petitions were considered by the Supreme Court, our confidence got a boost."
Now, it has become easier. "Now when we approach lawyers, they find our work profile credible. It exhibits that I have been doing work for a long time and have some experience," he said. The lawyers work on his petitions pro bono.
Also Read | DU's Law Faculty is one India's best-known law schools. Why doesn't it rank in NIRF?
The hustle
A school counsellor introduced Banka to the Common Law Admission Test (CLAT) and suggested a career in law.
Coming from a business family, he had no one to guide him in law. "For first-generation lawyers, the opportunities are fewer until you have strong contacts in the industry. From the very first day, I knew I had to hustle. I am curious and passionate to work on certain issues including the environment which is the most pressing issue of current times," said Banka.
The CLAT, which Banka sat in in 2018, didn't go too well for him. He also wrote the entrance test for Lloyd Law College, a private institution, following suggestions from a school senior. "I scored really well and got one of the best marks in my batch," he said.
Upon joining college, he noticed several students in his class had respiratory problems like asthma. "I realised that air pollution is a major problem in Delhi-NCR. While I noticed that politicians and commissions were blaming each other rather, I thought maybe the judiciary could provide some solutions," he said.
In his third year of college in 2020, he filed several petitions, including the PIL. Among other pleas, he sought a commission for air pollution in Delhi-NCR. This was followed by a case in the NGT regarding the revival of Yamuna and implementation of plastic waste management rules by MNCs.
Banka also filed an application before the Advertising Standards Council of India of India against a paint company which had claimed its paint was "99% effective against Covid-19 virus". He also filed an application before the National Human Rights Commission (NHRC) regarding the mismanagement of labourers in the Central Vista Redevelopment Project, which involves, among other things, the construction of a new parliament building in New Delhi.
Also Read | Advocacy, Entrepreneurship, AI: 15 new law courses by NLUs, other law schools
Petitions, cases, CAQM
Banka's petition led to the formulation of an 18-member Commission for Air Quality Management (CAQM) for the NCR. The judgement came in October 2020 after the Supreme Court pressed the union government to look into the alarming state of air pollution crisis in the NCR region. "We approached Vikas Singh, Supreme Court Bar Association president and a few others and he took our case pro bono," said Banka.
Initially, the Supreme Court had constituted the one-man Justice Lokur Committee. The new commission replaced other committees, including the Supreme Court appointed Environment Pollution Control Authority (EPCA), which had been overseeing air pollution related issues in NCR since 1998.
Banka added, "The Commission for Air Quality Management and the law has come through a PIL submitted by us."
The NGT case against MNCs violating plastic management rules was also filed in 2020. "The NGT further filed directives to the Central Pollution Control Board [CPCB] to give the status report," stated Banka. After the report was submitted, CPCB imposed a Rs. 50 crore fine on Coca Cola and Rs. 10 crore on Bisleri. The case is still pending in NGT.
Also Read | Why are Bihar's law students suing their colleges?
Banka sent an application to NHRC in January 2022 regarding the poor living conditions of migrant labourers living in shipping containers in New Delhi. NHRC forwarded the letter to the labour commissioner of Delhi to take action.
"Many people think my work is limited to publicity stunts or courtwork," said Banka. "But I have worked much beyond petitions, run online campaigns, and organised protests at India Gate on air pollution and in front of the Prime Minister's house."
---
Follow us for the latest education news on colleges and universities, admission, courses, exams, schools, research, NEP and education policies and more..
To get in touch, write to us at news@careers360.com.
More From Sheena Sachdeva