'Fourth incident in three months': Kashmiri students say attacks on them rising
AMU PhD student was called a 'terrorist', threatened for interrupting a late-night badminton game; the ensuing protest was violently disrupted.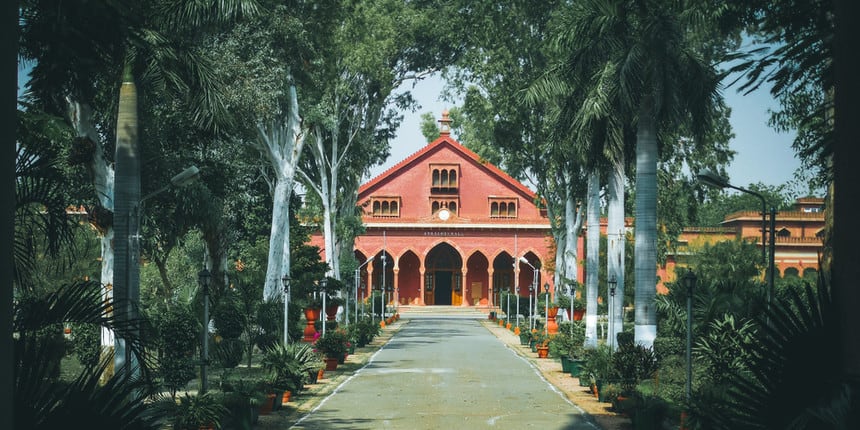 NEW DELHI: On December 25, a video of a fight on the Aligarh Muslim University campus went viral online. Shot on a mobile phone, it captured protesting Kashmir students being physically attacked. The violent mob included a person carrying a pistol.
While this video was shared and viewed widely, students said it was the fourth such attack on Kashmiri students on the AMU campus in three months.
A victim of the latest episode told Asian News International (ANI) that he was called a "terrorist" and threatened with murder. Students, who have been studying at AMU for years say this is the first time such an incident has happened at the university.
Following the incident, the Aligarh police on December 29, asked AMU administration to provide the names, addresses and contact details of all Jammu and Kashmir students studying in AMU. According to the students' group, Jammu and Kashmir Students' Association, there are around 1,400 students from the union territory enrolled in AMU. In the evening of January 3, student leaders cautioned the J-K students to not submit details requested by the AMU assistant controller's (admissions) notice. "All J&K students (AMU) are requested not to fill out any form or give any personal information to any of the departments, faculties, or provost offices. We believe it's a breach of privacy....Also, the related notice has raised concerns about security issues," said a WhatsApp forward which also promised a "parallel notice" reversing the first one. However, it hadn't been issued at the time of publication.
Badminton leads to a fight
The incident happened when a senior PhD student asked students playing badminton outside his room on the night of December 24 to stop as it was already 1 am in the morning. Kashmiri students alleged that an argument ensued and the students who were playing – most were undergraduate students from Ghazipur, Uttar Pradesh, they said – tried to attack the PhD student.
"They attacked the person, they tried to break the door. He made calls to university officials in the late hours and the situation was controlled. Then we senior students went there and pulled him out. The situation was still not normal," said Zubair Altareshi, another PhD student in AMU.
When students from Jammu and Kashmir gathered near the centenary gate to protest, they were attacked by a mob of people brandishing lathis, belts and even guns.
" The intention was to disrupt the protest. We don't know if they are from outside or inside the college," said Altareshi. It was this attack that the viral video captured.
Failure of administration
The students accused the AMU administration of doing nothing to make peace when the incident happened. Following students grievances, Jammu and Kashmir Students Association (JKSA), a student-led organization that represents the interests of Jammu and Kashmir students, wrote to the home minister Amit Shah, met the local member of Parliament, requesting them to ensure the safety of students.
"Although this incident was brought to the notice of the authorities. No concrete steps were taken to ensure the safety and security of students. Majority of the issues have been due to the hostile culture. When students bring in pistols to threaten other students, the university should look into the matter and eradicate this goonda culture," said Nasir Khuehami, spokesperson, JKSA.
"Post 2019, this is the fourth incident in the past three months. We received such complaints of the use of guns, use of illegal weapons. This is the second such incident which escalated. Last month, there was a student whose skull was bashed by a cricket bat," said Khuehami. In November, after an argument following a cricket match, a student bashed the head of a Kashmiri student. The student sustained a fractured skull and a police complaint and a counter police complaint were filed.
"We brought the issue into the proctor's and registrar's notice. We felt that deliberately these issues are being ignored," said Khuehami.
On December 29, AMU announced that a nodal officer was posted to assure the safety of students. Further, a fact-finding committee was constituted to look into the recent attacks on the Kashmiri students.
Spiralled out of control
Some students, however, believe that the incident had nothing to do with the identity of Kashmiri students who have always felt secure at AMU.
"It's obvious that there might be some animosity towards Kashmiris because non-Kashmiris did not come out to openly support. There was no condemnation from non-Kashmiris. At the same time, I think it was too much exaggeration of a single incident," said Irfan Bashir, a PhD student, who first came to AMU as an undergraduate.
The incident in question involved students from the same communities.
"Obviously, there have been incidents [of attacks] before. But it was not based on identity. Each group tries to keep its own regional identity. There is a touch of regionalism here. Some are from eastern UP, some are from Bihar, then Kashmiris will come together. So, a sort of domestic politics is at work here," said Bashir.
"We are yet to ascertain what was the intention behind those who disrupted the protest," said Bashir.
Kashmiri students attacked
However, Kashmiri students have more reasons than any to be wary of hostility in campuses. After the Pulwama terrorist attacks and the subsequent loss of statehood for Jammu and Kashmir due to the abrogation of Article 370, Kashmiri students studying in different states were attacked for their identity. Incidents were reported from Punjab, Uttarakhand, Karnataka, Uttar Pradesh, among others.
It did not stop there. In 2021, three Kashmiri students were thrashed by right-wing groups in an Agra college after they put up a WhatsApp status celebrating Pakistan's victory in a cricket match against India. The Kashmiri students were later arrested and charged with sedition.
There were several incidents in 2022 as well. In November, 10 students, including five Kashmiris, were arrested after fights broke out between two sections of students, one from Bihar and one from Kashmir, in Lala Lajpat Rai College. There was also a scuffle reported in Desh Bhagat University, Punjab, between Kashmiri and non Kashmiri students post India-Pakistan Match.
"There are dozens of issues [in 2022]. There were two incidents in Punjab itself last month. This keeps on happening in Punjab especially since the government changed and the administration officials changed there have been a series of harassment cases in Punjab. Students were thrashed in Sangrur and one other incident happened around the Cricket World Cup," said Kheuhami.
AMU and Kashmiri students
For Kashmiri students studying outside the state, AMU has remained one of the most preferred destinations for Kashmiri students.
"Because of its minority character, students from low-income families in Kashmir prefer this university. When Article 370 was abrogated and a complete lockdown was enforced in Kashmir, we were offered a good atmosphere in AMU. Some professors opened their doors for accommodation and even gave financial help," said Bashir.
He continued: "Yes, there were many incidents [of attacks] but they were all singular incidents between individuals that turned into clashes…But as far as Kashmiri identity is concerned I want to say we are given a good atmosphere, a safe atmosphere, with reservation under the distant quota."
Students, however, agree that students from Jammu and Kashmir will be forced to think twice before opting for AMU.
"These things will send the wrong message to students who want to study in Aligarh. Obviously, this will affect the reputation of the university. But now the administration will have to look into it," said Khuehami.
---
Follow us for the latest education news on colleges and universities, admission, courses, exams, schools, research, NEP and education policies and more..
To get in touch, write to us at news@careers360.com.
Know More About
NIRF Rank
11
Rating
4.2/5
Download Brochure