'Create MCQ-cracking robots': Doctors, students on NMC's NExT exam guidelines
'Create MCQ-cracking robots': Doctors, students on NMC's NExT exam guidelines
NMC's draft guidelines for the NExT exam have divided opinions and caused confusion among MBBS graduates. It will replace NEET PG.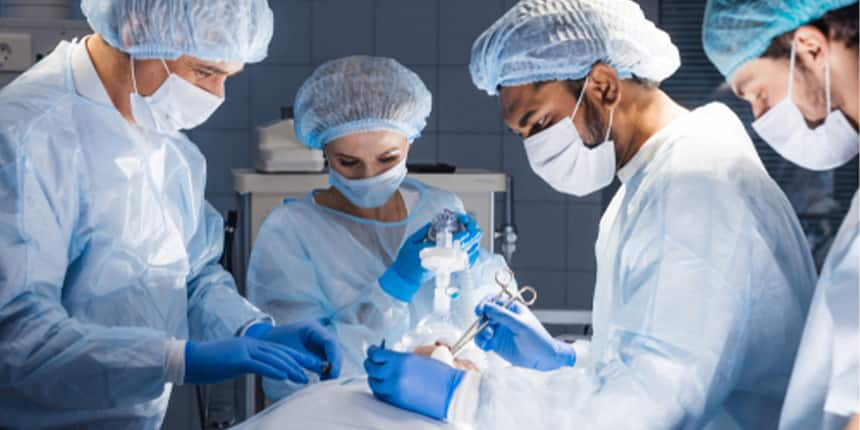 Sanjay
|
Jan 3, 2023 - 12:39 p.m. IST
New Delhi: Days after the National Medical Commission (NMC) sought comments on the proposed draft regulations related to National Exit Test (NExT), a section of medical students, teachers and leaders of medical organisations have raised concerns about its pattern, objectives and implementation. They also questioned the timing of the regulations while stating that the proposed regulations will lead to a boom in the medical coaching business.
Opinion is divided on the NExT. One section is welcoming the proposed changes; others are calling it an "early and unprepared move". Students are complaining that they will be forced to avoid clinical training and ward postings in order to prepare for this "decisive" examination.
The NExT will serve as a qualifying final-year MBBS exam, a licentiate exam to practise and for admission to postgraduate courses, replacing the National Eligibility Entrance Test for Postgraduate (NEET PG). It will also be the screening exam for foreign medical graduates who want to practise in India, replacing the Foreign Medical Graduate Exam (FMGE).
In a notice dated December 28, NMC issued the draft guidelines for NExT which will be held in two steps. NExT Step 1, a theory exam, will be held in December. NExT Step 2, a practical, clinical and viva voce exam, will be held in March and be valid for three years. The proposed guidelines of NExT exam say that the students have to clear the NEXT exam (Steps 1 and 2) within 10 years from the date of their MBBS admission.
According to NMC, these regulations shall be called the 'National Medical Commission National Exit Test Regulations, 2022'.
NExT Step 1
Final-year MBBS students will be eligible to appear in NExT Step 1, an online examination with multiple choice questions (MCQs). It will consist of six papers covering subjects of MBBS third year and final year.
It will be a centralised common pan-India examination which will be conducted once a year, before the university practical examination for third-year MBBS (Part2) and before the compulsory internship in the final year of MBBS. The NExT Step 1 shall replace the conventional university or institutional theory examinations.
The passing marks for NExT Step 1 will be 50% in each of the six papers. Students who clear it and the university's final practical or clinical exam will be eligible for internships. Marks obtained in NExT Step 1 will be used also for admission to postgraduate (PG) medical courses. However, students need to clear NExT Step 2 to obtain a licence to practise and for admission to PG medicine.
Also Read | NMC 'relaxing norms' for new medical colleges will raise MBBS fees, dilute quality: Experts
'MCQ-cracking robots'
"Now, students have to compulsorily clear NExT exam - Step 1 and Step 2 within 10 years of their MBBS admission to qualify for getting a medical licence. Otherwise he will be reduced to a class 12th pass student.So stakes are really high and students will definitely focus on coaching to clear this decisive exam from the first year itself," said Seema Mandal, a final-year MBBS student at ESIC Medical College, Kolkata.
Dr Satendra Singh, professor of physiology at University College of Medical Sciences (UCMS), Delhi, argued that the MCQ format of questions in Step 1 will decrease attendance of students in clinical subjects as students will solely focus on this exam.
"Due to MCQ type questions in NExT Step 1, teachers of the six clinical subjects won't have to set theory papers and assess. This will further decrease dwindling attendance in clinical subjects. Classic example of the right hand not knowing what the left is doing as there seems to be little alignment between Competency Based Undergraduate Curriculum (CBME) and NExT. Are we preparing physicians for first contact with the community or MCQ-cracking robots who have never seen clinics?," he questioned.
NMC in its draft has said that MCQ items would address higher domains of knowledge aligned to competencies expected of an Indian medical graduate or a graduate practising modern system of medicine.
Questioning the MCQ-based NExT Step 1 exam pattern, Dr Rohan Krishnan, national chairman of Federation of All India Medical Association (FAIMA) said "We will definitely see a boom in the centres business which is already flourishing in our country. These coaching institutes are charging nearly Rs 1 lakh from a student and hence it will be a big financial burden on students."
NExT Exam: Six papers in five days
According to NMC's draft, students will have to sit for 6 papers in consecutive five days and there will be two sessions each day. The duration of the first session will be of three hours and the second session will be of 1.5 hours.
"Though it will thoroughly check the clinical knowledge of students by including maximum questions related to clinical-oriented subjects but it will be a burdensome process to sit for two papers in a day," said Abhinav Jha, a final-year MBBS student at Baba Saheb Ambedkar Medical College, Delhi.
Dr Shankul Dwivedi, member of the standing committee of Indian Medical Association (IMA) junior doctors' network said, "There is no examination in India in which students are subjected to such an exhaustive process. It is a biassed and inappropriate approach towards medical education."
NExT exam from which batch?
The NMC is yet to clarify which batch of MBBS students will be the first to sit for NExT exam. In September 2022, the central government extended the deadline for introducing the NExT exam till September 2024. The arrival of the draft guidelines has thrown UG medical students as well as MBBS doctors hoping to pursue postgraduate studies into confusion.
The National Board of Examinations in Medical Sciences (NBEMS), will conduct the NEET PG 2023 on March 5. Students who have completed their MBBS and internships will sit for it.
Dr Ankit Kumar, MBBS doctor at Shaikh-Ul-Hind Maulana Mahmood Hasan Medical College, Saharanpur, said: "Marks scored by final-year students in NExT Step 1 will be used for awarding the MBBS degree. What about the marks of doctors like me who have completed their MBBS in 2020 ? We are not clear how we will be allowed to sit in NExT if we want to pursue a PG course. We are worried about future"
Also Read | The NExT Problem: Lack of clarity leaves MBBS students confused, prey to rumours
Sidharth Kumar, final year MBBS student at Sri Aurobindo Institute of Medical Sciences (SAIMS), Indore said it will be hectic for students to prepare for NExT exam. "Along with practical, clinical and theory exams, you have to deeply study the subjects from the first year itself to clear the NExT exam in the final year of MBBS. It will be very hectic for students. I am not sure whether I will sit for NEET PG in 2024 after completing my nine-month mandatory internship or will I have to clear NExT-1 to get an internship," he said.
Mandal will write her final MBBS exams in March 2023. "It is unclear to our batch whether we have to appear for NExT or NEET PG 2023 for admission in a PG medical course," she said.
Unprepared move
Leaders of the medical fraternity said that the existing system in medical colleges needs to change drastically to prepare students for the NExT.
"NMC should have conducted training programmes for all medical teachers so that they could teach students in line with NExT exam pattern. It is too soon to say whether NExT is a good move or not. But I must say it is an early and unprepared move. Neither the students nor medical teachers are prepared for this examination nor NMC. NMC is not sure which agency will conduct this examination, how can it know what students are going through right now?" Dr Krishnan said.
Dr Aviraj KS, president, Indian Association of Community and Family Medicine (IACFM), said that the existing system is not prepared or trained for the NExT. "There is no mention of changes in the MBBS teaching curriculum that will be done by NMC to train the MBBS students to face such exams. The NExT exam is crippled without future research prospects. It has been kept on par with other foreign country's licence exams, but there is no mention of research evaluation which is part of all medical licensing exams in other countries," he said.
Dr Dwivedi said that NMC's draft on NExT exam looks after only the evaluation process of medical graduates. "We are currently witnessing lack of facilities, infrastructure and shortage of faculties in medical colleges resulting in degradation of quality of doctors but increase in numbers of medical seats," he said.
Also Read | Centre drafts amendment in NMC bill; proposes new board of exams in medical sciences
MBBS course getting its due
President of Federation of Resident Doctors' Association (FORDA) Aviral Mathur, stands on the other side of the debate.
"We (FORDAA) see NMC's draft for NExT exam very positively and welcome what the commission has proposed. It has been seen that the overall pattern of NEET PG was very theoretical and based on rote-learning. In the past few years, the focus had shifted from clinical curriculum and learning to just clearing three-hours theory based exams to clear MBBS course. There was a need for change in the pattern. Through NExT, MBBS course is getting its due credit as NMC has taken inspiration from UK, US and Australia which conduct medical exams in steps," Mathur said.
"NEET PG is just a three-hours MCQ based paper to solve for admission in a PG medical course. The focus should shift to a more clinical and practical approach rather than making it completely theoretical. There is a major chunk of those students who are not working anywhere and just preparing for NEET PG after completion of their MBBS internship. Now with NExT 2, these students will have to come for clinical classes in college. It is a holistic approach," he added.
---
Follow us for the latest education news on colleges and universities, admission, courses, exams, schools, research, NEP and education policies and more..
To get in touch, write to us at news@careers360.com.