CAA Protest: IITs crack down on students, censor reports
CAA Protest: IITs crack down on students, censor reports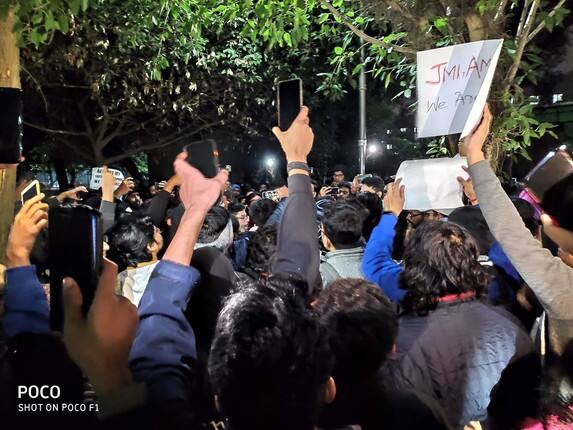 NEW DELHI: If the participation of students from the Indian Institutes of Technology in the recent protests was a surprise, the crack-down on them has been "unprecedented" too.
4 min read
Mar 05, 2022
The director of IIT-Kanpur, Abhay Karandikar, instituted an inquiry, days after students on that campus protested. About six of them were "called for interrogation" on Monday, as one student who requested not to be named put it. Before this, the deputy director, Manindra Agrawal had written to staff and students warning them against making "inflammatory" comments on campus or social media.
In IIT Delhi, an article on the December 16 protest written by student reporters from the Board for Student Publications was pulled down from internal students' board. The director, Ramgopal Rao, had left a comment below it that began with this: "This is ridiculous. No one represents all IIT Delhi students."
Then, according to The Indian Express and The New Indian Express, a German exchange student who had joined a protest organised by students at IIT-Madras has apparently been asked to leave the country. Jakob Lidenthal had joined protests in various parts of Chennai, including the campus, and was photographed holding a placard saying: "1933 to 1945: We have been there". He was referring to the Nazi rule in Germany.
Most of the campus protests were held over three days – December 16 to 18 – and in a departure from tradition, even students from some of the IITs joined in. The protests were in response to violence faced by the predominantly Muslim students of Jamia Millia Islamia University and Aligarh Muslim University on Sunday, December 15. They had been protesting against the Citizenship (Amendment) Act 2019 that paved the way for granting citizenship on the basis of religion and left Muslims out. The police attacked the students with sticks, teargas and stun-grenades, leaving many injured and some disfigured.
Fighting back
But students haven't taken the administrations' efforts to stifle their expression too kindly.
"The joke is that people who stood together irrespective of religion are being tried for communalism and on the complaints of people who are real flag-bearers of communalism," said an IIT Kanpur student. Since the IIT Kanpur inquiry will also look into comments made on social media, students have saved screenshots of social media posts allegedly made by the same post-doctoral student and faculty-member who complained against the protesters.
The posts, allegedly by Vashi Mant Sharma, contain a range of pejorative remarks about Prophet Mohammad, contain deeply sexist comments and propagate the slanderous campaign of "Love Jihad" - each clearly calculated to offend. Careers360 has reviewed several of these posts. One bizarrely calls the protesters a "pro-Pak hate mob". Another post allegedly made by Sharma says he has noted a "sudden surge in number of bearded skullcap men and burqa-clad women in IITs and other educational institutions" and that this signals an "exponential" rise in their population and a spread of "fanatic version of Islam".
To set the record straight – according to the latest government statistics reported in the All India Survey on Higher Education 2019, just 5.23 percent of the total student population in higher education is Muslim. That their representation in higher education does not match their presence in India's population, which is 14.23 percent as per the 2011 Census, is indicative of the community's backwardness and marginalisation. Second, the claim of a sudden increase in the Muslim population is a myth – as per the same census, the community has seen a "sharp fall" in its population growth rate.
The student protesters are upset and offended that IIT Kanpur's authorities have decided to take action on the complaint of these academics. "One of the complainants deleted [his] tweet when the enquiry started," said a student. "It is sad that the institute is standing with them." Sharing the screenshot of an email sent by the dean of student affairs to the faculty member in charge of security, he added that the students had been given permission to protest and that it was "withdrawn verbally at the venue of the protest" and they were told that Section 144 of the Code of Criminal Procedure, or CrPC, was in force, prohibiting any gathering of protesters.
However, these students are regrouping as well. While Sharma and his group were opposed to the protests in general, they chose to highlight in particular the recitation of Faiz Ahmad Faiz's Urdu poem, Hum Dekhenge – now, a classic protest anthem. "There is some difference of opinion about this poem but all those who participated in the silent march will respond collectively and in solidarity with the students who are facing the inquiry," said a student.
Jakob Lidenthal (Source: Chinta Bar)
Articles and placards
In IIT Delhi, an article on the protest by student journalists was pulled down.
In a post of his own, the director, Ramgopal Rao wrote: "Many students have written to me saying that they do not subscribe to BSP [Board for Student Publications] views, your posts and this press release. This logic and assumption of BSP representing all students is flawed…You cannot use an official address and claim to represent all students and present only one side of the story. We all may have our personal views, but in our official positions, we must be neutral."
An alumna wrote back saying: "I'm just wondering if these are students at IITD who have written to you that they do not support BSP's stance against police brutality towards students." She further pointed out: "There is no statement given by the BSP here but IITD Student Council."
This has led to a raging debate on social media with some responders wondering if the editors of IIT Bombay's student magazine, Insight, cannot be moved to "do something in solidarity". One comment said: "They were asked to bend and they started crawling (not talking about the BSP)."
In IIT Madras, according to The Indian Express, it was an official who reported Lidenthal and his message against fascism to "higher-ups", leading to him being asked to leave. At many sites, the protests have targeted the BJP government, led by Narendra Modi, which has passed the law. Plus, home minister Amit Shah has frequently linked the CAA to the possibility of a National Register of Citizens for which every resident of the country will have to prove their citizenship. This, fear many, could lead to vast sections of the population being rendered stateless. This was the context for the message on Lidenthal's placard. The students' group Chinta Bar has extended "solidarity and gratitude" to Lindentha "for being part of struggles to protect the rights of people in this country and his concern for humanity."
UP student rusticated
Even outside the IITs and the spotlight they bring, students are beginning to pay for their activism. Ahmad Raza Khan has been rusticated from Khwaja Moinuddin Chishti Urdu, Arabi-Farsi University, a state university in Lucknow, Uttar Pradesh. Khan was a third-year student. On December 17, he had posted an announcement for an anti-CAA and NRC protest on December 24 on Facebook. He had made that post on behalf of a student body. The letter informing him of the university's decision says he made that post while Section 144 was in force in the state but Khan has countered that there was no Section 144 or ban on gathering on December 17 and that he "couldn't delete the post even if [he] tried because internet had been shut down". The university rang his father, an elderly resident of a village in Kushinagar district of Uttar Pradesh, to announce the rustication.
Write to us at news@careers360.com
More From Team Careers360