CMC student develops app to address mental health issues of doctors
CMC student develops app to address mental health issues of doctors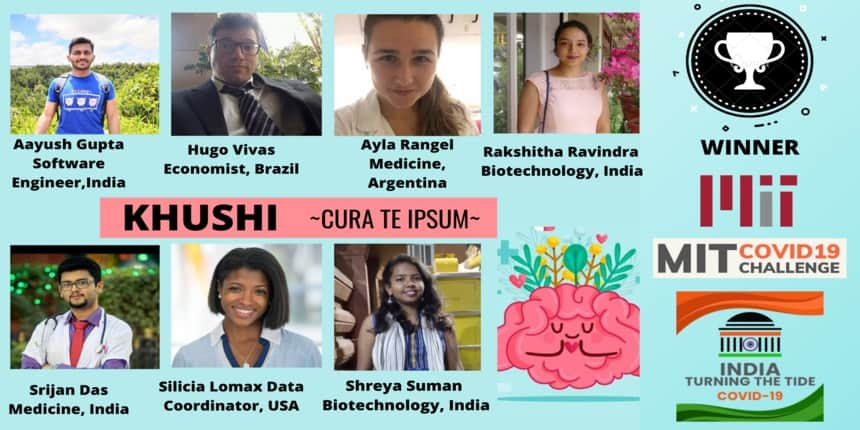 NEW DELHI: Srijan Das, a final year MBBS student of Calcutta Medical College, has won the Massachusetts Institute of Technology (MIT) COVID-19 challenge. He worked with six others, of whom two were students from the USA and Brazil, to create a mobile application that tracks mental health problems faced by doctors and makes help available.
The team was declared the winner of "India: Turning the Tide", a 48-hour virtual event which started n August 28. It looked into the mental health issues faced by the front-line health workers during the COVID-19 crisis.
"I pitched in the idea. Others joined in. They too felt that this is an issue which needs to be worked on," said Das. "We understood there is a problem going on with the medical students, specifically the front line workers working in the hospitals. There were many cases of depression and suicides, especially over the past two months. It was among a particular population of the hospital, and that is the junior residents."
MIT Challenge
When the MIT challenge was announced, Das pitched the idea of helping front-line health workers' mental health.
"People from all backgrounds registered. We needed some from the medical community, an economist and people from the IT field as well. We also needed students who are in touch with mental health institutions in Bangalore," said Das.
The team finally came together on a virtual platform on the first day of the hackathon.
The team consisted of three students. Apart from Srijan Das, it had Hugo Vivas, from Brazil studying economics and Silicia Lomax, a student studying data analytics in the USA.
The other members were software engineer Aaysuh Gupta, biotechnologists Rakshitha Ravindra and Shreya Suman, and doctor Ayla Rangel from Argentina.
Khushi – the app
The team developed an application named 'Khushi: Cura te Ipsum', the Latin phrase meaning "cure yourself" and a reference to the proverb, "Physician, heal thyself". It focuses on the mental health challenges faced by front-line doctors and has three components.
First, a certified mental health survey will be conducted. On a weekly basis, the cases will be assessed and selected for intervention by the psychiatrist and mental health professionals working at the hospital. This process will help capture the changing status of mental health and extend care beyond the clinic.
Second, the app will be customised for specific hospitals to match hospitals according to their experience.
Finally, the app will use pre-recorded mind-calming techniques which will serve as para-therapeutic support.
The app will be introduced at hospitals and clinics for providing mental health support to front-line health care workers and doctors.
Das said his idea was born out of discussions with Dr Anurag Kumar who died by suicide on July 10. Kumar was studying to be a psychiatrist at All India Institute of Medical Sciences (AIIMS), New Delhi, and had been treated for depression. Almost exactly a month later, a second-year MBBS student also died by suicide.
Das had been in touch with Kumar on a social media site and discussions on how there is help available only during counselling or when the individual is hospitalised spurred Das' interest in creating a system whose tracking and support is uninterrupted.
Efforts have been made to sensitise society on mental health challenges posed by the COVID-19 situation but there was nothing that focussed specifically on health workers in a hospital setting.
Pricing and trials
The team was also looking for experts to help with pricing the app and linking it up with insurance.
They identified Abid Dobani, a mentor from Canada. "Abid Dobani helped us understand what would be the pricing and the method actually to work with an insurance company. So, we were lucky as the advice came on the day of the hackathon itself."
A survey was done; it was a weekly survey in the hospitals. It targeted mental health professionals who are employed in that particular hospital.
The team is also tying up with mental health institutions and will provide tailored services as per the requirements of a specific hospital.
For a hospital that does not have a mental health unit, the team and its app will serve two purposes. First, it will maintain the information of doctors for a particular portal which will cater to that hospital. Second, it will identify the mental health issues of the doctors and other health workers.
The team is working in a phase-wise manner to introduce the app to individual hospitals. Trial runs would be undertaken in COVID-19 care unit of the hospitals of the government of West Bengal and a public hospital in New Delhi.
Also Read:
Write to us at news@careers360.com.
Stay updated with latest Education News
More From Pritha Roy Choudhury