COVID-19: Indian medical students' ordeal at Kuala Lumpur airport
COVID-19: Indian medical students' ordeal at Kuala Lumpur airport
NEW DELHI: With international commercial flights banned from landing in India for a week from March 22 to combat COVID-19, the fate of two medical students from Mangalore is hanging in the balance.
Mahima Gupta, a fourth-year MBBS student from Kasturba Medical College, Mangalore, along with her classmate Navin Mallya, had gone to Malaysia to do a one-month surgery elective internship at the International Medical University at Kuala Lumpur, Malaysia. The internship was scheduled from March 12 to April 20.
They booked a return ticket to India as coronavirus cases grew rapidly in Malaysia. The flight got cancelled after the Indian government withdrew permission for international flights from Malaysia to land on its soil. They, and about 250 others, are stranded at the airport.
Just five hours
"With the rapid rise of coronavirus cases in Malaysia, we booked our return flight for 18th March. However, the travel advisory was issued giving less than five hours' time for people to return, thus our flight got cancelled," Gupta told Careers360.
She, along with 250 other Indians, were to board Indigo flight 6E 1818 from Kuala Lumpur to Chennai on March 18.
Gupta said the condition of other stranded Indians is quite pathetic. A number of elderly people and kids are among them, she said. "Many of those stranded at the airport don't have a place to stay and have no money. We all wish to return back to India immediately."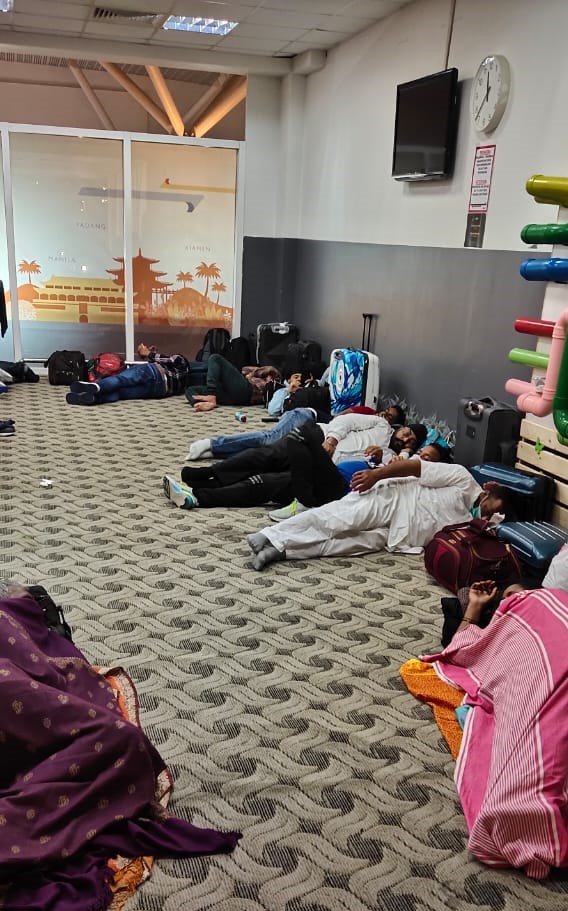 Indians stranded at KL
No response
For the last two days they have been trying to contact all authorities and helpline numbers, but are yet to receive a response. "The High Commission at Kuala Lumpur was closed today, but they have been pressuring the government of India to send for rescue flights. But the India government seems reluctant to bring back Indians from Malaysia because they don't want the virus to spread more and that is their priority as of now," Gupta said.
"As a doctor I understand the gravity of the situation and the pain the government is taking, but the plight of Indians at an infectious place like an airport is really disappointing," she added. "Our government and Air Force have done rescue operations from worst-hit places like China, Iran, Rome etc. Why not from Malaysia?"
Air Asia had flown out 405 stranded Indians transiting through Kuala Lumpur on special flights to Delhi and Vishakhapatnam on March 18.
As the deadly coronavirus spreads, another group of 200 Indian students has been stranded at the international airport at Manila, the Philippines.
The Indian government announced on Thursday that it was banning all international commercial flights from landing in the country for a week starting March 22 as it scrambles to halt the march of the deadly coronavirus that has so far infected over 170 in India and placed over 60,000 in quarantine.
Also read:
Write to us at news@careers360.com.
Stay updated with latest Education News
More From Rajaram Sukumar