'Immediate priority is teacher recruitment, implementing NEP': DU VC Yogesh Singh
DU VC Yogesh Singh said the university's immediate priorities are filling teacher vacancies, shifting the DU admission process to CUET 2022.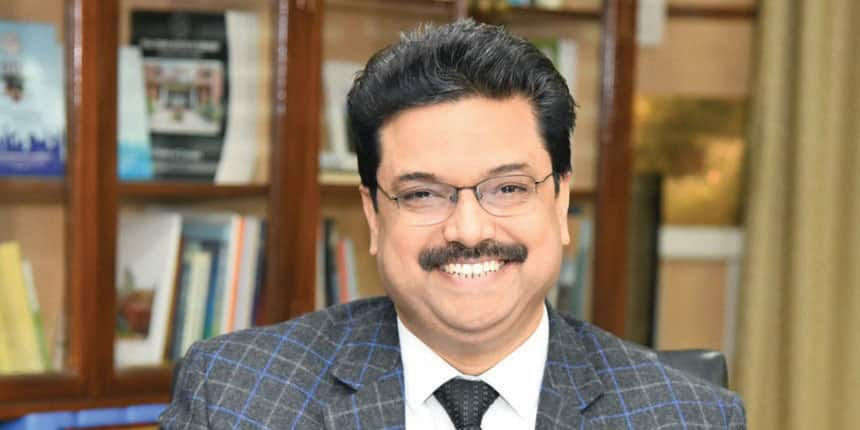 NEW DELHI: The Delhi University is en route to implementing the recommendations of the National Education Policy (NEP) 2020. It has already announced a four-year undergraduate course and will be admitting students through the Common University Entrance Test (CUET).
Recommended: Download Updated CUCET/CUET 2022 Syllabus Free, Here!
Don't Miss: Preparing for CUET? Here are best tips by Experts to Score high. Click Here
Students Liked: Top Universities/Colleges Accepting CUET Score . Download List

Yogesh Singh, the Delhi University Vice Chancellor, spoke to Careers360 about the university's immediate priorities – filling teacher vacancies and implementing the CUET. He also spoke about the new undergraduate curriculum framework (UGCF) and the necessity of taking the Higher Education Financing Agency (HEFA) loan. Edited excerpts below.
Q. What are your immediate priorities as Delhi University VC and what are your long-term plans?
A. First of all, I'm very happy to be here as the Vice Chancellor of this great institution. I will be completing six months very soon. My immediate priority is the implementation of the National Education Policy. We have created the UGCF. Also, the admission at undergraduate through CUET. These are our immediate concerns and I'm quite hopeful that we'll be able to do it in a timely manner and the students will be admitted from academic session 2022-23 through CUET.
Also Read| CUET is 'not fair', might force states to opt for centralised syllabi: Educationists
Second is the recruitment. Now, we don't have any tendency for career advancement. Most of the teachers have already been promoted. 50 percent of teaching positions are vacant. We have to work very hard. Slowly and steadily, we are conducting interviews and I'm quite hopeful that within a year or one-and-a-half years we will be able to complete the first round of the process. In my opinion, the recruitment process should be continuous in nature rather than having a backlog of vacancies.
We have already advertised for all positions. We have already started interviews. It is a time consuming process. Every week we are conducting one interview.
Q. Are there any specific targets for round-one of teacher recruitment?
A. I have no targets. It depends on the performance of the teachers on the day of the interview. If we are getting teachers, we will recruit all. If we are not getting any we may not fill all the vacancies. It is difficult to say. At least, I will complete some rounds.
Q. Now that CUET is in, what admission policy is DU considering? When will DU release its own admission policy brochure?
A. We will be admitting students through CUET and Class 12 marks will be replaced by CUET marks. Other admission processes, most of it will be the same like last year with some modifications here and there.
Q. Is a stream change possible for students? If a PCM student wants to opt for a sociology or history course, will they be selected based on his domain score or the general test score or both?
A. Every student is expected to appear in the same subjects which he has studied in Class 12. Before CUET, we were admitting science students in commerce and arts courses. This process will continue. The admission will be based on the scores which they have scored in their subject. There will be certified criteria for this process. But yes, students are allowed to take commerce and arts. Because the facilities and options available last year will continue to be available to our dear students.
Q. Will minority institutions like St Stephens follow the same procedure?
A. They should follow the same procedure at least for the 50 percent general quota. They should follow the same procedure regarding the minority quota as well. This should be based on CUET only. But if they want to have some interview for 50 percent, we are open for that but at least the majority should be based on CUET scores.
Q. Are there enough funds to implement NEP? One more year means more students and hence more infrastructure. There is also a proposal to take a Rs 1,000 Cr HEFA loan for building infrastructure.
A. The HEFA loan has nothing to do with implementing NEP. Taking a loan from the government is a very welcoming step. Our university is 100 years old. Most of the buildings are 60 years old. They need restoration, maintenance. We need infrastructure for the students. We need to upgrade our laboratories.
Also Read| Kerala higher education reforms to ease regulations, fix exam process
How would we do that then? What are the other ways? This is one of the ways which we are taking. We will explore other possibilities also.
Q. Is there a lack of funds from the UGC and the ministry for implementing NEP?
A. We are getting funds from the UGC. No fund has been curtailed. This time we will get more funds than the funds we got last year. The issue is not cutting of funds. Because the university is 100 years old now. We have to revamp our infrastructure. Who will pay for it?
The loan is a very liberal [policy] from the government. We should avail this facility of the Government of India. Why should we not?
Q. Will DU generate enough funds of its own to pay off the loan? What are your plans for fund generation?
A. Actually, I would like to clarify here. We have to only pay 10 percent of the loan, 90 percent will be paid by the government of India. It is a very liberal scheme. The government has designed such a wonderful scheme. We should appreciate the government for having such a great scheme.
Q. There has been some opposition to UGCF. Teachers have said that it reduces core courses and dilutes the curriculum. Comments?
A. I do not agree with this. Those may be their personal views.
Q. So, there is no dilution of the course?
A. The issue is from which side we want to see [this]. This is related to the students and the requirement of a particular course to study. We had to see international standards also. UGCF has been implemented and it is related to the workload of the students. In that we have to introduce skills, entrepreneurship, and internships for the students [for which] they need to have some time. It has a direct relationship with the engagement of students per week.
Q. Teachers in the English department have said that UGCF will cause reduced workloads and job losses.
A. This is a very specific issue which has been raised unnecessarily. Because NEP has specific directions to be implemented, no teacher will lose their job. They are unnecessarily creating confusion in the system.
Q. Finally, how different has been the transition from being the DTU VC to the DU VC?
A. Both are very good universities. DTU has a special focus on technology and this is a generic university. We are also planning to start technology courses in DU also. I don't see much difference. The only thing is the volume here is much more than DTU. That
is all.
We have more teachers, more people working on the admissions. For me, as a Vice Chancellor, it feels the same.
---
Follow us for the latest education news on colleges and universities, admission, courses, exams, schools, research, NEP and education policies and more..
To get in touch, write to us at news@careers360.com.
Know More About
NIRF Rank
12
Rating
3.9/5
Download Brochure