Odisha: Dharmendra Pradhan discusses education with heads of educational institutions
Odisha: Dharmendra Pradhan discusses education with heads of educational institutions
Education minister Dharmendra Pradhan met government and central education institutions of Odisha to discuss the education infrastructure.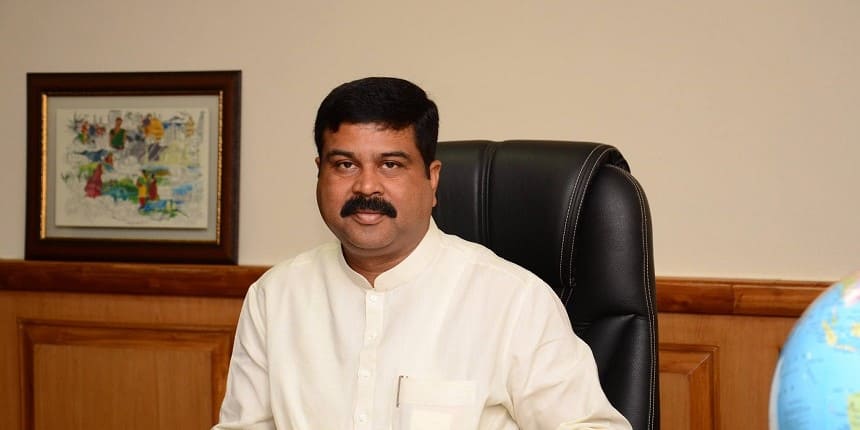 NEW DELHI: Union education minister Dharmendra Pradhan discussed the quality of education with heads of educational institutions of Odisha, he said on social media.
Pradhan had a word with Chancellors and directors of IIT Bhubaneswar, IIT Sambalpur, Central University of Odisha, NIT Rourkela, IISER Berhampur, Central Sanskrit University, and IGNOU to discuss the research infrastructure in the state.
Dharmendra Pradhan also met, virtually, the educational leaders of Kendriya Vidyalayas (KVs), Navodaya Vidyalaya Samiti (NVS), National Council for Teacher Education (NCTE), Central Board of Secondary Education (CBSE), and National Council of Educational Research and Training (NCERT) to discuss the school infrastructure and education.
"I discussed the quality education and research infrastructure in the state with the chancellor and director of central educational institutions in Odisha - iitbbs, iim_sambalpur, cuokoraput, nitrourkela, IISER_BERHAMPUR, CentralSanskrit And OfficialIGNOU," Dharmendra Pradhan said.
ଓଡ଼ିଶାରେ ଥିବା କେନ୍ଦ୍ରୀୟ ଶିକ୍ଷାନୁଷ୍ଠାନ @iitbbs, @iim_sambalpur, @cuokoraput, @nitrourkela, @IISER_BERHAMPUR, @CentralSanskrit ଏବଂ @OfficialIGNOU ର କୁଳପତି ଓ ନିର୍ଦ୍ଦେଶକଙ୍କ ସହ ରାଜ୍ୟରେ ଗୁଣାତ୍ମକ ଶିକ୍ଷା ଓ ଗବେଷଣା ଭିତ୍ତିଭୂମି ବିଷୟରେ ଆଲୋଚନା କଲି। pic.twitter.com/KBaGZhiy6K

— Dharmendra Pradhan (@dpradhanbjp) August 21, 2021
"I held talks with regional leaders of institutions under the Government of India in Odisha e.g. KVS_HQ, cbseindia29, CommissionerNVS, ncteDelhi And ncert. The students discussed quality education, nutrition and strengthening the school's overall infrastructure," Pradhan tweeted.
ଓଡ଼ିଶାରେ ଥିବା ଭାରତ ସରକାରଙ୍କ ଅଧୀନସ୍ଥ ସଂସ୍ଥା ଯଥା @KVS_HQ , @cbseindia29, @CommissionerNVS, @ncteDelhi ଓ @ncert ର ଆଞ୍ଚଳିକ ମୁଖ୍ୟ ମାନଙ୍କ ସହ ଆଲୋଚନା କଲି। ଶିକ୍ଷାନୁଷ୍ଠାନରେ ଛାତ୍ରଛାତ୍ରୀଙ୍କ ଗୁଣାତ୍ମକ ଶିକ୍ଷା, ପୃଷ୍ଟିଯୁକ୍ତ ଖାଦ୍ୟ ଏବଂ ବିଦ୍ୟାଳୟର ସାମଗ୍ରିକ ଭିତ୍ତିଭୂମିକୁ ମଜବୁତ୍ କରିବା ଦିଗରେ ଆଲୋଚନା ହେଲା। pic.twitter.com/Y4D4qZ4UjV

— Dharmendra Pradhan (@dpradhanbjp) August 21, 2021
Education minister also said: "I am sure that these educational institutions in Odisha will create an environment that meets the expectations and aspirations of the students and implements the new education policy that contributes to the overall development of the country and has a positive impact on the society through education."
ମୁଁ ନିଶ୍ଚିତ ଯେ, ଓଡ଼ିଶାର ଏହି ଶିଷାନୁଷ୍ଠାନ ଗୁଡ଼ିକ ଛାତ୍ରଛାତ୍ରୀଙ୍କ ଆଶା ଓ ଆକାଂକ୍ଷାକୁ ପୂରଣ କରିବା ସହ ଦେଶର ସାମଗ୍ରିକ ବିକାଶରେ ସହାୟକ ହେଉଥିବା ନୂତନ ଶିକ୍ଷା ନୀତିକୁ କାର୍ଯ୍ୟକାରୀ କରିବା ଭଳି ଏକ ପରିସଂସ୍ଥାନ ସୃଷ୍ଟି କରିବେ ଏବଂ ଶିକ୍ଷା ମାଧ୍ୟମରେ ସମାଜରେ ସକରାତ୍ମକ ପ୍ରଭାବ ପକାଇବା ଦିଗରେ କାର୍ଯ୍ୟ କରିବେ ।

— Dharmendra Pradhan (@dpradhanbjp) August 21, 2021
Write to us at news@careers360.com.
More From Vagisha Kaushik