How Murakhali got a lawyer
How Murakhali got a lawyer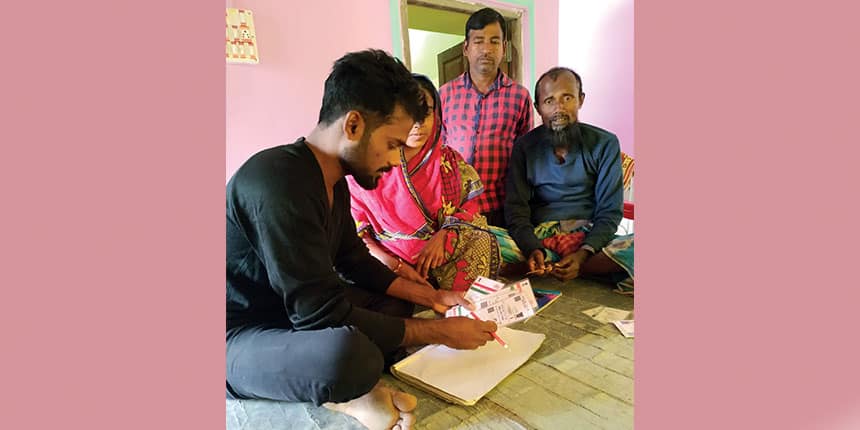 A typical day for Nazrul Molla, 26, starts with meeting clients and documenting their troubles – domestic violence, murder, rape, theft, defamation. The first four hours are spent drafting petitions and submissions for the Alipore District Court and the High Court at Esplanade, Kolkata, where Molla, a trial lawyer, practises.
The second half of the day, Molla observes his seniors in court, learning how a case is presented and argued while maintaining decorum and peace. Three days in a week, after work, Molla privately tutors law aspirants at a coaching centre to supplement his income. The remaining three weekdays, he counsels villagers in Murakhali on the National Register of Citizens (NRC) and helps them gather their documents.
Molla is from Murakhali, a village in the Sundarbans, in West Bengal's South 24 Parganas district, where residents are worried that after Assam, the NRC will be implemented in West Bengal.
The NRC is a register listing the names of Indian citizens in Assam. The register was first prepared in 1951 and had not been updated until now. It is being updated to include the names of all those who can furnish documents to prove they were in India before March 24, 1971.
"Everyone is having some problem there," said Molla. "None of the documents I have seen so far is error-free. I have met a number of people and they were panicking. I told them not to. I will help them with the documents required and get their affidavits done."
The residents of Murakhali may not know this but they have a non-profit trust founded in Sikkim in 2010 to thank for Molla's expert assistance.
At the time of finishing school, Molla was selected by the non-profit, Increasing Diversity by Increasing Access to Legal Education, or IDIA, for free coaching to write the Common Law Admission Test, or CLAT. It also funded his five-year legal studies at the Gangtok Law College, Sikkim. He graduated in 2017 and now works with a senior lawyer and member of the Alipore Bar Association.
Helping communities
Every year, between 30 and 50 students are coached by IDIA for the CLAT and typically, a third of them secure admission in the premier National Law Universities. Around two percent take admission in state colleges.
The non-profit selects students from some of the most marginalised and backward communities in the country believing that the students, in turn, will assist these communities, much like Molla does.
The fees for a NLU ranges from Rs. 12 lakh to Rs. 15 lakh and is far beyond anything IDIA's candidates can afford. So, the non-profit assists with fees and living expenses through scholarships. The top five students to secure seats in NLUs get the full ride. Till now, over 28,000 students have been sensitized about law as a career option and over 300 have been coached for the exam. Sixty-four students are enrolled in law schools at present and 30 have already graduated.
More than 300 volunteers and trainers from 22 states extend their help. Some visit schools and communities in their respective zones to sensitize students. Other groups coach canddiates for the CLAT.
One such team identified Molla when he was in Class 12 in 2011. "I did not know about law, I did not know what I wanted to do at that time, I was in the dark," he said. The team lifted him out of a lifetime of selling vegetables and pulling rickshaws and, unknowingly, brought legal advice to Murakhali.
Several of IDIA's students lead such double lives, holding down full-time, high-paying day-jobs while dedicating some of their time to redressing the complaints of their communities.
Yogendra Yadav studied at 'National University of Study and Research in Law, Ranchi', fought the sand mining mafia in the state. "Yogendra plans to contest the local elections next," said Shishira Rudrappa, managing trustee, IDIA. "Again, we have Karthika Annamalai. She has been working against the illegal quarries where her own widowed mother works to support the family." Annamalai, from Marenhalli Bande, a stone quarry site on the outskirts of Bengaluru, Karnataka, also works with a corporate law firm.
Working at 14
The sixth of eight siblings, Molla came close to dropping out of school at 14. "I was shattered when my parents asked me to leave studies and start working," he said. His father is a farmer and mother, a home-maker. Molla has six sisters and a brother.
For the Molla family, all higher education was good for was delaying employment. Molla's elder brother Nabir Molla's situation only confirmed that view. He earned a master's degree but remained unemployed. To make ends meet, he would help villagers fill various forms at the bank for a fee. The Rs. 60,000 he made in a year this way was barely enough to support his wife and two children.
Molla managed to remain in school but started contributing to the family income from Class 8. Before school began each day, he sold vegetables and pulled rickshaws from 6 am to 9.30 am.
"The rickshaws are three-wheelers fitted with wooden planks and are better known as vans in rural Bengal," he said. "These are used for transportation. I had to support my parents and two school-going younger sisters but I knew at that time that I needed to study and achieve something. I never failed in class even though I studied from borrowed books only."
'This is London'
When IDIA's training programme began in Kolkata, Molla was yet to appear for his board exams. He would travel to West Bengal's capital every weekend till he wrote the exams. There are only about 100 kilometres between Kolkata and the Sunderbans but the yawning cultural gap is what struck Molla first.
"The people I met in Kolkata – everyone could speak in English!" he said. "I felt like this is not Kolkata, this is London to me." He added that IDIA took care of everything, including food.
Within few days of attending the training session for CLAT, Molla realised he had to work harder than most because his English was poor. The exam that regulates admission to 21 NLUs and 43 other institutions is conducted only
in English.
"Language was a major issue with most of the students," said Rudrappa. "The duration of the training program roughly is a year but many times it goes up to two years, as most of the students come from a vernacular medium. They take time to learn English." Molla took two years and two attempts to qualify for CLAT.
Molla intends to study further but for now, he is working on gaining experience in litigation. That is what legal scholar and IDIA founder, the late Shamnad Basheer, had suggested to him. Basheer, who passed away in August this year, had mentored Molla and even had a pet-name for him – 'Chulbul', meaning lively and energetic.
Molla even spent a month at Basheer's home in Bengaluru in 2016, when he was in his fourth year the Gangtok Law College. "That time, he personally trained me," said Molla. "He gave a lot of work, lot of case laws, he taught me how to research. I told him that I would like to complete my LLM and become a lecturer. He asked me not to make that mistake." Basheer himself was a professor at the West Bengal National University of Juridical Sciences in Kolkata where he held the Ministry of HRD Chair on Intellectual Property Rights.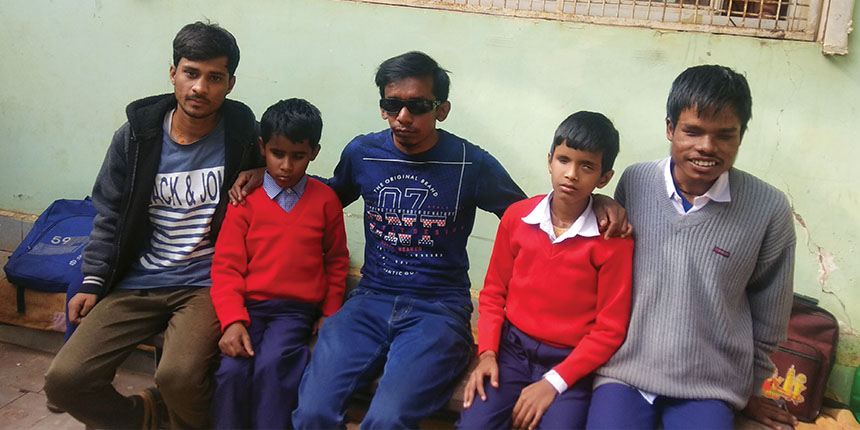 Hoque wishes to become the voice of the people who are challenged
Waiting in the wings
Legal help will soon be at hand for other communities as well. In order to make the mission accessible to all, IDIA's volunteers visit schools for the disabled as well to identify talent. At present, 20 percent of IDIA's students in various law schools are disabled.
Born with poor eyesight, Saikh Jiyarul Hoque of Purba Sripatinagar village in South 24 Parganas lost his vision completely by the time he was 12 years old. He was sent to Narendrapur Ramkrishna Mission in Kolkata as there was no school for the blind in his village. Born into a family with an annual income of around Rs. 60,000, his father, a farmer, could not afford college for the three children. Hoque's mother is just a home-maker.
He was picked by IDIA in 2016. He appeared for CLAT in May 2017 and is now enrolled in the National Law University Odisha. "I would like to work on the rights of the disabled people, improving their access to facilities," said Hoque. "I want to work for this community, where all are blind."
Similarly, Rahul Suthar from Jodhpur in Rajasthan, another visually impaired student, is now in the fourth year in the National Academy of Legal Studies and Research, or NALSAR University of Law, Hyderabad. Suthar's father is a daily-wager in an iron and steel factory. The eldest of three siblings, Suthar was born blind. "I want to join the Indian Foreign Services," he said. "I want to work for global issues where the voice of those who suffer from various kind of disability is heard."
In addition to helping their communities, every IDIA scholar, who has graduated and is working, donates a part of his salary to IDIA for the trust to carry on its mission.
Write to us at news@careers360.com.
More From Pritha Roy Choudhury