IIM-Calcutta welcomes new batch of students to its Doctoral Programme
IIM-Calcutta welcomes new batch of students to its Doctoral Programme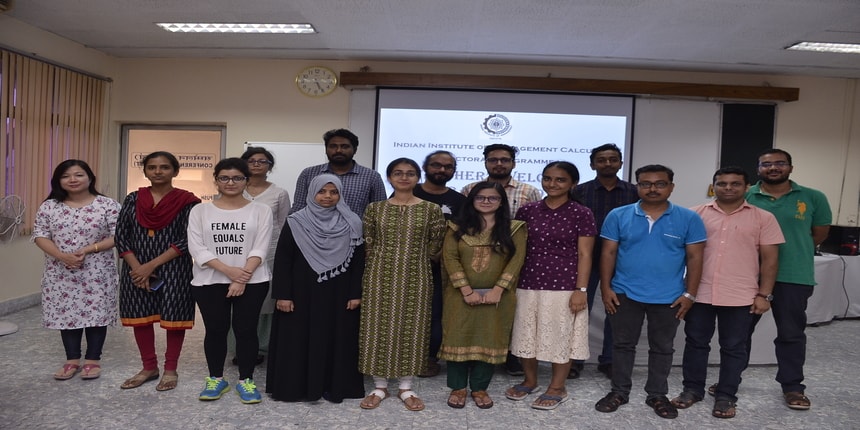 Kolkata, 12th June 2019: Indian Institute of Management Calcutta, recently witnessed the induction of a promising set of students to its prestigious Doctoral Programme. The 16 students belong to diverse academic and professional backgrounds and were inducted into the following academic groups for their research – Economics, Finance and Control, Human Resource Management, Management Information Systems, Marketing, Operations Management, Organizational Behaviour, Public Policy and Management, Strategic Management.
The programme commenced with the new PhD students introducing themselves and explaining their intention behind pursuing a PhD. The youngest student to be inducted into the Doctoral Programme this year is 17-year-old Samhitha Kasibhatta who has joined the Finance and Control Group.
Prof. Sanjeet Singh, Chairperson, Doctoral Programme & Research addressed the welcome note to add vigour and motivation to the new batch of students.
Speaking on the occasion, Prof. Sanjeet Singh chose to shed light on how the Doctoral Programme has achieved equilibrium in gender ratio. He said that IIM Calcutta's purpose was to provide research apprenticeship to scholars who want to systematically interpret the historical chain of knowledge. He drew an observation from his experience that often research candidates are in a conundrum of what they are trying to achieve. He urged students to spend time with their supervisors to understand the answers they are seeking and their objective of pursuing a PhD. Furthermore, he said, "Your research journey will pass through a long and tedious route regardless of whether to choose to remain in academia or not. Sometimes you may feel isolated and distant but you will realize that it is necessary to walk alone in order to get your work done."
Prof. Prashant Mishra, Dean, New Initiatives and External Relations and Prof. Bodhibrata Nag, Dean Academic, spoke on the importance of seeking knowledge and nurturing oneself in the right environment before venturing out into the real world. They spoke about the legacy of the Doctoral Programme and the success stories of students who have research fellows at the institute.
The Director of IIM Calcutta, Prof. Anju Seth interacted with the students to understand their drive behind pursuing PhD. She shared valuable advice pertaining to her own life experiences. Prof. Seth inculcated motivation among the students saying, "Experimentation helps in discovering the unknown. It is a good idea to think before you start reading as reading before thinking deeply makes you lose focus on what you were looking for and narrows your outlook."
IIM Calcutta's initiative of organizing an intricate Fresher's Welcome event every year showcases their sense of duty to ensure that students' academic year start on a high note.
Stay updated with latest Education News
More From Team Careers360