"India is very strong in terms of international students recruitment to Australia"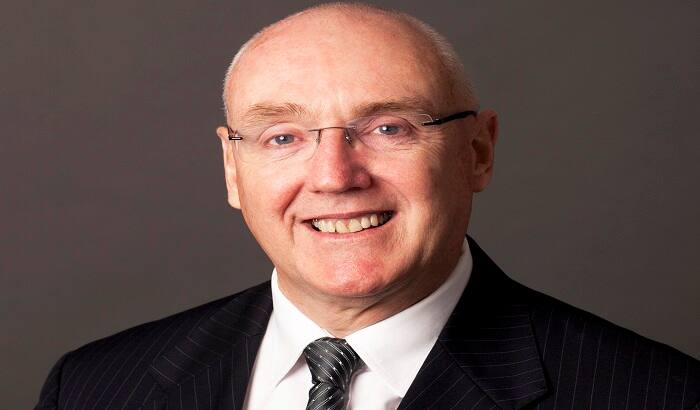 Prof. Barney Glover, Vice-Chancellor, Western Sydney University was in India recently to start the joint postdoctoral level programme with Indian universities like Indian Institute of Science (IISc). Speaking to Careers360 he elaborated the opportunities Australia offers in terms of better education and job opportunities...

Q. How do you compare the higher education system in India with that in Australia?
A. In many ways we are similar, we both have a British tradition with our university systems so we have inherited that from the British that obviously is the influences here. Increasingly, we have seen Australian universities became very entrepreneurial and begin to diversify in the number of ways as we particularly have grown international education as a big part of the Australian system, not so significant here in India but growing there are international students spending time here in India.
Also, we have the same strength in research as Indian institutions have like IIT's and other world-class research institutions and we have relationships with some of those, we don't have that quite same model in Australia.
Australian universities tend to be quite large but of course, some of the great universities of India are very large because they have affiliated colleges and became very large whether it's Mumbai, Delhi and many more. Also, languages we have English is so strong in India hence, we have an opportunity to collaborate in research very effectively that helps to build strong bilateral connections.
We have about 5000 international students in the university, like most Australian university we have a large number of international students proportionately to this we have about 1000 students from India studying in the university which is about 20% pursuing post-graduate degrees mainly in engineering, IT and Business. For us, India is an important part of our international reach activity and partnerships.
Q. Trend of Indian students going to Australia for higher studies has gone down. For the past few years, there has been a stagnant growth and students are now going to New Zealand & other European countries. How do you see this trend?
A. The international education market is very competitive and it's not just New Zealand it's Canada, for example, is becoming increasingly important for Indian students. United States is difficult for many students at the moment and with Brexit UK like to be more problematic. Therefore, we have suddenly seen growth out of India for international students to Western Sydney University.
We are witnessing a lot of activities from Australian universities in India at the moment because of the importance of diversifying its reach in the various markets. At the moment India remains very strong in terms of recruitment of international students into Australia.
If there has been a softening in terms of students moving to Australia, it seems to be increasing with certain instincts, significant increases over the last couple of years. It has been seen students from India as postgraduates especially STEM market and some business area as well; we have seen quite a strong growth.
Q. If somebody wants to pursue PhD in any particular area. Why would they choose your university over other universities like Australian University etc.?
A. The advantage of Australia for any student thinking about having an international education experience is that Australia has overall a very quality system, so whether its Australian national university, University of Sydney or western Sydney university our programs are generally of very high quality. Overall, we are dealing with very high-quality programs. We also have some strength in areas like environmental science. The agenda of my visit to India was particularly focused on agriculture, intensive horticulture and food security which are very important for India at the moment.
Indian Prime Minister has targeted at doubling the income of Indian farmers by 2022 which will require innovation in terms of the farming practices but also the opportunity to develop a more intensive style of horticulture here in India for vegetable and other things. So, we have very strong similarities, we have signed a series of MoU's while we were here India with state agriculture universities over the next 5 years. We will be investing over $5 million dollars in joint PhD scholarships with Indian institutions around agriculture, particularly intensive horticulture.
We are very strong in Medical science including complementary medicine. We are very strong, one of Australia's significant and highly ranked group in complementary medicine taking indigenous practices and applying it side by side with western medicine and looking for the scientific basis of herbal medicines in other things. Also, Ayurvedic medicine here in India is very strong; some of our researches are in this aspect. But we have a no. of other areas as well like oncology research, diabetes, chronic disease etc. also, we are very strong in Brain Behaviour and development in one of our institutes.
In terms of engineering, particularly civil, mechanical & infrastructure engineering, we have very broad & comprehensive research activities. We have around 5 to 6 areas for which we have internationally recognized activity & research strengths. So, we draw students broadly from around the world.
Q. Does western Sydney University offers any scholarships in particular for Indian students?
A. We have a quite large scholarship program for students here in India at every level be it to graduate, undergraduate or PhD. Infarct, the joint PhD programs we have announced during our India visit where the fees are waived and living allowances to encourage joint research two of the state agriculture universities ICAR & Western Sydney University in a range of areas particularly intensive horticulture. So, there will be fully funded scholarships over the next 5 years and we are quite excited about that. That's the kind of very valuable research effort we are aiming. We have similar problems in terms of Australian & Indian agriculture which helps us in that regard. It also helps us in the capacity building inside India.
Q. As you said you are collaborating with many of the Indian institutions & you are also going to launch joint PhD programs so what are the other areas you are exploring partnerships with Indian institutions. Name some of the institutions with whom you have already partnered?
A. One of the other announcements we have made during our visit to Indian in 2018 is that an alliance we have with the Bangalore's IISc, one of the very prestigious universities in India. We are forming an alliance in the area of Neuromorphic Engineering, an area of engineering which develops new computational techniques which are designed to mimic biological processes. It takes the vein through which human and animal processes information very rapidly and to design systems they can replicate that sort of behaviour and it creates a low resolution, low bandwidth technologies which are increasingly important in a range of applications. It is one of the strengths of Western Sydney University and IISc Bangalore.
Q. Are there any particular numbers of seats reserved for students who wish to enrol for these PhD programs?
A. Across all of the programs, about 50 students can enrol in the joint PhD programs we are we have announced in the area of Neuromorphic Engineering, Agriculture and Horticulture.
Q. While pursuing the joint PhD program, the students will be awarded a degree jointly from both the institutions or there will be a separate degree?
A. The intent is that we will be awarding a degree jointly. So, it's an opportunity where we can recognize the strengths of Indian institutions and our own complementary strengths so that PhD students can be supervised in both countries. They will spend time in Australia with our facilities and equally will spend time here in India doing fieldwork, data collection and contributing them to research outputs & extensions into applications. So, from our perspective, it's very much a mutually beneficial relationship.
Q. Students from either of the nations can enrol to this joint PhD or it is only for Indian students?
A. Students only from India can enrol to these programs. This initiative is to tap into the talent here in India in both agriculture and engineering. The other area is Cybersecurity and behaviour for Under Graduates. We have a unique program looking at cybersecurity & behaviour, it's not just the technological part of cyber security but the behavioural characteristics. Understanding why & how people undertake hacking as well as understanding its technological aspect.
Cyber Security and Behaviour program will be a joint PhD program or is it a separate program?
It's not a joint PhD program; we have just announced the program at the Cyber Security & Behaviour forum organized in India in September 2018. Also, during the visit, we have organized activities around cybersecurity and behaviour for school children's in India. It will be at the undergrad level, there are PhD opportunities but the PhD program are more focused on Neuromorphic Engineering and agriculture particularly protected cropping.
Q. One of the reasons students are not willing to go to Australia is security because many of the incidents which have happened with Indians in the past. What is your opinion on this? Are things really that bad in Australia?
A. No, they are not that bad. In my opinion, it's important to recognize that Australia is one of the safest countries in the world for international students. In Australia, there are over 300,000 international students and considered as the 2nd or 3rd largest export industry. So we have a very significant
concentration of international students particularly say in Sydney, Melbourne and those capital cities. But by and large compared to other countries in the world it's very safe. Yes, there have been incidents in past and we as a sector and government reacted very well to those incidents to address them and to ensure that we can re-assure the safety of students in Australia. In general sense anyone travelling anywhere in the world Europe, UK, US, Canada etc. everyone needs to take responsibility for their personal safety. By and large, in Australia international students have an overwhelming experience, they receive a world-class education and see their time in Australia with a great deal of affection and great interest in staying. If you talk to Indian students graduated from Australia, you will get a very positive view about safety and generally speaking the quality of the experience they have.
We also participate as most Australian universities do in the International student barometer which is a survey for international students from around the world. We look at the results of that benchmark against the other countries and there are questions about security, affordability, housing and quality of teaching and so. The Australian system overall has very good results, we certainly had very good results and it reflects safety.

Q. What are the prospects of internships & jobs for Indian students studying in Western Sydney University?
A. The opportunities are strong; Western Sydney is the fastest growing region in Australia economically. Also, automobile/ manufacturing sector is the fastest growing industry in Australia. Certainly, all of our students studying in the area of engineering, IT & Business have internship opportunities & work placements, they have opportunities work into better learning experiences with our partner organizations but because Sydney is growing so rapidly economically, it means the next decade and beyond we are building a new airport in Sydney. Hope it will be as good as Delhi airport because it impresses me.
We are hoping a 24/7 service internationally which will be completed in about eight years but its driving infrastructure and creating job opportunities in a whole range of areas and like most economies in the world, the Australian economy is trying to diversify into areas which require digital technology capabilities. I think there is a great opportunity in western Sydney because of that economic growth.

Q. Is there some kind of limitations for the students studying at Western Sydney University in terms of working? Does Western Sydney University help students to get jobs?
A. There are huge opportunities for students to work. They can work 20 hours a week. We have access to information that we provide to our students in terms of job opportunities for part-time jobs. Western Sydney is a very multi-cultural part of Australia with a large Indian community as well as other communities so our students seem to find part-time work very easily. Due to a huge economic activity undergoing in Australia particularly in paramath, which is where our main campus is located is generating a lot of part-time opportunity for students. We have an office of employability and graduate success which help students in a whole range of opportunities in placements and so on. Also, we are looking at technology as well which can help students make a match between business and these part-time workers.
The students also have opportunities within the university where we have a range of areas where our students interact with other students who are having difficulties. It could be a student with very good mathematics skills can be tutoring students who are struggling in mathematics in our math program. It could be a student in our call centre where they can help us deal with all the inquiry from prospective students. It could be students involved in our students' experience program on campuses. Also, next year we are looking at doubling the number of intern & placements for our students. Also, students working within the university receives the stipend.

Q. What are the future plans of Western Sydney University with India and Indian students?
A. We are very pleased the way our relationship in India is developing with universities like IIT's, IISc Bangalore, etc. Agriculture is a big emerging area for us and we are interested in developing that.

Q. As you are working on joint PhD programs, do you also have plans in collaborating for other programs like students & teachers exchange programs?
A. Yes, we are already seeing groups of our students coming and spending time in India under the government-sponsored program we have in Australia. Also, we are increasingly seeing our researchers spending time here with their Indian counterparts and vis-a-verse. Staff exchange, students exchange is all the part of that.
---
Follow us for the latest education news on colleges and universities, admission, courses, exams, schools, research, NEP and education policies and more..
To get in touch, write to us at news@careers360.com.