Indian students add value to UK university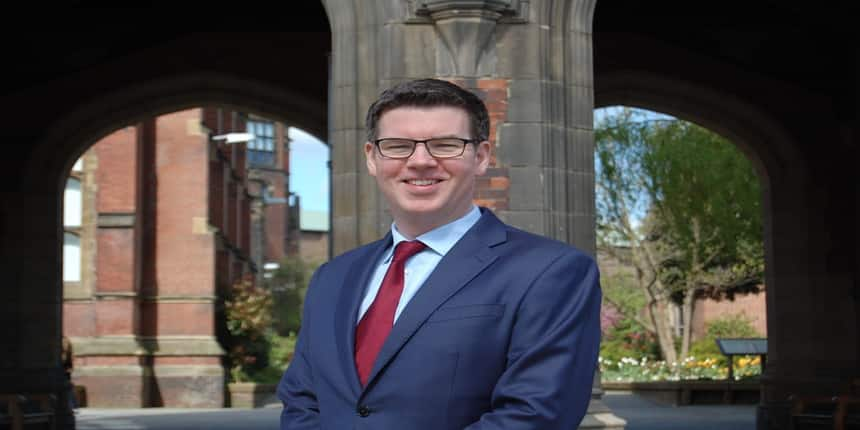 Alex Metcalfe, Director, International Affairs, New Castle University in a conversation with Pritha Roy Choudhury throws light on the increasing number of Indian students in the university in various disciplines, the scholarships available and work opportunities thereafter...
4 min read
Mar 05, 2022
Q. Is there an increase in the number of Indian students travelling to the UK in general and Newcastle in particular for higher studies?
A. The number of Indian students enrolling in the Russell Group ( represents 24 leading UK universities committed to maintaining the very best research, outstanding teaching and learning experience) of leading UK universities is growing. At Newcastle University, a founding Russell Group member, we are also seeing an increase in the number of Indian students for both undergraduate and postgraduate levels. Indian students recognise the quality of education in the UK and the opportunities it provides. We recognise the talent that Indian students bring to our programmes and our University.
Q. Could you elaborate on the various scholarships that an Indian student can avail of in your university?
A. The University launched the Vice-Chancellor's Excellence Scholarships and the Vice-Chancellor's International Scholarships for the first time in 2018/19 entry to encourage high-quality applicants from India. Our Indian students perform well on our programmes and go on to great careers and personal achievements. Scholarship provision for India expanded for the 2018/2019 academic year on these bases. The scholarships offered for 2019/20 entry includes thirteen 50% tuition fee discounts and two full tuition fee discounts as well as automatic partial tuition fee scholarships with a value of £1,500 to £5,000. The scholarships are available to applicants applying to study at undergraduate and Master's level for almost all subject areas. In addition to these schemes, the University participates in the Commonwealth and Chevening Scholarships schemes which are also available to Indian applicants.
Q. If you could tell us about the subject-specific scholarships...
A. In addition to the Vice Chancellors International and Vice Chancellors Excellence Scholarship Schemes, the university also has a number of prestigious scholarship schemes for exceptional students. This includes our MBA Leadership Scholarship, we are looking at identifying and foster inspiring leaders, this scholarship is open to candidates who have strong leadership experience and a positive career trajectory to date.
Q. Do you help students facilitate their visa?
A. Newcastle University's visa support team offer prospective international students a range of services to support their visa application, including guidance for students making a Tier 4 application from outside of the UK as well as information on the Schengen visa applications.
Q. What are the popular programs explored by Indian students in your university?
A. The most popular programmes among Indian students at Newcastle University are Computer Science, Business, Finance, Engineering, and Biosciences. These are some of our strongest academic fields. We host a number of keys the National Innovation Centre for Data, the National Innovation Centre for Ageing, and the National Centre for Energy Systems Engineering. Newcastle University Business School holds the 'Triple Crown' of the major global accreditations: AACSB, AMBA, and EQUIS.
Q. Do you have any unique new-age programs to attract Indian students?
A. Our School of Computing is offering an exciting new MSc programme in Data Science. Like many of our programmes, this was created in collaboration with a number of high profile industry leaders to address skills shortages in areas of growing demand. The course brings together students and industry practitioners in a setting in which new technologies are developed and translated into the industry.
Our School of Arts and Cultures is a leader in the UK. They offer a range of cutting edge BA and MA that include Media, PR, Journalism, Communication, Gallery and Museum Studies, and Heritage. These combine innovative approaches to education and research with creative practice and professional experience. They will be of interest to students with a passion for Arts and Culture who are looking to apply their knowledge, skills and experience in the rapidly growing and evolving Media, Cultural, and Heritage Sectors.
Q. Are programs in your university designed to address the needs of specific geographical regions?
A. In a world of increasing connection and mobility, we ensure that our programmes address global needs. Wherever they are from, our students will have careers with global dimensions. We prepare our students to work in, live and network in other countries and cultures, or if they live in their home countries, to work for multinational firms and communicate with colleagues and customers from around the world. When developing programmes, we draw on the global research of our academic staff. We also seek advice from leaders from academic, business and policy sectors around the world. For example, the Newcastle University Business School has advisory boards in the UK, North America and India.
Q. How important is an SoP in the selection process? What is the best way to convey one's intent through an SoP?
A. The statement of purpose is an important aspect of a student's application to both undergraduate and postgraduate courses. The SOP is a chance for the student to convey their motivation and enthusiasm for their chosen course and to also show their suitability for study.
Q. What are the prospects for part-time work during studies and placements after completing one's program?
A. International students studying in the UK are here on a Tier 4 visa, this allows them to work for up to 20 hours per week during their studies at Newcastle University. We have a number of opportunities on and off campus for students to engage in part-time work, and we believe work experience is invaluable. Our award-winning careers service provides students with a wide range of opportunities to support students when looking for their graduate career and starting their own businesses. This includes opportunities to apply for internships, placements and shadowing experiences during and after their course.
Q. Tell us about your focus in India in the near future?
A. Indian students make a great contribution to the University and our student body. They bring a passion for education, innovative and entrepreneurial thinking, and an ambition for their careers or to make an impact in the world. They are valued by professors and enrich our university life inside and outside the classroom. We want to see more of them. Once they accept their place they and their parents have joined the Newcastle University community. This does not end on their graduation. We are increasing our engagement with our network of Indian alumni in India and worldwide.
Our engagement with India is not just about students coming to Newcastle. We also want to send students, and staff, to spend time in India. To that end, we have recently signed student and staff exchange agreements with IIT Bombay and IIT Delhi. Our academic partnerships are deep and growing rapidly. In January 2019 it was announced that Newcastle University would lead two major multinational research hubs focused on solving major global challenges focused around the UN Sustainable Development Goals. One, a £20m programme, focused on Water Security, includes IIT Delhi and the School of Planning and Architecture, Delhi. The other, a £15m programme focused on river deltas, includes Jadavpur University.
Our new Global Strategy will focus on further developing our partnerships with universities, corporations, and NGOs in India.
Q. Finally, do you conduct any workshops, hand-holding etc to motivate the international students to return to the country of his/her origin and use the knowledge gained for the development of the region/population there?
A. Our award-winning Careers Service facilitates opportunities for students to meet future employers face-to-face, learn more about a particular sector or profession and find out what they need to succeed in a particular job. These sessions are open to all students, including undergraduate and postgraduate students from India.
---
Follow us for the latest education news on colleges and universities, admission, courses, exams, schools, research, NEP and education policies and more..
To get in touch, write to us at news@careers360.com.
More From Pritha Roy Choudhury