INSPIRE Faculty- turning into another classic case of failed government schemes?
INSPIRE Faculty- turning into another classic case of failed government schemes?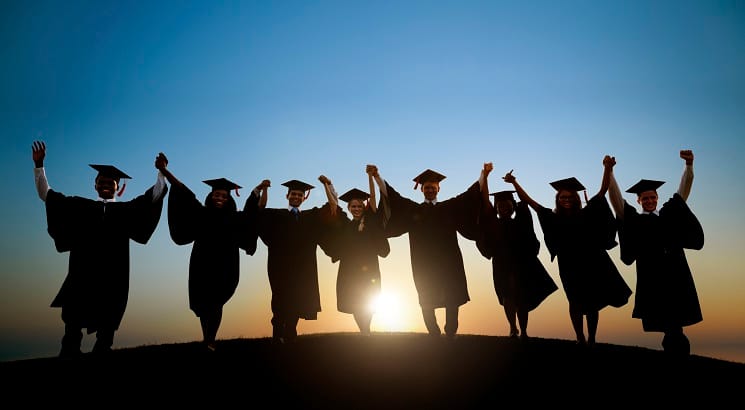 NEW DELHI, JUNE 6: The number of students taking up a career in science and research has been on the decline for past few decades because of lack of monetary and career opportunity in the related fields as compared to ones offered by Engineering, Commerce sector. Those who still wish to pursue a career in Science prefer to go abroad as there are more lucrative opportunities and exposure available. However, to arrest this trend and encourage youth to take up a career in the field, the Government of India has been coming up with several schemes, one such Scheme launched in 2008 was Innovation in Science Pursuit for Inspired Research (INSPIRE). It was expected that the scheme would cause the reverse brain drain and attract young talent towards science and research. Though the scheme succeeded initially, but within a decade of its existence, it has turned into a classic case of another failed scheme throwing career of thousands budding academicians and young researchers in limbo.
While the scheme envisaged assured career opportunities, those engaged as INSPIRE Faculty are now being left to fend for themselves.
The aggrieved INSPIRE faculties have now written to the Prime Minister and other concerned ministries demanding they should be given a permanent job as 'Assured' under the Scheme.

The Scheme
The INSPIRE Faculty (IF) scheme implemented by the Department of Science and Technology (DST) since July 2011, is a tenure-track position offering "Assured Opportunity of Research Career (AoRC) and till now over 1100 IFs have been selected through a national level three-tier competitive selection process by Indian National Science Academy (INSA). The selection rate of this three-tier national process is just 14%.

Launched by the then Prime Minister Manmohan Singh on December 31, 2008, the scheme with the basic objective to attract talents and motivate them for studying science from an early age promised a bright career to participants in research domain. It also promised to build critical human resource pool for strengthening and expanding the Science and Technology (S&T) and Research & Development (R&D) base in the country.

The program has three components - Scheme for Early Attraction of Talent for Science (SEATS), Scholarship for Higher Education (SHE) and Assured Opportunity for Research Careers (AORC) covering students belonging to an age-group of 10-32 years. The INSPIRE Fellowship for pursuing doctoral research is the first component of "Assured Opportunity for Research Careers (AORC)" scheme of the INSPIRE program.

Each INSPIRE Faculty Awardee receives an amount of Rs 80,000 per month with an annual increment of 3.3% along with Rs 7 lakh per year as Research Grant for 5 years. This component was initiated in July 2011 and during one year of its operation, a total of 74 INSPIRE Faculty Awards were offered. Out of this, 14 candidates were from abroad pursuing their doctoral as well as post-doctoral activities.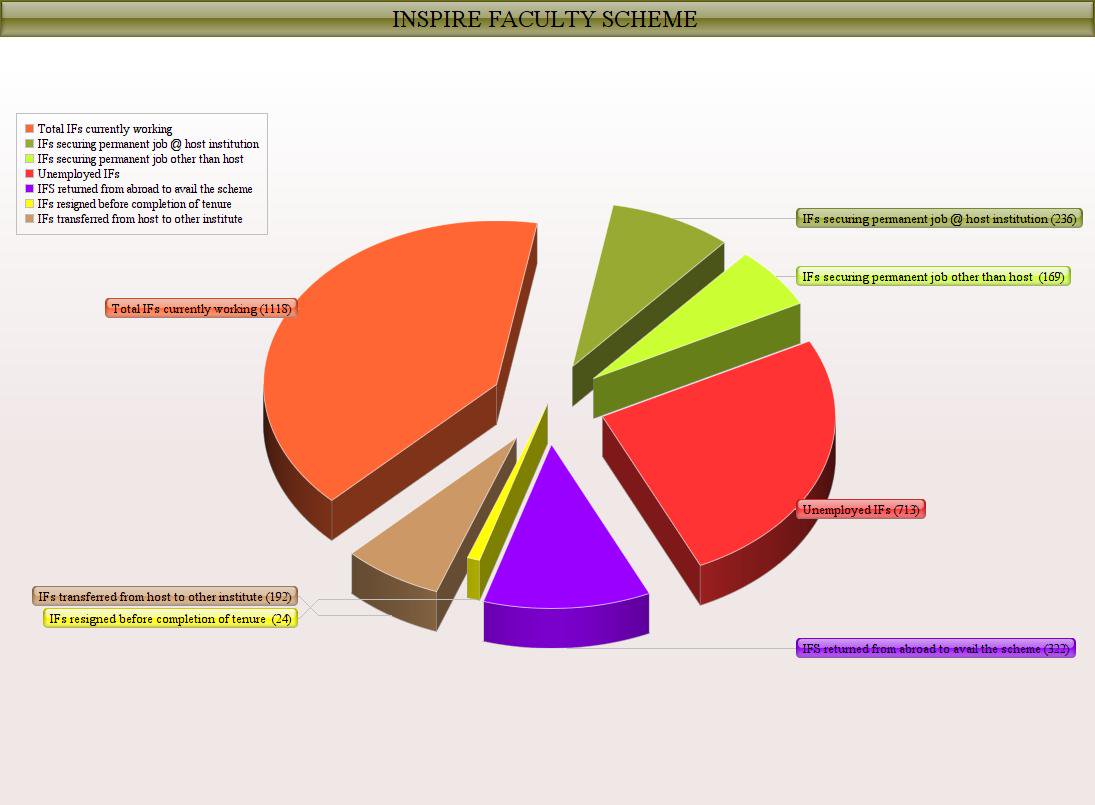 Why the Scheme Failed?
According to Inspire faculties, the scheme has reached its sorry state as it seems to be failing in its primary motive i.e. brain drain. As per an RTI reply from DST, currently 65 percent of IFs are unemployed, majority of the rest 35 percent are either employed at other than host institutions or already belonged to the permanent faculty pool when they were on-boarded for IF position.

These scientists are claiming that their academic career is getting spoilt due to denied absorption in the host institutions, which is the main goal of this scheme. In such a scenario, many fellows are being forced to take employment elsewhere (including abroad), which does not bode well for Government's effort of developing independent research environment in India.

Though the five-year term for the initial batch of 2011-2012 is complete now, a large number of fellow are yet to be considered for a regular position despite their significant performance recorded by DST evaluations.

Dr. A.V. R.Murthy, DST-Inspire Faculty, Department of Applied Physics, Defence Institute of Advanced Technology, (Deemed University) speaking about the problem with Careers360 says that since there is no legal binding, host institutions are not obligated to offer permanent positions to Inspire Faculty members.
"The very holistic view of the scheme is to provide support to the talent till he finds permanent positions either at host or any other institute. But, in reality, it has become a curse to many of the INSPIRE faculty as they were not getting a permanent position after their 5-year term. While other institute say that host institutes should absorb the IF, the host says that there is no legal binding for offering a permanent position. Also, the DST which is the funding agency for INSPIRE scheme is also not doing anything to safeguard INSPIRE awardees."

Where DST Stands?

Another IF who did not wish to be named says that even the designations to INSPIRE faculty members are not defined. "Its name is Inspire Faculty but the related designation was never cleared by DST and most of the IFs have been treated as post-doctorate. Although, some of them can supervise/co-supervise Ph.D students, the guideline clearly says its equivalent to Assistant Professor of IIT. But now, DST says, it's only in terms of the remuneration (however, it was not clarified anywhere earlier)," he says, adding, "We can't understand during last 5 years which kind of faculty we are?"

According to the scheme guidelines, IFs are potential assets for Faculty development in host institutions and hosts will absorb IFs in due course. Overlooking the concerns of IF faculty members who are not getting permanent job offers, the DST now says that the scheme was only for 5 years and it cannot be extended any further. DST is also gradually changing INSPIRE guidelines and slowly removing all its rigid commitments while letting the scheme to continue.

"In a helpless situation, people are jobless after giving their valuable time to the host institute. DST is also delaying salary and grant by more than 6 months now. Also, the IFs are being given irrelevant works in their host institutions," says Dr Murthy.

On the other hand, DST is terming the Scheme as a success as it claims that through INSPIRE over 60% faculty members has been able to get permanent jobs. Reportedly, Ashutosh Sharma, Secretary, DST has said that globally, 5%-10% of the doctoral researchers get permanent positions. Thus, in comparison, INSPIRE had excellent turnout. He, however, added that DST cannot force universities to recruit students.

INSPIRE Vs SERB

The Government has been launching one scheme after the other to promote research, provide more fund to scholars like Prime Minister Scholarship Scheme, global research interactive network, IMPacting Research Innovation and Technology (IMPRINT), Science and Engineering Research Board (SERB).
The IF Scholars are claiming that the DST has merged the INSPIRE scheme with SERB which is nowhere equal to INSPIRE. In their letter (Careers360 has a copy of the letter) sent to the Prime Minister the scholars have claimed that DST has launched another alternative downgraded scheme SERB-Research Associate reserved for IFs to continue their research career after a 5-year tenure.
Dr. Tanmoy Mondal, An IF says, "The rate of absorbing IF after 5 years is negligibly small. On top of that after or close to completing the 5 years we are overage for job. In the interview process, our independent research (with very limited infrastructure) is not getting any weightage. In summation, as the days are passing by, many of us are getting frustrated and are under immense pressure, which is again affecting our research performance. Any extension of 3-5 years will not solve the problem. On the contrary it will increase the problem. DST should talk to host institute to make sure that INSPIRE Faculty is regularized."
According to the letter written to PM, IF is a faculty position which could have been promoted as DST Associate Professor/Faculty but they are being offered discouraging positions under SERB-RA.
The letter reads, "We painfully realized that we are admired by other countries but not in our home country and thus feeling really humiliated and helpless by such treatment of DST and host institutes. Sir, we are scientists and don't understand the legal language, we know how to do science for uplifting our great country on the top of the world. Now, our scientific career is up to you whether you desire to restrain your young brains within the country or you will watch the breakdown of your dream 'stop brain drain'. We sincerely worked for science regardless of thinking about our career can be spoilt after 5-years as we had full faith on DST and host institutes."

The IFs are now saying that they feel humiliated to witness that their productivity has earned them demotion through SERB-RA position. They claim that they are being offered a position which is similar to Research Associate (RA) level fellows which they would earlier supervise. This, in effect, will result in seizure of facilities like laboratories, office as they will have to now work under a mentor.

The Government which is launching one scheme after the other also needs to take stock of the existing schemes as according to an estimate DST has already spent about Rs 90 Lakh on each faculty who are now compelled look for other alternative career choices or move abroad for their career interest in Research. The government approach on the issue becomes doubtful since on one hand it is looking for measures to address the crisis of faculty shortage, and on the other hand, a pool of trained young scientists are denied their rightful place in academia.
---
Follow us for the latest education news on colleges and universities, admission, courses, exams, schools, research, NEP and education policies and more..
To get in touch, write to us at news@careers360.com.