Jamia Millia students allege assault by ' goons' hired by the administration
Jamia Millia students allege assault by ' goons' hired by the administration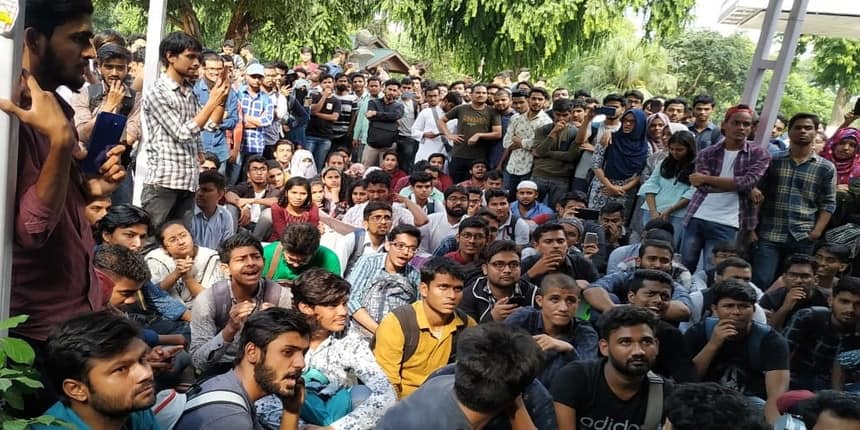 NEW DELHI, OCTOBER 23: Jamia Millia Islamia University students on Tuesday accused the administration of unleashing violence to quell their protest against show-cause notice issued to five students.
Thousands of students were marching to the Vice Chancellor's office demanding a meeting with the proctor when they were 'assaulted by a group of people' allegedly hired by the administration. Shahe Alam, a student of M.A Political Science has been hospitalized.
The university, in a statement, said that the students had "laid siege to the office complex" and "physically blocked the exit gates".
Students beaten up
The unrest on the campus followed the serving of show-cause notice to five students who had opposed the participation of an Isreali delegation at an event held on the campus.
Students organised the protest march, accusing the administration of avoiding discussions to solve the issue. "We were marching to the VC's office when a number of people entered the campus and started beating up the students with belts, threw flower pots, manhandled and groped women," said a student.
The students claimed that the 'goons' were hired by the administration and that the security guards did not come to their rescue.
However, the university in its statement said that "a scuffle broke out between the group of students" and "that protesting students damaged vehicles parked in the complex". It also accused students of refusing talks with teachers and university representatives who asked for "demands in a memorandum that will be discussed at the highest level".
The students said that the university is misleading people with false statements. "This is a tactic that they usually adopt so that they can make it look like it's a clash between students," said a student. The students had called for a university-wide strike on October 23, demanding the resignation of the chief proctor.
Show cause notice
On October 11, five students were served show-cause notice for protesting against the participation of Israeli representatives at an event. The students had opposed the event citing Israel's large-scale human rights violations.
The university in a statement explained that the students were served with the notice for 'indiscipline' as they 'burned the notices' and 'boycotted the disciplinary committee meeting'.
The show-cause notice also alleged the students of intimidating security guards and verbally abusing senior professors. Students have, in turn, alleged the administration of resorting to intimidating and manhandling some of the students while snatching away their phones.
Stay updated with latest Education News