Karnataka will scrap NEP; committee on state education policy within a week
Karnataka will scrap NEP; committee on state education policy within a week
Karnataka deputy CM held a meeting with vice-chancellors and academicians of the state to discuss the National Education Policy, 2020.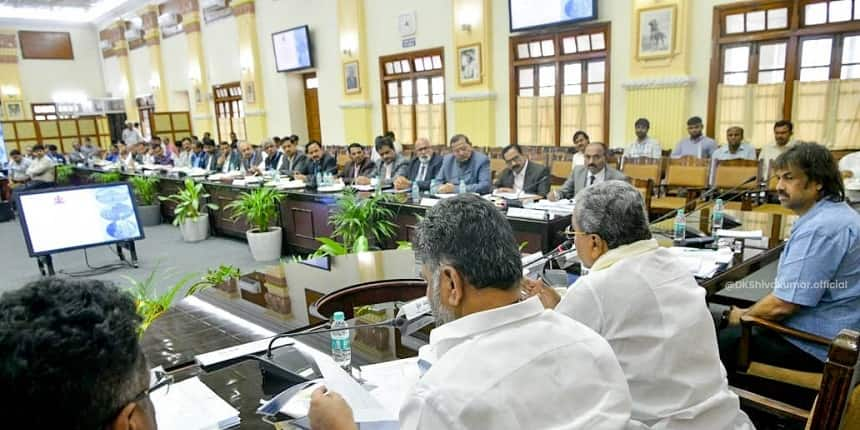 NEW DELHI: Karnataka government will not adopt the National Education Policy (NEP), 2020 and will come up with its own education policy next year, state deputy chief minister DK Shivakumar said. The state government will form a committee on the state education policy within a week, the minister told ANI.
The minister had a meeting with the vice chancellors and academicians at Vidhansouda today where the pros and cons of NEP were discussed, he said in a tweet.
"Regarding the education policy, participated in the meeting held at Vidhansouda today and discussed the pros and cons of the National Education Policy. The government is committed to enhance the quality of education policy of the state. Children of our state should be prepared to compete internationally. Government has thought to provide quality education from primary education to higher education," the minister tweeted.
ಶಿಕ್ಷಣ ನೀತಿಗೆ ಸಂಬಂಧಿಸಿದಂತೆ ಇಂದು ವಿಧಾನಸೌಧದಲ್ಲಿ ನಡೆದ ಸಭೆಯಲ್ಲಿ ಭಾಗವಹಿಸಿ, ರಾಷ್ಟ್ರೀಯ ಶಿಕ್ಷಣ ನೀತಿಯ ಸಾಧಕ - ಬಾಧಕಗಳ ಕುರಿತು ಚರ್ಚಿಸಲಾಯಿತು. ರಾಜ್ಯದ ಶಿಕ್ಷಣ ನೀತಿಯ ಗುಣಮಟ್ಟವನ್ನು ಹೆಚ್ಚಿಸಲು ಸರ್ಕಾರ ಬದ್ಧವಾಗಿದೆ. ನಮ್ಮ ರಾಜ್ಯದ ಮಕ್ಕಳನ್ನು ಅಂತರಾಷ್ಟ್ರೀಯ ಮಟ್ಟದಲ್ಲಿ ಸ್ಪರ್ಧಾತ್ಮಕವಾಗಿ ಸಿದ್ದಗೊಳಿಸಬೇಕು. ಪ್ರಾಥಮಿಕ… pic.twitter.com/zndrKQUnad

— DK Shivakumar (@DKShivakumar) August 21, 2023
He further said that Bharatiya Janata Party (BJP)-ruled states such as Uttar Pradesh, Madhya Pradesh, and Maharashtra have not implemented the policy yet but it was implemented in Karnataka "in a haste".
Also Read | B.Ed degree holders plan protests as SC declares them unfit for primary school jobs
"Any policy in education should start from primary education. But that work has not been done in our state. We will not implement NEP forward in our state. An important decision was taken in today's meeting to create an education system that would benefit the new generation of today," he said.
Earlier, the state CM Siddaramaiah had opposed the NEP, saying it is not compatible with the federal system and has several anomalies that undermine the Constitution and democracy. In his budget speech, he said the Karnataka government would make its own new education policy keeping in mind the local social, cultural and economic milieu of the state.
Karnataka has also announced plans to continue with the three-year undergraduate course instead of the Four Year Undergraduate Programme (FYUP) introduced in NEP 2020.
---
Follow us for the latest education news on colleges and universities, admission, courses, exams, schools, research, NEP and education policies and more..
To get in touch, write to us at news@careers360.com.
More From Vagisha Kaushik