'Students are never bored': Kerala government pre-primary schools replace textbooks with games
'Students are never bored': Kerala government pre-primary schools replace textbooks with games
Primary Education: Kerala pre-primary schools have seen enrolment rise after introducing activity-based learning, improving infrastructure, resources.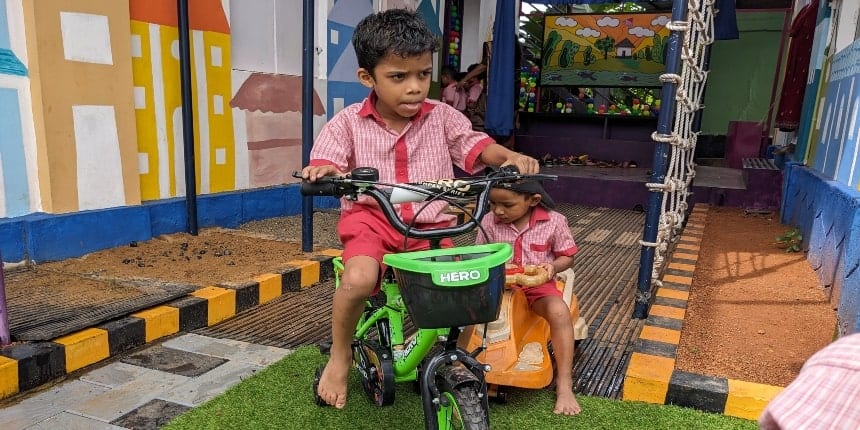 THRISSUR, KERALA: Kashinath, 4, goes to the Government Upper Primary School (GUPS) Arimpur in Thrissur each morning and reports to his assigned teacher, Annammu Vincent. She then leads him and his 20-odd classmates to one of 12 areas dedicated to different "learning themes", each a riot of colours, toys, and crafting material with not a textbook in sight.
GUPS Arimpur's pre-school section has no designated classroom either. This is by design.
On Thursday, July 20, Kashinath's group first solved puzzles that involved placing blocks of different shapes into matching holes in a wall. Next, they went outside and drove toy cars on a 'road' painted on the ground with the surrounding walls depicting lamp posts and buildings to simulate a street.
Through this gently-guided play, the children were learning. The first section was actually the "maths area", the blocks intended to build a sense of size and shape.
GUPS Arimpur's refurbished pre-school section and activity-based learning approach have led to pre-school enrolment rising sharply, crossing 100 for the first time since 1988, said Vincent. GUPS Varadiyam, also in Thrissur district, has had a similar experience. Both are drawing children away from private preschools.
Both upper-primary schools have benefitted from a set of Kerala government schemes, framed in coordination with Samagra Shiksha Kerala. The reform effort has ushered in a new curriculum, improved school infrastructure and created "model primary schools".
In Thrissur district, 56 out of the 146 pre-primary schools have received this treatment. "We will complete the coverage of all schools in the next two years," said Binoy NJ, Thrissur District Project Officer, Samagra Shiksha Kerala.
Kerala Government, Samagra Shiksha Schemes
The Government of Kerala and Samagra Shiksha Kerala have launched a range of schemes targeting pre-primary students. These include the Kalithoni (Toy Boat), a play-based syllabus launched in 2018; creation of model-primary schools; and the Varna Koodaram (Colour Tent), launched in 2022, which provides modern infrastructure for play-based activities.
Instead of traditional classrooms, students go to designated "learning areas" where they are encouraged to interact with various play-based learning methods. Through the schemes, old, dilapidated buildings made way for modern ones with colourful walls and thoughtful infrastructure.
Also Read| Kerala panel goes against NEP 2020, proposes four-year UG programme with single-exit

Students at GUPS Varadiyam sit in a room that represents a house. The roof is in four sections made of different materials – terracotta tiles, thatch, aluminium sheet and concrete. The walls are adorned with pictures representing villages and cities, with grazing cows on one side and tall skyscrapers on the other.
This was created to ensure that students are familiar with the different types of houses that exist in the state and also to make them understand that people come from different backgrounds.
In GUPS Arimpur students become familiar with the concept of roads by riding toy cars. In another area, students get familiar with various services and jobs – fire station, post-offices and more. The students play-act as officials of these departments.
Samagra Shiksha Kerala: New syllabus, rooms
The first step towards the recent makeover in pre-primary schools was taken in 2018 when the government launched Kalithoni syllabus. Although the syllabus encouraged play-based activities, teachers were limited by the traditional classroom infrastructure.
Samagra Shiksha Kerala's Model Pre-primary Schools, in which select schools in each district were given additional funding of Rs 15 lakh to improve infrastructure, was the first initiative to close this gap. GUPS Varadiyam was one of the selected schools.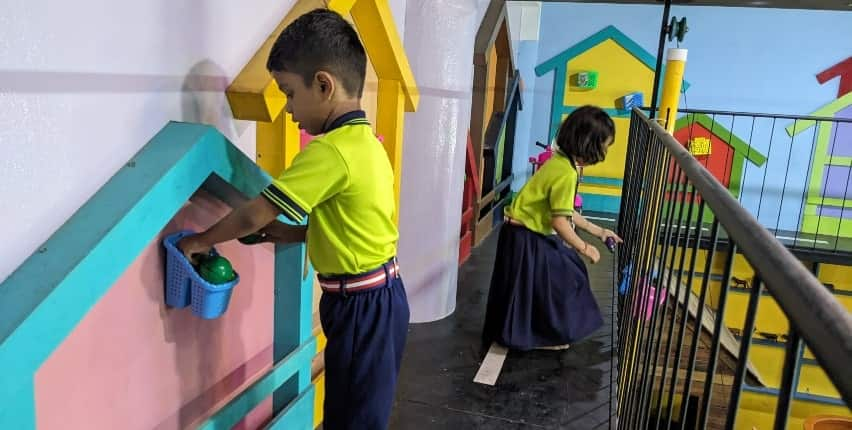 Kerala government schemes gave many pre-primary schools modern infrastructure
"One lakh was allocated in 2020-21 for the pre-primary. After receiving Rs 15 lakh from the state government, in late 2021 or early 2022, we created this current model of pre-primary. Due to this, the pre-primary which was limited to two classrooms, expanded to four classrooms with modern infrastructure. The model pre-primary at Varadiyam was inaugurated in October 2022. This has remained a model for other schools to recreate," said Damodharan PM, teacher and School Resource Group convenor at GUPS Varadiyam.
Later, a similar model was implemented through Varna Koodaram, under the World Bank-funded STARS (Strengthening Teaching-Learning and Results for States) project in which schools received Rs 10 lakh to improve infrastructure to enable play-based activities. In May, education minister V Sivankutty said that over 600 schools have received funds through Varna Koodaram.
"At present there are 56 schools in the district where the Varna Koodaram has been inaugurated. The upgrades are in line with the Kalithoni curriculum that has 23 themes with 12 or 13 learning areas. This includes language centre, maths, centre, science centre, etc," said Binoy NJ, Thrissur District Project Officer, Samagra Shiksha Kerala.
Varna Koodaram requires schools to create the following 12 learning areas equipped with a range of resources.
Learning Area

Resources

Language

Big books

Reading, game cards

Audio, video stories

Maths

Balls

Blocks of different shapes

Origami

Ring toys

Boxes

Jigsaw puzzles

Drawing

Paper

Crayons

Sketches

Water colours

Sponges

Foam board

Stage

Costumes

Masks

Puppets

Kitchen, medical sets

Cardboard props

Dance and music

Music player

Collection of folk songs

Musical instruments

Science




Flora, fauna images

Mirrors

Magnifying glasses

Magnets

Garden

Plants

Fish pond
Butterfly garden
Swings

Water body

Replicas of bird nests

Five senses




Tumblers

Bottles

Sand

Cloth

Oils

Rocks

Construction




Coconut shells
Clay
Building blocks

Chart / colour paper
Cloths
Straws

Arts and crafts

Sponges

Gloves
Threads, ribbons

Cardboard

Foam sheets

Pearls, buttons
Wheels

Wood blocks

E-area

TV

Computer

Tablet

Microphone

Audio system

Pen drives

Audio, video, animated stories

Play area

See-saw

Swings

Merry-go-round

Monkey bar

Skipping rope

Tire pyramids

Toy cars
Pre-primary: 'Learning by seeing, touching, feeling'
This stark departure, from textbooks and writing to activities and play, has dramatically improved engagement from students, said teachers.
"Earlier, the teacher would say something, write it on the board and the children took notes. But now students are learning by seeing, touching and feeling. The students don't realise that they are learning, they're just having fun. These spaces allow the students to interact freely within the learning areas," said Sindhu ER, principal of GUPS Varadiyam.
This model also gives students more autonomy.
"Earlier, teachers decided what was kept in the classroom and students were not allowed to touch anything. Here, students have much more freedom. They can write on [designated] walls with crayons , they can run around or play with the toy car. We don't control them. So students are very happy and energetic," said Sindhu.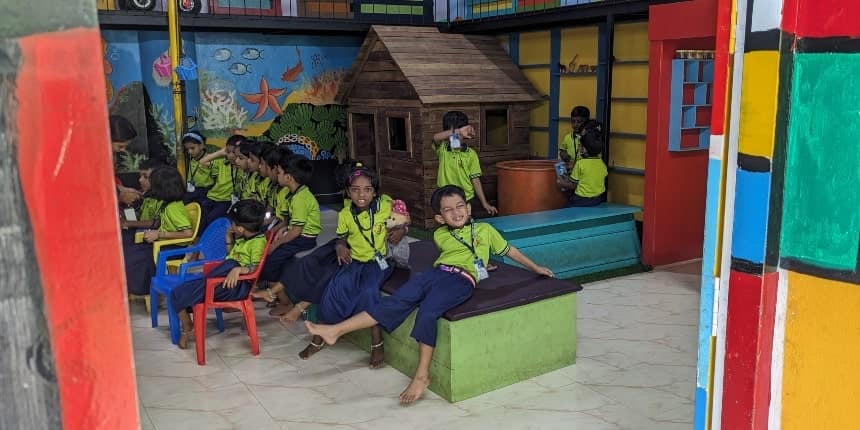 Samagra Shiksha Kerala: These Kerala pre-primary schools have redesigned classrooms and encourage play.
Primary school: New teaching method
These developments changed the teaching approach.
"It's no more about teachers passively implementing a curriculum given to them. Here, teachers will decide what activities to use, whether it is through video or play acting or any other means, to teach the students about particular concepts. It is up to them to decide what learning areas to focus on on the particular day," said Sindhu.
Teachers said that while this has placed greater responsibility upon them to think creatively, differently, it has meant that the "students are never bored".
Also Read| 'Will benefit rich students': NCF 2023 must address India's unequal schooling, says RTE Forum

"Earlier we didn't need to prepare. We'd just teach them what was in the textbooks. Now, teachers need to prepare a lot. For instance, all the activities that were done today were prepared by us yesterday whether it is making chart papers or creating finger puppets. So, we have more work now but the students really like it," explained Detty CJ, a teacher at GUPS Varadiyam.
Teachers also attend annual training sessions on the Kalithoni curriculum and creating engaging activities.
"[Through the workshops] We developed activities that enhance the creative skills of students whether through activities that encourage drawing, or through those which encourage the socio-emotional development and scientific temperament of the children. This model also helps us understand the unique skills and talents of the students and develop them," said Vincent.
Enrolment over 100 after 30 years
The new model and the upgraded infrastructure has seen immediate impact on enrollment across government schools.
"In 2007, we started the pre-primary section with only 15 students for pre-primary. Then it increased to 30 students and then to 70 students. After this work was finished, the enrollment jumped to 118 students," said Detty.
Some schools saw enrollment numbers rise to levels they hadn't seen in decades.
"This is the first time since 1988 that we have more than 100 students in the pre-primary section. In 1988, we had nearly 120 students. But then the number drastically reduced over the years and decades due to the proliferation of private schools. There are six-seven private schools around here. In 2022, we had around 60 students. After this project was implemented, the enrollment has increased to 108, which is a massive jump" said Vincent, who has been teaching in the school for the past 30 years.
(All images by Atul Krishna)
---
Follow us for the latest education news on colleges and universities, admission, courses, exams, schools, research, NEP and education policies and more..
To get in touch, write to us at news@careers360.com.