Why an MBBS in Hindi is still a long way off
Why an MBBS in Hindi is still a long way off
MP government announced to offer MBBS in Hindi in the state. NMC says it will not recognise medicine offered in Hindi.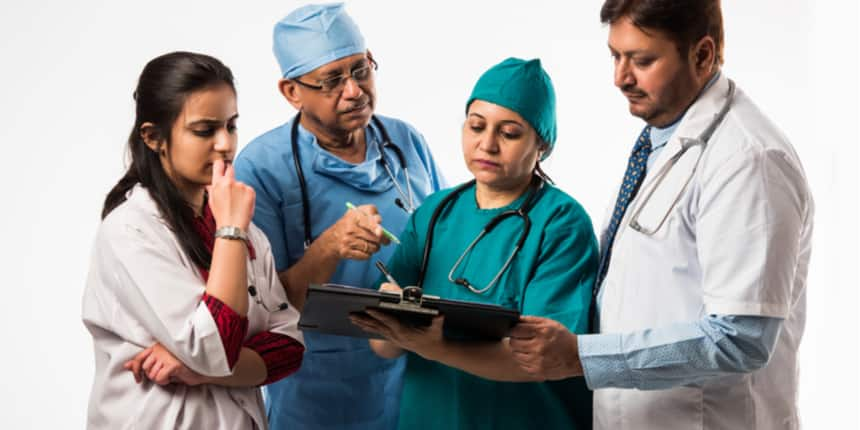 New Delhi: "I am not in favour of medical education in Hindi. It will be in shuddh (pure) Hindi. I don't see anyone speaking pure Hindi other than those who deal with Hindi literature," said Alia Chittoria, a 3rd-year MBBS student from LN Medical College, Bhopal.
On Hindi Diwas, September 14, Madhya Pradesh's medical education minister Vishwas Sarang announced that the state's medical colleges will offer the MBBS programme in Hindi. Sarang also announced that the first-year foundation course will comprise lectures on RSS founder KB Hedgewar, Jana Sangh leader Deendayal Upadhyaya, Swami Vivekananda and BR Ambedkar.
Soon after, there were reports of a similar proposal being made by the Uttar Pradesh government. According to India Today, a father-son duo, formerly with King George's Medical University, Lucknow, has already translated some of the books.
However, it will be a while before these announcements turn into concrete policy. The medical education regulator, National Medical Commission (NMC), told The New Indian Express on September 21 that it will not recognise medicine offered in Hindi and will not amend rules to allow medical education in languages other than English.
Plus, students like Chittoria as well as teachers, have grave misgivings about the MBBS course being delivered in Hindi. They fear it will leave them at a disadvantage — they will be unable to communicate with contemporaries and colleagues, cause confusion in prescriptions and diagnostics — and harm the delivery of healthcare itself.
Also Read: Interview: Why NMC must make MBBS textbooks queer-friendly
Medicine in Hindi
Translation of medical textbooks into Hindi began years ago by the Atal Bihari Vajpayee Hindi Vishwavidyalaya. Vice-Chancellor Mohan Lal Chhipa took up this task and the Medical Council of India also approved the project as a step toward medical education in Hindi.
"By the time I retired four years ago, I had completed the work," said Chhipa. "I had already got the books translated into Hindi. At that time we were in conversation with the Medical Council of India. They had asked us to give them the translated books. I saw to it that around 250 books in Hindi were printed."

However, these were not for the MBBS programme. After obtaining permission from MCI, books for three diploma courses — diploma in operating x-ray machine, diploma in nursing, and diploma in medical lab technology — and books for several certificate courses in medicine were translated.
Also Read: Learning levels dropped in 80% children due to school closure: UNICEF
'Not practical'
Rudransh Varshney, in the first year of MBBS at GS Medical College and Hospital, Hapur, Uttar Pradesh, feels that students studying MBBS in Hindi will be unable to communicate with their counterparts and seniors studying medicine in English and, more seriously, with teachers.
"How is it possible? We have such good teachers from Karnataka and Tamil Nadu. Will teachers like them start learning Hindi?" he asked.
"There are so many technical terms and then the name of drugs, they are obviously in English, and each and everything cannot be translated and even those of us who have studied in English have to learn the translation," said Chittoria. Will these doctors write prescriptions in Hindi? If they do, will the pharmacists or chemists understand them?
"It's not one thing. Medicine has a lot of associated core branches. What about the diagnostic laboratories, the officers and the associated technical staff? Will everything function in Hindi?" added Chittoria,
The students pointed out that the doctor-patient conversation is always in a regional language and that is to keep the patient aware of their healthcare needs but there is no need for a doctor to use technical terms while talking to the patient. Communication is a major problem that students graduating as doctors from a Hindi-medium programme will face. They will be unable to keep themselves updated on what is happening in non-Hindi speaking states or what is happening in other countries.
They argue that studying in the local language could happen in places like Russia or Germany because they have been doing that from the start. In India, this is not practical, because there are many languages within the same country — practically every state speaks a different language — and secondly, because this is an experiment being undertaken after more than 70 years of Independence.
Also Read| Over 43,000 schools out of education database, requires scrutiny: Educationist
'Initiative will fail'
For teachers, a Hindi MBBS presents a different challenge. "We have studied medicine in English," said a teacher from UP, asking not to be named. "And I have been teaching for more than 10 years now, how it is possible to suddenly start teaching in Hindi. I will have to learn the terms and terminologies to teach the student. This initiative will fail."
Another teacher had similar views adding that India is a country where language from state to state differs, so writing state-specific and language-specific books will require another 10 years.
Also Read: Over 10 years, women outnumbered men in MD; number of medical graduates dropped
Will hamper growth
"Why to divide the country into smaller regions?" asked Chittoria. Studying medicine in a regional language means the student "will be stuck in one state only". "Can a student from Madhya Pradesh, after studying medicine in Hindi, go to other parts of India or out of the country for further study?" she asked.
This could be a problem even for patients. "Patients who would like to go to, say, Tamil Nadu for further treatment, have to carry all reports which will be in Hindi and the doctors there will not be able to understand," adds Rudhansh.
Even doctors from states that are not considering a shift do not support it and think it will be detrimental to medical students and ultimately healthcare itself.
However, Chhippa disagrees. "We argue that if a student studies in Russia and we accept that degree after the student appears for an examination, then why can we not do the same for those students who study in Hindi. So, possibilities are there. If engineering can be taught in Hindi, why not medicine?"
The All India Council for Technical Education (AICTE) has allowed over 10 engineering colleges to offer BTech programmes in regional languages.
---
Follow us for the latest education news on colleges and universities, admission, courses, exams, schools, research, NEP and education policies and more..
To get in touch, write to us at news@careers360.com.
More From Pritha Roy Choudhury