Learning levels dropped in 80% children due to school closure: UNICEF
Learning levels dropped in 80% children due to school closure: UNICEF
The UNICEF report also says about 8% children may not return to school at all and over 50% teachers found remote learning ineffective.
NEW DELHI: A survey report released by the United Nations Children's Fund (UNICEF) found that 80 percent of children between the ages of 14 and 18 years reported lower levels of learning compared to when they were at school.
The survey also found that 45 percent of children were not aware of any resources from which to learn during the prolonged school closure due to COVID-19.
Also Read | Only 8% of children are studying online regularly in rural areas: Report

The COVID-19 pandemic seems to have hit migrant families and Scheduled Tribe families the hardest, according to the report, with 10 percent of families saying that they could not afford to send children back to school and six percent needed children to help earn an income.
The survey for UNICEF India's report, Rapid Assessment of Learning During School Closures in the Context of COVID-19, was conducted among 6,435 respondents including parents, adolescents and teachers, between August and September 2020.
10% students don't use any device
"76 per cent of parents of students aged five-13 years and 80 percent of adolescents aged 14-18 years report that students are learning somewhat less or significantly less than they would in school," the report said.
The report stated that, compared to the rest of the surveyed population, 15 percent more migrant parents and nine percent more Scheduled Tribe parents reported that their children were learning less now compared to the pre-pandemic times.
Also Read | Gross enrolment ratio rises overall but falls at primary level: UDISE+ Report
According to the report, 10 percent of students do not use smartphones, feature phones, TV, radio, laptops or computers for any purpose, whether privately-owned or accessed within or outside of the household.
The use of these devices ranged from as low as under two percent to as high as 23 per cent for elementary students, it said.
Radio is outdated
"Students use smartphones (76 percent of secondary and 66 percent of elementary) and TV (71 percent of secondary and 69 percent of elementary) most, followed by feature phones. Laptops/computers are used by less than 20 percent, and radio is least used," the report said.
"Contrary to the belief that access to radio is high, the study suggests that this technology may be outdated for today's students," the report said.
50% teachers found remote learning ineffective
Among the surveyed students, 45 percent of them report not being aware of any resources from which to learn. Television and feature phones are particularly underutilised for learning, according to the report. 40 percent students said that they did not use any form of remote learning in the six months prior to the survey.
Among families, data costs for 37 percent, device affordability for 31 percent and network connectivity for 27 percent, were reported as key challenges to using remote learning options.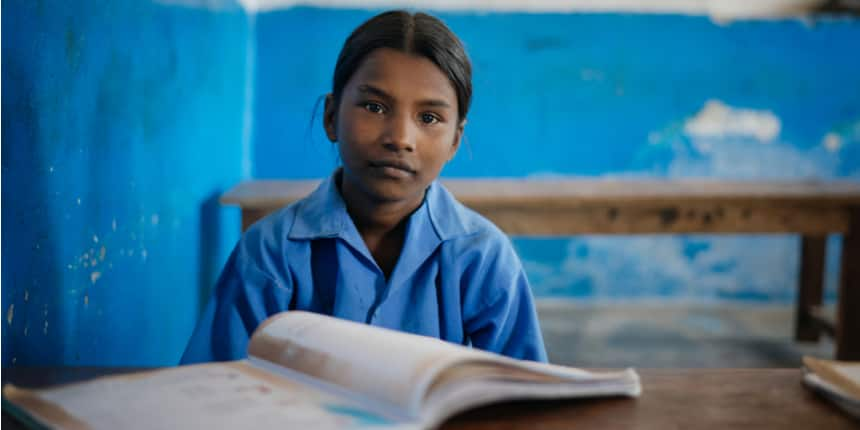 A girl student at a school in Jharkhand
"21 percent of parents cite lack of textbooks and other learning materials as a challenge and nearly one in three parents ask for support with this, suggesting that distribution programmes have not yet reached a significant number of students," the report said.
More than half of teachers surveyed also said that remote learning materials and methods were less effective than classroom teaching.
Boys use WhatsApp more
"Over half of the students who used remote learning did so across multiple resources. WhatsApp is the most used tool by students and teachers alike (over half of students and 89 per cent of surveyed teachers). Many parents, adolescents and teachers see value in technology tools, some even believe they are more effective than in-person learning," the report stated.
Also Read | COVID-19: Dropout risk rose 365% during remote learning, finds study
"Moreover, students who are perceived to be learning more are also more likely to have used high-tech tools, it said.
There is a gap of eight to 16% in usage of WhatsApp and Youtube between girls and boys with boys more prone to use these applications.
There is a 24 per cent gap in usage of WhatsApp between urban and rural students aged 5-13 years, and 15 per cent gap for students aged 14-18 years, the report said.
8% children will not return to school
About a third of elementary students (as perceived by their parents) and nearly half of secondary students feel that their mental and socio-emotional health has been poor or very poor since May 2020, the report found.
According to the report, parents from migrant families (60 percent) and from ST families (53 per cent) rated their children's mental and socio-emotional well-being as poor or very poor compared to the status reported for the overall sample.
About 10 percent of families could not afford to send children back to school and six percent needed their children to help earn an income.
"Approximately eight percent of students will likely not return to school in the next three months or after, most of them (60 percent) because of health-related concerns," the report said.
Write to us at news@careers360.com.