How an MBBS student from Andhra Pradesh delivered a baby on a train
K Swati Reddy is a medical intern at GITAM Medical College. She joined MBBS in 2017 after qualifying NEET UG on her first attempt.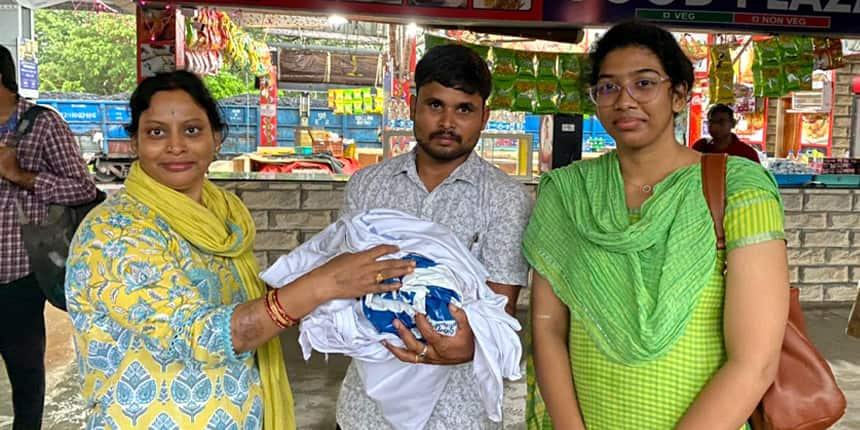 NEW DELHI: At 1 am on September 13, K Swati Reddy boarded the Secunderabad-Vishakhapatnam Duronto Express at Vijayawada and promptly settled down to sleep. She was expecting an uneventful overnight journey. But the 23 year-old medical student's time on the train was anything but. An intern at the Gandhi Institute of Technology and Management (GITAM) Medical College, Reddy, 23, helped a 28 year old woman, a fellow passenger, deliver her baby on board the train.
Recommended :
Get important details about GITAM Institute of Medical Sciences and Research, Visakhapatnam.
Download Brochure
It was 4:45 am and Reddy was asleep when a young man, Satyanaryan, came rushing asking for help. "A guy was in a rush and he was saying "My wife is in pain, if you can help her". He was asking randomly. Then he came up to me," said Reddy. Satyanarayan's accosting of random passengers paid off even though he didn't know Reddy was training to be a doctor and in the last stage of her MBBS degree – internship – when he approached her. His wife, Satyavathi, was in labour. They had boarded the train from Hyderabad.
Reddy rushed to help Satyavathi who was in pain and had partially delivered the child. At 5:30 am, just as the train was crossing Anakapalle district of Andhra Pradesh, a healthy baby girl was born.
Also Read| IIT Bombay doesn't want JEE Advanced qualified girl students to miss IIT experience: Director
4 years of MBBS
Reddy is not yet a full-fledged doctor. When called upon to help, she decided to recall all that she had learnt over the four years of the MBBS programme that she had completed. "Everything was so sudden, I never even thought that I would have to take care of something like that," she said.
Other passengers were also proactive, said Reddy. "All the women in the compartment came forward to help. It was unexpected for all. I could just sanitise my hands but had no gloves. Other women arranged for four more packets of the extra clean sheets from the railway employees. When I reached, only the head of the baby was out. Satyavathy was unable to push because of the situation. I had to put pressure externally," she recalled.
Everyone was relieved when the baby was born. Reddy wrapped her in a fresh bedsheet and handed her to the father. But she was still stressed. The placenta was not yet out. "It took so long for the lady to deliver the placenta, around 50 minutes. Those 50 minutes, I was very tense," she said. "But I could not express how stressed I was as I had to stay absolutely normal but fortunately, the placenta came out after a little pressure." Usually, in a hospital setting, the placenta is delivered within 15 to 30 minutes, she explained.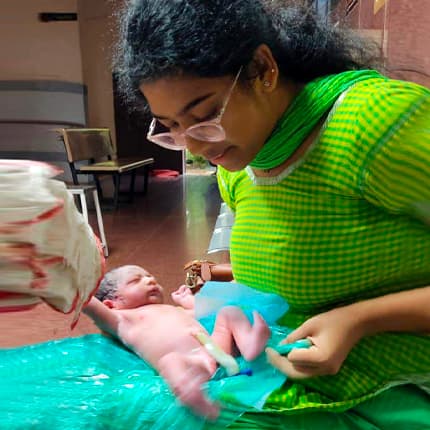 K Swati, Intern, GITAM Medical College with the baby Also Read |NMC invites comments on draft amendment in establishment of medical college regulations
Next, Reddy had to rally the passengers to alert the travel ticket examiner, or TT, so the train could make an emergency halt. A super fast express train, Duronto's stops are few and far between. The TT came to the compartment and pulled the chain. "The train stopped but we realised it was at a place where we would not be able to get any help. It was a remote area, and it was raining heavily. We asked the TT to get the train to move again. I had to send a message to the station master of Anakapalle railway station and ask him to arrange for an ambulance. Anakapalle is a populated area and a better place to find a good hospital," she said. 'Absolutely fine'
On reaching Anakapalle, Reddy was not confident about leaving the first-time parents on their own to get to the hospital. She too got off the train with them and accompanied the parents to the NTR Government Hospital in Anakapalle.
On the way, Reddy learnt the baby was premature. Satyavathi was fine till Vijaywada when she got labour pain. Initially, she did not realise that it was a labour pain. She thought it was back pain which she usually has. They boarded the train at 9 pm on September 12 and her pain started at 3 am. "Usually a normal pregnancy is between 38 to 42 weeks, but Satyavathi was pregnant only for 33 weeks. There were chances of complications but fortunately, she was absolutely fine. Her heartbeat and pulse were absolutely fine."
The little group reached the hospital at 7:45 am, Reddy handed over the charge of Satyavathi to the gynaecologist, Dr Anuradha. Reddy briefed her about the mother's condition and all other information about Satyavathi that she could gather in that short period of time. Next, the baby was taken to the paediatric department. "I pushed her with vitamin injections which are usually done and took the recordings of the pulse and heartbeat. I handed over the baby to the baby's father."
Reddy was finally free at 9 am when she left for Visakhapatnam by bus.
Also Read | Create portal to assist Ukraine-returned medical students in admissions to foreign colleges: SC to Centre
MD General Medicine
Reddy joined MBBS at GITAM medical college in 2017 and wants to pursue a postgraduate degree in general medicine. "I want to become a general physician [and] work in remote areas or the periphery. I don't want to be in a town or a city. I want to be in the area where people need help," she said.
Daughter of Kesari Gnana Sundari and Kesari Koti Reddy, both school teachers, Reddy did not go for any coaching classes before appearing for the National Eligibility cum Entrance Test (NEET UG), the single, national-level entrance exam for medicine in India. Her parents and their friends helped her if she faced any issues when she was in class 12 and also preparing for the entrance exam. She cleared the NEET exam on her first attempt, in 2017.
---
Follow us for the latest education news on colleges and universities, admission, courses, exams, schools, research, NEP and education policies and more..
To get in touch, write to us at news@careers360.com.
Know More About
Rating
4.5/5
Download Brochure
More From Pritha Roy Choudhury