Days without food, sleep: Medical student describes how he fled from Ukraine
Days without food, sleep: Medical student describes how he fled from Ukraine
Medical student from Kerala describes the harrowing journey out of Ukraine after the Russian invasion. He reached India on March 7.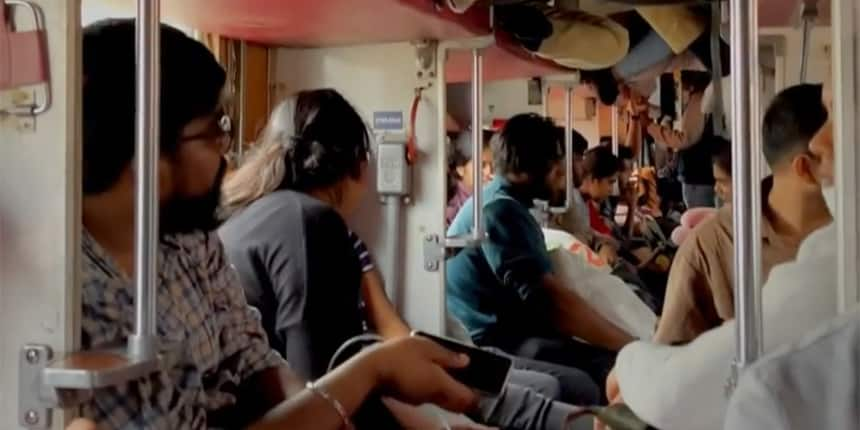 NEW DELHI: On the night of February 24, a friend shook Dilip awake and informed him that war had started in Ukraine. Dilip, 24 and a fourth-year medical student at the Zaporizhzhia State Medical University, had feared Russia might declare war on Ukraine but had chosen to ignore it. His family is Rs 30 lakh in debt for his education, he couldn't just abandon his studies.
6 min read
Mar 05, 2022
7 min read
Mar 05, 2022
Later, over the days of flight from war-torn Ukraine – squeezed into trains and buses without food or sleep – through several border towns and Hungary, he would regret that decision. But at that moment, he switched on the TV.
"I started watching [Ukrainian] channels as Indian channels are full of false and exaggerated news," said Dilip. The news confirmed what the "War Group" on the Telegram messaging application was already saying – Russia had invaded Ukraine, airstrikes were on and the airports were being blown up. He requested his name be changed for this story. He fears speaking on record will affect his chances of being allowed to continue his studies in the future, whether in India or abroad.
Initially, after the war broke out, Dilip downplayed the risks to his parents at home in Thalassery in Kannur district of Kerala. His father had suffered a paralytic attack and his mother is a homemaker – he didn't want to add to their stress.
"I kept telling her nothing has happened here, it is happening in other cities," he said. Zaporizhzhia is in south-east Ukraine.
Russia-Ukraine War: Leaving at 'own will'
First, the students approached the university. The reality of war had not fully sunk in because they were told that offline classes would start from March 9 and if they were leaving, they had to submit notes saying they are leaving at their "own will".
At the same time, students were also told to expect disrupted internet connectivity and water and electricity shortages. They were advised to keep their laptops and phones charged.
Dilip's mother asked him to withdraw money, to respond to whatever the Indian embassy advised as they were trying to evacuate students. Despite the frightening sounds of blasts, Dilip ventured out to withdraw 3,000 hryvnia – Ukrainian currency – but has brought all of it back to India. Unable to exchange it for dollars or rupees, he could not use it.
What happened next is a bit of a blur. The students remained in their hostels for a few days – Dilip can no longer recall if they left on February 27 or 28 – when the Indian embassy issued an advisory saying they need to go to Moldova. This seemed doable to Dilip. "I found out that it is easy to go to Moldova and that it is very near to Zaporizhzhia," he said.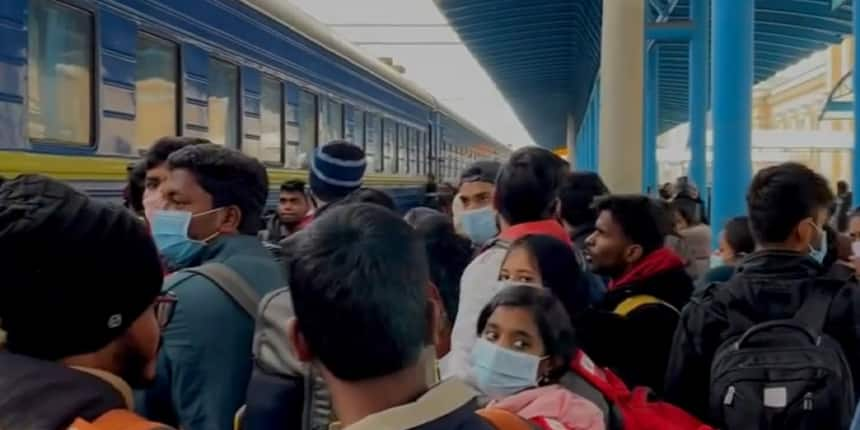 Russia-Ukraine War: Medical students wait to buy tickets to board the train at Zaporizhzhia (Image: Student)
However, those plans were abandoned. The dean and a few other professors visited the hostel to inform the students that they were to go to the railway station as the university had arranged a bus. "The university authority assured us that everything will be arranged by the university," said Dilip. They were to go to Uzhhorod, in west Ukraine.
1,500 students to Uzhhorod
There were hundreds of students from many countries waiting to be evacuated – Dilip's estimate was 1,500 – and just two buses to ferry them in batches. Knowing he had a harrowing journey ahead of him and little space, he abandoned most of his belongings at the hostel itself, including clothes and very expensive books. "There was no space, I could only carry my mobile phone, charger, laptop, water bottle and two pieces of clothes in a bag," he said.
The buses took the students to the railway station where hundreds more had landed up awaiting evacuation or to seek shelter from the bombing. However, the bunkers were already packed. Students were told not to panic and to wait for the train to come.
"After some time the train came and we boarded. We found that there were three compartments booked for us. We were 1,500 and so there was no space for many," said Dilip. Five more compartments in another train were arranged to accommodate the rest but there was no leg space anywhere.
The journey that usually takes 25 hours took 35 hours to complete as the trains were navigating through safe passages and routes, halting in places where attacks were anticipated.
No food, water, room to breathe
The train was so stifling, students took turns standing at the door for fresh air. "That too was difficult as people were sleeping and sitting on the floor."
By the time they reached Uzhhorod, the students had gone without food for four days. Volunteers from the international NGO Red Cross distributing food but only among women and children. "I was so hungry I asked them why they were bothered about women only," said Dilip. He requested a female student to fetch him some food but she too returned empty-handed. The food was only for children now. Dilip and his friends drank water.
No sleep for days
"Two military men with guns next approached us and asked us to get inside a bus as it was too cold." Next stop: Chop, another Ukrainian town near the borders with Slovakia and Hungary, from where students were instructed to buy tickets to Zahony, Hungary.
By the time the group reached Chop, deep exhaustion had set in. "The Ukrainian military people were not supporting us. I managed to buy 10 tickets for me and my friends. We did not even sleep for four continuous days, I was just fainting," said Dilip. All 10 friends he left with were Indian.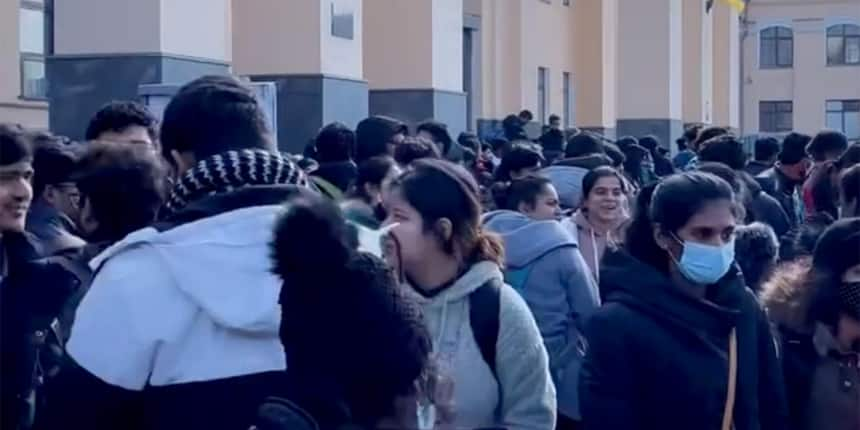 Russia-Ukraine War: Medical students wait to buy tickets to Hungary at Chop (Image: Student)Even that station was packed with the crowd surging forward every time a train arrived. The students settled down on the floor till their train arrived after a long wait. "I just got inside and I don't know when I slept on the train," he said. When he reached and inspected the fresh stamp on his passport, he knew he was finally out of Ukraine. "I realized I reached Hungary."
Food after four days
In Zahony, the students slept on cardboard sheets in an administrative office but they didn't mind – those who still remained with Dilip on the journey were more optimistic. From Zahony, they had to take yet another train to Budapest, Hungary's capital.
Not dealing with war and deprivation, locals here were also friendlier to foreigners. The six-hour journey to Budapest was consequently less harrowing. Upon reaching, the group first sought out a KFC outlet, fried chicken purveyed by an American fast food chain was a reassuring return to normalcy. Also, "this was the first meal we were having in four days", said Dilip.
The flight to India was scheduled in two days. Dilip and his friends used the time to explore Budapest. A friendly volunteer even told them they can return to Hungary to complete their studies. Ever hopeful, Dilip left his contact details and is waiting to hear from them. "If I get a positive response, I will go there to complete my degree in medicine," he said.
NEET, FMGE, the future
The group finally arrived in New Delhi, India, on March 7, 2022.
While he has managed to escape war, other fears plague Dilip, especially with regard to what the future holds. "The very thought of what will happen to my degree and studies is eating me," he said.
"The Indian government has not done anything and will not now," Dilip said, referring to the discussion on whether these students can be accommodated in Indian institutions. But admission in medicine in India is fiercely competitive and via the single entrance exam, National Eligibility cum Entrance Test (NEET UG). Those who graduate abroad have to write the Foreign Medical Graduate Exam (FMGE) to be allowed to practice in India. The National Medical Commission (NMC) on March 8, had told the Economic Times that medical students from war-torn Ukraine who wish to continue medical studies in India have to clear FMGE.
Dilip had not appeared for NEET. Medical education in India requires significant investments – years of private coaching before the exam and if the candidate doesn't score high enough for a government seat, private seats are prohibitive for most families. Dilip had decided not to try his luck in any of the medical colleges in India. For the course in Ukraine, he took a personal loan, borrowed from relatives and his mother pledged her gold and a small piece of land.
"The only way left is to approach a consultant and move to some other country. I want to go to Armenia or Hungary," he said. "I don't know the fee structure at all. But European countries are good for education."
---
Follow us for the latest education news on colleges and universities, admission, courses, exams, schools, research, NEP and education policies and more..
To get in touch, write to us at news@careers360.com.
More From Pritha Roy Choudhury