NCPCR to NIOS: 'Look into demand for online exams, syllabus reduction'
NCPCR to NIOS: 'Look into demand for online exams, syllabus reduction'
A parents' body has complained that books haven't read many students and, unlike CBSE 2021, there's no syllabus reduction for NIOS 2021.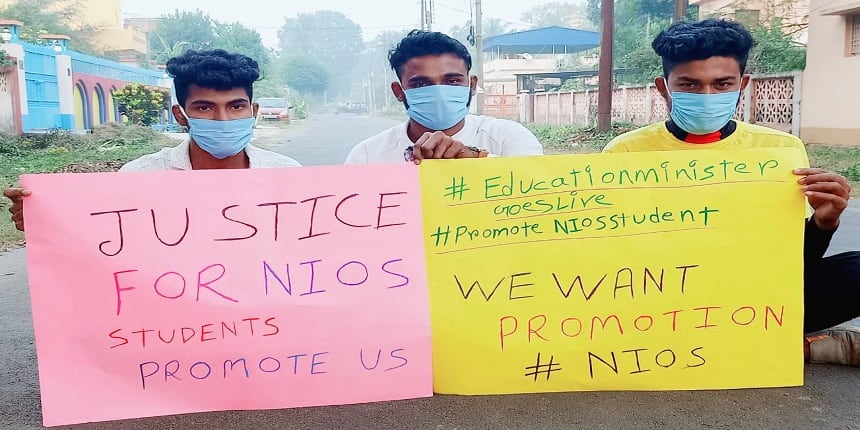 NEW DELHI: Looking into grievances of open school students, the National Commission For Protection of Child Rights (NCPCR) has asked the National Institute of Open Schooling (NIOS) to take necessary action. The open school students are demanding syllabus reduction, online exams and promotion based on internal assessment due to the COVID-19 pandemic. Many students are yet to receive books and unlike most other school boards, including the Central Board of Secondary Education (CBSE 2021), the NIOS has not reduced its syllabus.
An association of parents, India Wide Parents Association (IWPA) last week sent a letter to the ministry of education and to NCPCR regarding various challenges being faced by National Institute of Open Schooling (NIOS) students.
In a letter sent to NIOS chairman Saroj Sharma, the NCPCR has asked the body to look into the matter and take appropriate action. "Since it is a policy matter, the representation is being forwarded to your office for perusal and appropriate action at your end under direct intimation to the complainant," reads NCPCR Registrar letter to NIOS.
NIOS students demand
In her letter requesting relief, Anubha Shrivastava Sahai, president of the association, highlighted various challenges students of open schooling had to face as their books were delivered late amid COVID-19 pandemic, some students in remote areas are still waiting for the books, which has affected their preparations for examinations.
The students were also not able to attend the tuition for examination during the ongoing coronavirus pandemic which halted their learning process. She has also mentioned that there has been no reduction of the syllabus of NIOS like other boards.
They are also demanding to be promoted as per internal assessment or are demanding compartment examination, according to them CBSE compartment examination was held in September 2020, amid the coronavirus pandemic, while the same has not happened for the NIOS students yet.
While demanding to reduce syllabus, conduct exams in online mode as well and promote students as per their internal assessment, the letter reads: "Students don't want to get infected by coronavirus by sitting in the examination hall so the online option should be provided. Students are not being told how the practicals will be conducted, what all to prepare and how to prepare. All the books and syllabus are not available online. How will they study?"
Also Read:
Write to us at news@careers360.com.