New Ideas, Old Problems: What happens to Smart India Hackathon winners?
New Ideas, Old Problems: What happens to Smart India Hackathon winners?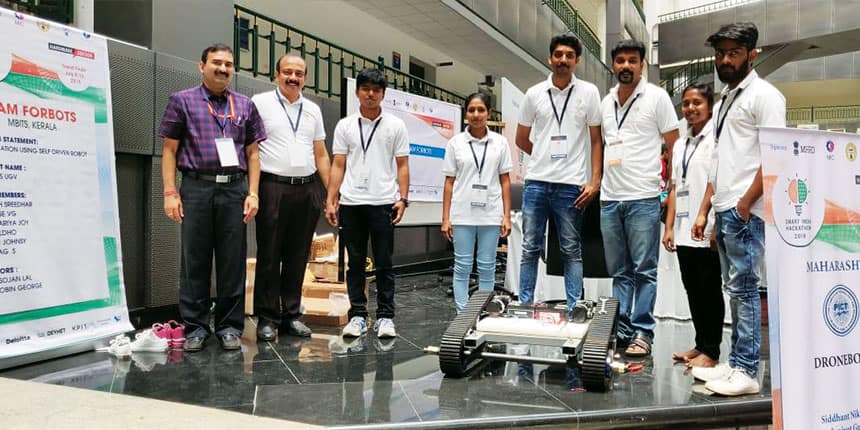 NEW DELHI: In the summer of 2019, a group of students from Mar Baselios Institute of Technology and Science in Kerala, was among the winners of the Smart India Hackathon – Hardware Edition, 2019.
Team Forbots had designed an unmanned ground vehicle, or UGV, that could plant seeds and even monitor their progress for some weeks to enable reforestation. Organised by the Ministry of Human Resource Development every year, the Smart India Hackathon promises government funding and incubation by industries for winning projects.
But there is an evident mismatch between the hectic lives of the students who participate and the stately pace of government processes.
By the time Team Forbots heard from the government about their project in February this year, three of its members had already graduated.
Such delays are not exactly uncommon. Another team heard from the government that they won a prize two years after their entry in the hackathon. Members of the winning teams say that while the hackathon afforded them great exposure, the reaction time for harnessing new ideas for implementation should be much shorter. Else the teams graduate, lose interest or move on to other projects.
The Hackathon
Hackathons are marathon coding or design sessions that end in new ideas or products from the
participanting teams or individuals.
The Smart India Hackathon was launched in 2017 by the Ministry of Human Resource Development (MHRD) to provide a platform for students to work on providing technological solutions to real-life challenges.
Various ministries, departments and even industries would provide problem statements on specific challenges in their fields that students would attempt to solve. Winning teams got prize money and further funding for their projects.
Four editions of the hackathon have taken place so far and over 10 lakh students have worked on over 1,800 problems. This year alone, 10,000 students worked on 243 problems. From smart vehicles to waste management to food technology, students have come up with innovative solutions for different problems. From these, a few projects are picked to be incubated by industries and funded by the Department of Science and Technology.
Reforestation robots
Team Forbots from Kerala had tackled the problem of "reforestation using self-driven vehicles".
As in most other countries, deforestation is a grave issue in India. Existing reforestation practices do little more than paper over the damage. The biennial India State of Forest Report released by the Government of India showed that India's forest cover has grown only by 0.13 percentage points since 2017.
Now, imagine a robot that navigates into a deforested area, analyses the terrain, digs a ditch and starts planting seeds all without human aid. This was what Team Forbots came up with.
The team built a rover named COSMOS, designed to navigate rough terrains. It has the ability to scan an area for diminished green cover, assess the terrain, consider factors such as temperature, moisture content of the soil, exposure to sunlight and take planting decisions accordingly.
"There are a lot of already existing agricultural planters and planting robots. Ours is not like them," said Ganesh Sreedhar, team leader for Forbots. "This can come up with a planting pattern that is appropriate for
the terrain."
After planting the seeds, the rover also places what is known as a 'seed care module'. It has water, fertilizer and sensors to monitor these saplings for two months. Once the seeds mature, the modules can be recovered by the rover. The team believes that the key to their success is that they stayed away from a highly-theoretical model and instead focused on a practical one.
"It doesn't make sense to just make a prototype. Most of the time, ideas reach that stage and then no one follows it up. It gets a lot of attention but then nothing happens," said Sreedhar. "We were clear that we are not following that model. We didn't want to do something that is so highly theoretical because it serves no practical purpose."
Public announcements
Team Electric Sheep from K.S Institute of Technology, Bengaluru, had won the 2018 software edition. Their product was a mobile application that helped in improving the public announcement systems at railway stations.
The always-crowded, always-noisy railway stations in India are a difficult environment, especially for people unfamiliar with a particular station. Due to the commotion, travellers often miss out on important announcements about train delays or change in platforms.
"Our solution consisted of two things: a mobile application and a local FM station," said Abhishek M, team leader of Electric Sheep. "The app will have a list of notifications with the announcements and all announcements will also be broadcast over FM since a lot of people might not have smartphones. The announcements would be broadcast simultaneously through the speakers as well as the FM radio. No additional set up would be required for this," he added.
The application also has a ticket booking feature. Once the user signs up using a government-issued identification card, the application would generate a digital railway ticket, eliminating the need for ticket checkers to verify credentials. It would also include a chatbot feature and an SOS module.
Additionally, it has a baggage tracking module. Tiny beacons, similar to Bluetooth devices, can be placed inside bags or suitcases and then connected to the phones to keep track of the bag.
"The beacons can be paired up with the phone. As soon as the bag is out of range the phone will receive a notification," said Abhishek.
Slowing down
The Smart India Hackathon is a large and ambitious spectacle. The post-hackathon process is less impressive. The process for getting the projects to a stage where they can be used on a large scale is slow and laborious, said students.
"We had received communication from MHRD saying that they will incubate the start-up. But we didn't have an entrepreneurial level at the time when we received communication," said Sreedhar. "The emails started coming in February. Also, the same year, three members of that team graduated and left the college which did not help."
He added: "It would have been easier if the ministry had sent emails earlier. Because they are coming at a time when we are less enthusiastic about the project."
Sreedhar and two of his old teammates are now working on a fire rescue rover based on the same UGV platform.
Abhishek's team heard from MHRD in February 2020, almost two years after they won in 2018.
"We received emails recently from the government asking us whether we want to move ahead with the project. They sent us a form asking us how we want to proceed and what our business model is and all of that," said Abhishek who founded another, unrelated, start-up a few months ago.
"They told us that members of the team could begin a start-up and that we could add more people to it if we like," he continued. "All they asked us was to come up with a business model that would make it profitable for the government. We suggested placing advertisements through the FM channel to generate revenue. We've sent our responses to MHRD. We're told that they will be proceeding with it."
Also read:
Write to us at news@careers360.com.