Parents in jail, children script a different future for themselves
Parents in jail, children script a different future for themselves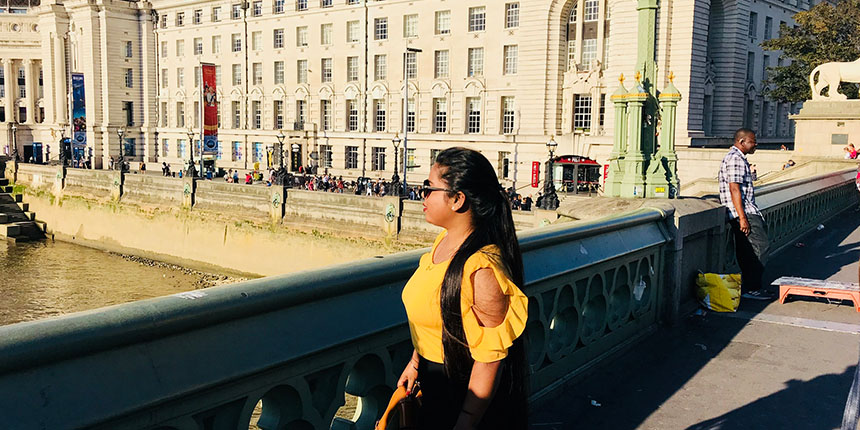 NEW DELHI: Jaimala Mandal's English is fluent. She can even switch between UK and US accents while conversing with clients late at night. "My work starts at 7.30 pm and continues till 4.30 am," she said.
Mandal works with a "recruitment service provider", hiring staff for private and public hospitals in the US. She's come a long way from the slums of Bawana where she was born, 28 years ago, to migrants from Bangladesh. Her parents had first landed in Nainital, then in Uttar Pradesh, before moving to Delhi. "My father cannot recall the year, but he says Indira Gandhi was the Prime Minister of India at the time – possibly in the early 80's," she said.
In Delhi, her father worked as a construction labourer till 1993 when he was arrested by Delhi Police and imprisoned in Delhi's Tihar Jail, one of Asia's largest prison complexes, for allegedly stealing a rickshaw. Mandal was just two years old when her family became homeless.
'How we survived'
Imprisonment of one person is often a punishment for the entire family, especially for the poor. Anil Kumar (name changed on request) had his life similarly cast into turmoil by the arrest of his mother. On the way to Delhi from Chhattisgarh, his mother was "picked up" when she tried to make peace between a couple that was fighting. Kumar was just five then and was taken to Tihar with his mother. He spent one year inside. "I attended a school on the jail premises," he said. "The teachers were good and they loved me".
The Mandal family was on the streets. "Only we know how we survived," said Mandal. "We stayed on the roadside without proper clothes and went days without breakfast or dinner." Her mother, Savitri Mandal, started working as domestic help, washing utensils and clothes for Rs. 3,000 per month. There were already four children and Savitri was expecting her fifth.
At the time, Kiran Bedi was inspector general, prisons, and had just received the Ramon Magsaysay award. Bedi met Shiv Kumar Mandal in Tihar and enquired about his family. She had started the India Vision Foundation, a non-profit, to foster a positive relationship between the police and citizens. It also ran the Education for Children of Inmates project that runs a crèche inside Tihar and the Children of Vulnerable Families Project which takes charge of such children and raises them away from their families.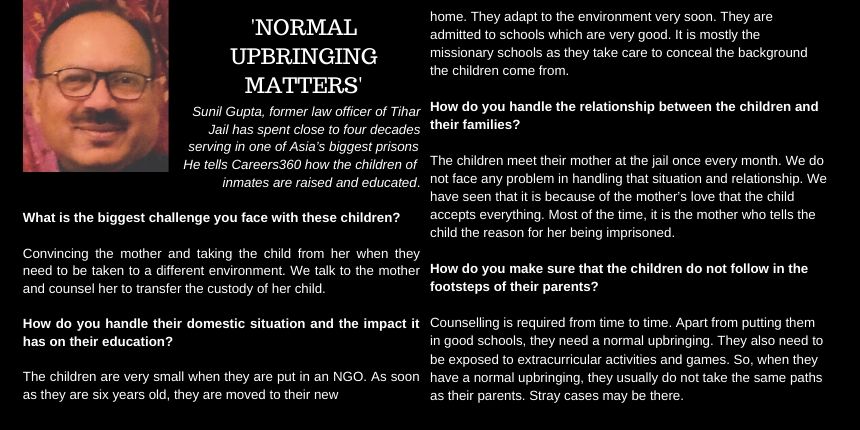 Volunteers visited Savitri Mandal but she was reluctant to hand over her children, "She used to hide us from them during their first few visits," said Mandal. "They would tell my mother: 'Aapke bachhe seth ban jayenge, babu ban jayenge' [your children will become businessmen, bureaucrats]. That is how they tried to convince my mother. Gradually, she gave in, thinking we would at least get food and clothes and would not have to stay on the streets anymore."
'Be good, be happy'
Finally, the foundation's staff and Savitri Mandal dropped Mandal and her siblings to school – Assisi Convent School, Noida. Her new home looked huge. There was a sudden change in the environment – there were loving nuns who offered her sweets and promised ice-cream. While leaving, her mother told her: "Be good and be happy. If you are not happy, I will take you back tomorrow".
The foundation has arrangements with several Christian missionary schools in Delhi-NCR. Viewing them as "victims", the foundation takes custody of children of prison inmates and admits them to these schools to fulfil its motto: "Save the next victim". The tie-up with missionary schools dates back to 1996 when a group of missionaries approached Bedi, telling her they have hostels, explained Monica Dhawan, the foundation's director. The children of prisoners live and study with others in the boarding schools and care is taken to keep their background secret.
Mandal missed her mother and sister for a little more than two days, quickly adapting to her new environment. Her mother came to meet her after one month. "My mom was so happy to see me in good clothes! My health had improved and she was very happy to see me with books in my hand." Later, she went with her mother for a two-day break. When it was time to go back to school, her mother was happy to see her off.
The foundation also arranged visits to Tihar. "Whenever I visited my father, he told me to always follow the path of honesty as life in jail is very tough," she said. He was released after 10 years but continued visiting Tihar to meet inmates still there.
Sponsors and board exams
The foundation and missionary schools also arrange for sponsors for the children. Mandal's was Rosemary Cook, an American. "I never met her but wrote to her regularly," she said. "I used to look forward to the gifts from Miss Rosemary. She used to send us cakes, sweets and other gifts for Christmas, New Year, Diwali and birthdays."
Mandal was the first India Vision Foundation beneficiary to write the Class 10 board exams at Assisi Convent. "When I cleared it, people were like 'Oh my God!'," she said. "No one expected anything from me –a girl from that kind of a background. My parents were not at all educated." When she passed Class 12 scoring 75 percent, she was "taken for dinner by a number of missionary schools" and even her parents were invited.
Higher education
After class 12, Mandal opted for a degree in communication from a university in Kaithal, Haryana. She earned a master's degree from the same university.
"I was always interested in interacting with people, engaging with them, sorting their problems out, so I thought this was the best path," she said. Another non-profit sponsored her undergraduate studies but her postgraduate course, she funded herself, working as a marketing executive. She hopes to pursue an MBA next.
'Best part of my life'
Mandal's first job was with a US-based multinational corporation with offices in 33 countries. After two years, she moved to a healthcare management corporation, also multinational. During her two years there, she worked hard and well enough to be rewarded with a trip to the UK. "I worked day and night to achieve the target and became the top dealer," she said. "I got a visa to the UK and went there and it was just awesome – the best part of my life."
Regular visits to Tihar left a deep impression. She felt she was fortunate to be able to access good education and now helps the foundation when she can. She paid for her younger brother's fashion design course and routinely contributes to lunches and dinners organised by IVF for "children like her".
"Our alumni are giving back to the foundation by becoming a resource for the younger children," said Dhawan. "They meet the children, they share their stories, become role models."
There are very few organisations working in this domain. Dhawan said that civil society needs sensitising and that the "stigma attached to the parents" gets in the way of mainstreaming such children. Consequently, how the children handle their situations also varies. Mandal agreed to be named but others Careers360 spoke to, didn't.
One of many
Mandal wasn't the foundation's only beneficiary. Her elder sister and younger brother were both placed in missionary schools and are now employed.
Anil Kumar too was ushered into a different life. Upon turning six, he left the jail. Tihar allows a child to stay with the mother only till age five. Kumar went to stay with his paternal aunt and when he turned 11, the India Vision Foundation traced him and took custody of him and his younger sister. They were placed in government schools in Delhi. "I was poor in studies, so they also gave us the money for extra coaching," he said.
After school, he completed a course at an Industrial Training Institute and now works as a car mechanic. His sister still in school, Kumar is pursuing a postgraduate degree in social work through distance learning.
Stay updated with latest Education News
More From Pritha Roy Choudhury