PM Modi to IIT Guwahati: Start a centre for disaster management
PM Modi to IIT Guwahati: Start a centre for disaster management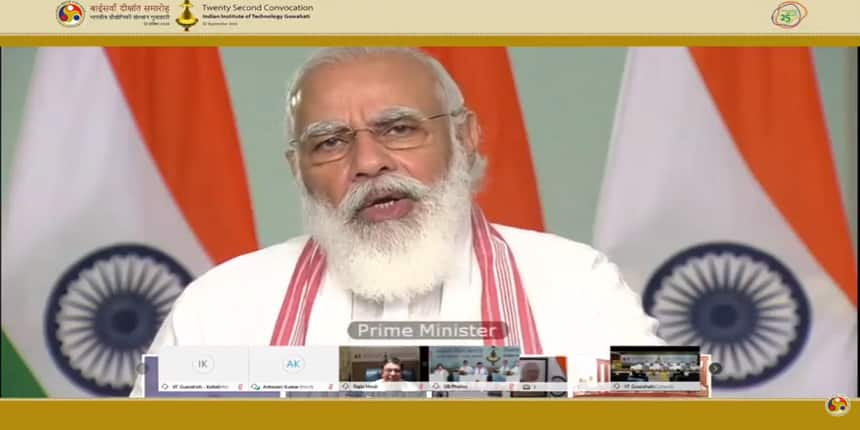 NEW DELHI: Prime Minister Narendra Modi has said that the New Education Policy (NEP) will link education with technology, under which students will also read about technology, and will also read through technology.
Prime Minister Modi addressing the convocation of Indian Institute of Technology, Guwahati through video-conferencing said that the future of a nation is what its youth think today. He said: "Your dreams are going to shape the reality of India."
He said that during this pandemic it has been difficult to conduct academic sessions, continue research work. "But still you achieved this success. For your efforts, I congratulate you for your contribution towards making the country self-reliant," PM said.
NEP to open up education sector
Modi talking about the new education policy said that the national education policy has been made multi-disciplinary, subjects have been given flexibility, opportunities for multiple entry-exit have been given.
He said that the NEP will link education with technology: students will also read about technology, and will also read through technology.
The NEP proposes for the establishment of the National Research Foundation to enrich the research culture in the country. Talking about the NRF PM Modi said: NRF will coordinate with all funding agencies regarding research funding and provide funds for all disciplines, be it science or humanities."
NEP talks about opening up the education sector of the country. "The aim is to open the campuses of foreign universities in the country and get global exposure to our students right here," PM said.
He added that research collaboration and exchange programs between Indian and global institutions will be promoted
PM Modi to IIT Guwahati
Highlighting the role of IIT Guwahati in development of the region urged students of the institute to work for the development of the region and do research which will connect and help in the general uplift of the region. "I will also request IIT Guwahati to establish a center for disaster management and risk reduction. This centre will also provide expertise in dealing with the disasters of this area, and will also turn disasters into opportunities," PM Modi said.
During today's convocation, as many as 1,803 students including 687 BTech and 637 MTech students were awarded degrees. The institute organised virtual mode of convocation, under which it created a virtual reality-based award distribution where one can experience an avatar of the recipient of the award collecting a medal from the director's own avatar.
IIT Guwahati's faculty and students have developed a telepresence module for a virtual visit to the Institute.
Also read:
Write to us at news@careers360.com.
Stay updated with latest Education News