Why Punjab teachers are unhappy in India's 'best' school education system
Why Punjab teachers are unhappy in India's 'best' school education system
Education ministry's PGI 2019-20 declared Punjab top performer in school education. Punjab's teachers have a different story to tell.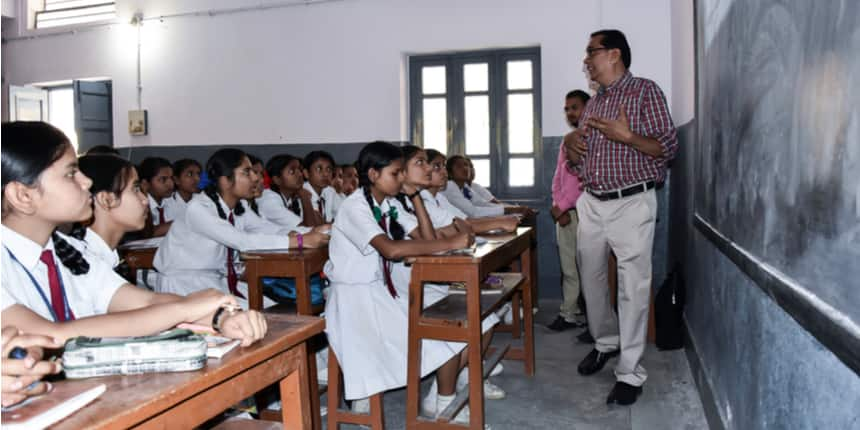 NEW DELHI: Punjab's leap to the top of the Performance Grading Index 2019-20 was an occasion for celebration for the Captain Amarinder Singh-led Congress government and even led to a spat with Delhi's education minister, Manish Sisodia. However, the government school teachers who are the backbone of the education system were left unhappy.
The annual PGI was announced by the education ministry on June 6. About 10 days later, 13,000 temporary teachers launched their protest, demanding permanent jobs. They continue to protest with some even threatening to kill themselves.
Developed in 2018, the PGI considers 70 parameters divided into five groups to assess the school education system in each state. The parameters include learning outcomes, access to education, equity and governance and infrastructure. A state's score on each parameter is added into a total score out of 1,000 and a rank-list is drawn up.
Punjab leapt from the 11th position in 2017-18 to first in 2019-20 in the annual index. Teachers in general, and a transfer policy for them adopted in 2018, have been cited as the main reasons for this improvement.
However, large sections of Punjab's teachers, including the temporary teachers, have a long list of grievances -- teachers in the border cadre established in 2018 feel stranded and allege the government reneged on its promises of special incentives; vocational education teachers and those in schools run in public-private partnerships are caught between the department and the private companies.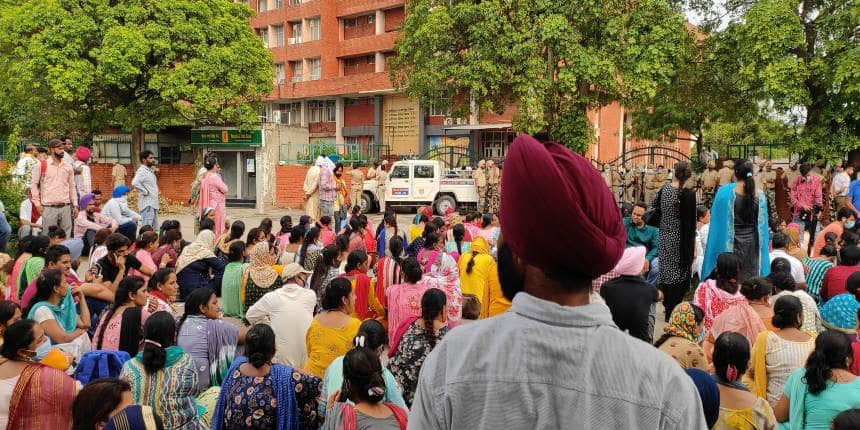 Teachers protesting outside PSEB building (PIcture Source: Twitter/Adv. Arun Vats)
Punjab's border cadre
As teaching posts became vacant due to promotion or retirement of teachers across Punjab, the number of teaching staff dropped especially in the six border districts of Pathankot, Amritsar, Fazilka, Tarn Taran, Ferozepur and Gurdaspur that had few teachers to begin with. In 2018, the Punjab Government opted to create the border cadre for these districts.
The teaching force was "rationalised" with senior teachers being moved from overstaffed urban areas to the borders. These areas were also favoured for fresh recruitment.
"There were two options: one was to fill all the teaching posts, the second was to focus on filling all posts in the border districts. The government chose the latter route, " said Kuldeep Singh, general secretary of Government Teachers' Union.
Teachers could transfer back to their home districts from border areas only after three years but the unions allege that the process hasn't worked as expected. Teachers also allege that additional benefits for border teachers, including additional increments and separate promotion channels, announced in July 2018 were gradually stopped.
"No benefit is given to the border teachers. The government has slowly reduced whatever benefits were announced. This is also why the teachers are reluctant to get posted in the border areas," said Singh.
Rationalising teaching staff
Teachers who were transferred due to the rationalisation policy suffered the most.
"Teachers working in the many single-teacher schools in the border districts can only go home on the weekends. When they go back to school on Monday no one will cover the one or two hours they lost on the way if the bus is late then. The department will note and highlight that absence but they won't provide cover," Subhash Chander of the Punjab Government Primary Teachers' Association.
"The women teachers who have to commute such long distances are also at peril as they have to rely on public transport or their own private vehicles. As you might know, we can't say that these areas are entirely safe for women," said Chander.
Teachers also said that the government is not recruiting for teaching posts that were left vacant after teachers retired or were promoted and became heads of school.
"In a school here in Pathankot district, a maths teacher was promoted to headmaster and after that they did not fill that seat. We were told a teacher will be coming but they mathematically got rid of the post," said Chander
"In another school, six teachers are working where 19 teaching posts are allotted. In the last four and a half years no ETT teachers have been promoted to HT teachers in Gurdaspur. According to norms, they have to be promoted every session. This is just the case of one district," said Chander.
Teachers also said that even the most senior teachers are not getting transfers to their home districts as the government has not announced another round of transfers so far.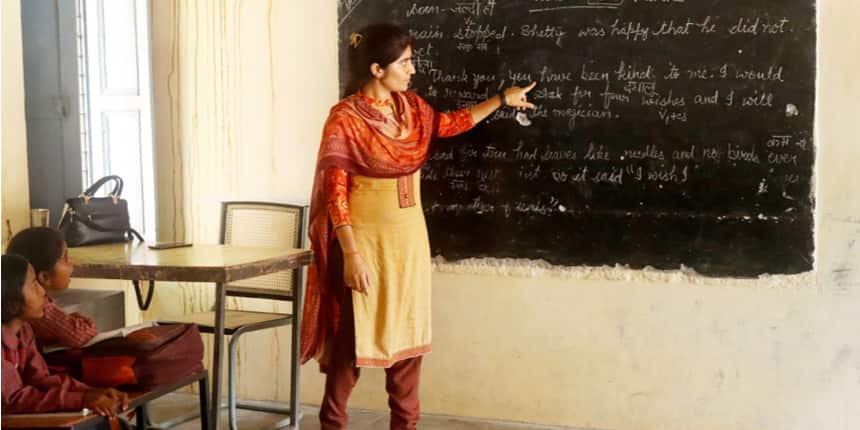 Teachers in single-teacher schools cannot afford to be late (pic source:Shutterstock)
Outsourcing teachers
Teachers also alleged that the government is slowly downsizing the department by terminating teaching posts and outsourcing teacher recruitment to private companies.
Almost 2,000 vocational trainers posted across Punjab to teach vocational subjects were all employed under the National Skills Qualifications Framework (NSQF), a central government initiative, as part of the Samagra Shiksha Abhiyan.
The NSQF is a quality assurance framework under the ministry of skill development and entrepreneurship. Under the scheme, recruitment of vocational teachers to Punjab Government schools were outsourced to private companies.
This left teachers stuck between two authorities -- the government department and the private company that recruited them.
"When the department assigns us work like attending district education meetings, we go there. But the company asks us why we didn't do the work they asked us to do. One person can only do one job at a time. How can someone be at two places?" asked Rai Sahib of NSQF Vocational Teachers Union Punjab.
"We are not sure who we work for. When we have to work then we are under the school education department, the principals, state government, and even for the central government during election duty. But when it comes to our salary we become company employees," Sahib said.
According to the Punjab Employees' Welfare Act, 2016, those who are working in outsourced posts for more than seven years should be mainstreamed into the department. This has not happened.
The vocational trainers said that the confusion of working under both the private employer and the government also extends to granting leave.
"When we have to take medical leave the principal has no problem but we are only allowed one leave by the company. When the principal asks us to take a leave without pay then the company tells us that the department does not allow this. When we ask the department they tell us to ask the company," said Sahib.
"There was one recent incident in Kapurthala district when one lady vocational teacher took three months without pay when she was diagnosed with cancer. When she wanted leave again for her surgery, the employer said they can't give her leave again. They told her that if she doesn't join on a specific date she will be terminated, and they did," said Sahib.
Adarsh schools
Teachers alleged that the intent to privatize schools was apparent from how Adarsh Vidyalayas are run in the state.
Adarsh Vidyalayas are a chain of schools in educationally backward blocks. The government set up 117 out of which 26 were in public-private-partnership mode. Among these, 21 schools were under 100% government share as the concept did not find private takers, the teachers said. The rest run under the PPP model with the government bearing 70% of the costs.
Teachers alleged the companies neglect many norms for profit.
"Around 40% of staff teaching in these schools are ineligible. Private managements were given the criteria for appointing the teachers but they don't follow any," said Shamsher Singh.
Adarsh Vidyalayas follow the Central Board of Secondary Education (CBSE) and have to appoint teachers as per the CBSE norms. Many teachers of Adarsh Vidyalayas are not regularised and in 2018, the Punjab director general of school education reportedly said these teachers are not government employees.
The private companies allegedly don't pay teachers their due or collect money from them.
"They told me that they will pay us teachers the proper scale but we will have to return 40-45% to them. Now they are trying to make profit this way," said Shamsher Singh.
"The private companies who are reimbursed 70% of the amount by the government... make 10-15 fake appointments and collect their salaries. They [companies] cover their 30% share from there," said Shamsher Singh. The guidelines for Adarsh Vidyalayas mention that if the school education department fails to fulfill its commitment as per the lease deed then the private partner can charge fees from the students.
The teachers pointed out that in one school, the deal with the private party was terminated for corruption and later reinstated.
The Punjab education secretary could not be reached at his office despite repeated attempts.
Write to us at news@careers360.com.