RRB NTPC 2021 Phase 5 begins - Latecomers denied entry
RRB NTPC 2021 Phase 5 begins - Latecomers denied entry
The fifth phase of RRB NTPC 2021 exam has begun amidst strict COVID-19 guidelines. Some of the candidates who arrived late at the test centre were denied entry.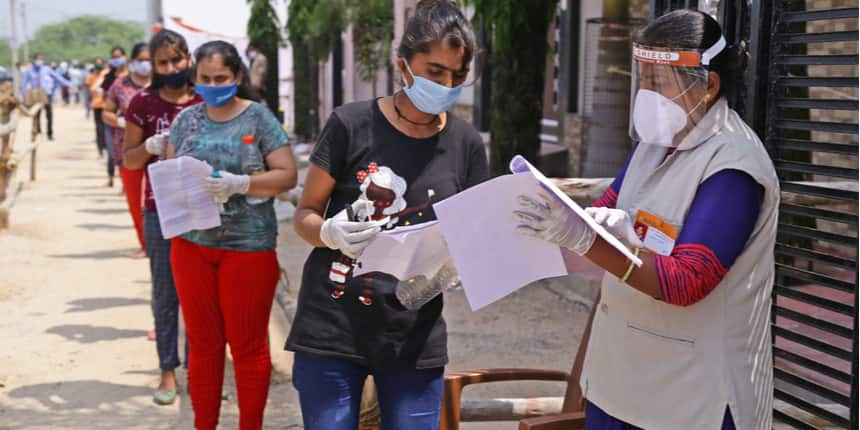 NEW DELHI: The Railway Recruitment Board has begun the RRB NTPC 2021 phase five exam today. All the candidates who arrived at the RRB NTPC 2021 test centre were seen following the COVID-19 guidelines. Also, the authorities did not allow any of the latecomers to appear for the exam.
Latest: Transform your Career with Online Courses & Certifications from Top Providers . Start Now
Recommended: Advance your career with Free Online Courses. Know More
The announcement was made before the commencement of the RRB NTPC 2021 exam that candidates without an admit card and valid identity proof would not be allowed to enter the exam hall.
Instructions followed inside the RRB NTPC exam hall
Inside the exam hall, candidates are expected to write his/ her name and roll number on the rough sheet(s) provided by the authorities. After the conclusion of the exam, the rough sheet(s) has to be returned.

Candidates are expected to complete the exam within the stipulated as no extra time will be allocated to them.

While the RRB NTPC 2021 phase 5 exam is in progress, additional biometric LTI, photograph capture and attendance including physical RTI and signature (in running handwriting) of the candidates will be taken.

Any candidate who is found engaged in any kind of malpractice or misconduct will be debarred from appearing in the examination.

Candidates have to adhere to all the instructions that have been communicated to them by the invigilator inside the RRB NTPC 2021 exam hall.

Those candidates who were eligible to avail the facility of the scribe and had not opted for it earlier while filling the RRB NTPC application form, can do on the day of the exam and avail this facility by bringing their own scribe for the exam. However, such candidates would be required to fill up details in the enclosed proforma 4C and submit the same today.
Write to us at news@careers360.com.
Follow us on Telegram for Latest Updates - Click Here.