#Schoolreopening: Delhi Government teachers share first-day glimpses
#Schoolreopening: Delhi Government teachers share first-day glimpses
Schools premises were decorated with posters encouraging students to maintain social distancing and basic hygiene protocols.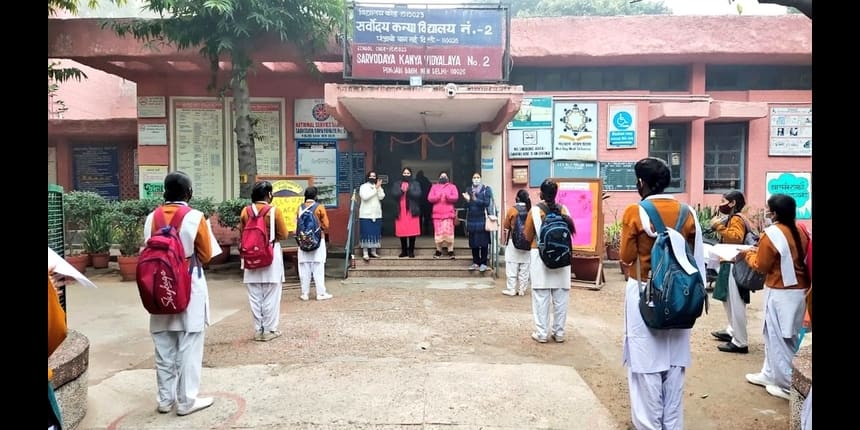 NEW DELHI: As schools reopened for Classes 10 and 12 in Delhi after 10 months of COVID-19 lockdown, the Delhi Government school teachers greeted students with sanitisers and thermal screening on Monday.
Students rejoining the first offline class of the academic session showed up wearing masks and followed social distancing. Before entering school, teachers checked the temperature of each student.
As a constant reminder to follow COVID-19 standard operating procedures or SOPs, schools premises were decorated with posters encouraging students to maintain social distancing and basic hygiene protocols.
As per the Delhi Government guidelines, the students will be called to attend classes in different slots for a short period of time. Accordingly, the students were seated far apart from each other enabling social distancing within the classroom.
The Delhi education minister, Manish Sisodia, also met the students returning to the classroom and assessed the preparations on the ground.
The education minister, Ramesh Pokhriyal 'Nishank' had announced that the Central Board of Secondary Education, or CBSE 2021 exam, will be conducted from May 4 to June 10. The board is yet to announce the complete dates sheet for Class 10 and 12 students.
Some of the teachers working in Delhi Government schools shared the glimpses of the first day at school since the lockdown.
Government Sr. Secondary school at Tigadi, Dr Ambedkar Nagar sector-4 now has a contactless sanitiser dispenser along with normal sanitisers inside every classroom.
#schoolsreopening

Temperature taken at entry point

Contactless & normal Sanitizer at many places

Every classroom has sanitizer &🧴

If a student is going out of class s/he is carrying🧴

Slogans & posters 4 awareness #OurSchoolsAreReady@msisodia @uditprakash @upadhyayKS7 pic.twitter.com/IdvfVS3S3Z

— Chandan Jha (@IamCJha) January 18, 2021
Students at Sarvodaya Kanya Vidyalaya, Punjabi Bagh were greeted with balloons and a 'welcome back' poster. Students were seated following social distancing norms.
A new life begins today...
With new hopes, lots of smiles,
bit of nervousness too.

With utmost safety, we warmly welcome Class X & XII students to this beautiful place called school.💕💕#DelhiGovtSchools#Education pic.twitter.com/lccg2RUTGc

— Manu Gulati (@ManuGulati11) January 18, 2021
बहुत महीनों के बाद मिलें हैं।
बातें किए बिना रहा नहीं जाएगा,
मुस्कुराये बिना भी नहीं।😇😄#Happiness#DelhiGovtSchools pic.twitter.com/IZuJQmuxxj

— Manu Gulati (@ManuGulati11) January 18, 2021
To avoid crowding, schools in the national capital will allow staggered entry and exit. Only 15 people, as per the Delhi Government school-reopening guidelines, will be allowed in a room.
The head of the school at SCSD Government Sarvodaya Co-ed Sr. Secondary school, Rohini welcomed the students of Class 10 and 12. Staff and students will also go through a COVID-related orientation programme, the Delhi Government guidelines stated.
With full enthusiasm students of class 10th and 12th are back in school.

They are welcomed by HOS herself. #SCSDSVSector9Rohini#schoolsreopening pic.twitter.com/bigjh0HeyW

— Sangeeta Shrma (@SangeetaS30) January 18, 2021
After each session, the schools will undergo a thorough sanitization. Students attending the class were seen carrying their personal hand sanitisers.
Welcome back all our (Xth, XIIth) students💐🌟
Here fun n learning never ends...
Welcome back to #DelhiGovtSchools
Be careful, follow the pandemic safety rules. pic.twitter.com/3xrCMCE9fQ

— Monika Jagota🐬 (@MonikaJagota) January 18, 2021
Teachers at Government Girls Sr Secondary School, Shakarpur, were excited to resume classes with "little champs" after months.
Welcome back Dear Lil Champs...
Pics from GGSSS SCHOOL BLOCK SHAKARPUR 1002191#ProudDelhiGovTeacher@msisodia @Minister_Edu @shail2018 @upadhyayKS7@PbpandeyB pic.twitter.com/6jAG8uHS5u

— vishnu pandey (@vishnu15sept) January 18, 2021
A day ahead of school reopening in Delhi, mentor-teachers prepared informative posters for the school students.
This passion is what drives us.💕😇

My mentee school teachers in full swing...preparing to welcome Class X & XII students to school tomorrow.

Safety top priority. We are all so excited.#DelhiGovtSchools#Education pic.twitter.com/bD0k5JUkeH

— Manu Gulati (@ManuGulati11) January 17, 2021
For the Delhi Government schools with two shifts, the government has recommended a one hour break between the end of the morning shift and the start of the evening shift.
We are back!
Ready to take on new challenges...

Our proud #DelhiGovtSchool fraternity and students responded to the call for #schoolsreopening with utmost respect and understanding!#education @Minister_Edu https://t.co/sXccq7mLPF pic.twitter.com/T2SuHInO65

— Suman Relan (@SumanRelan) January 18, 2021
Write to us at news@careers360.com