"Society doesn't accept vocational education to be a matter of dignity"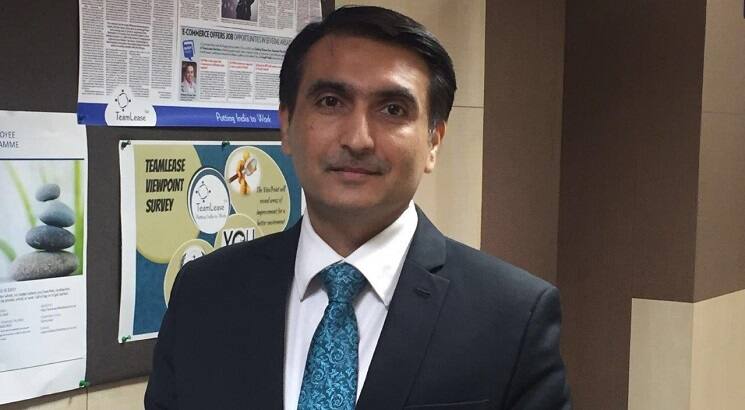 Sumit Kumar, VP, National Employability Through Apprenticeship Program, TeamLease Services speaks to Careers360 on increasing skill gap and regulatory changes needed to equip students with contemporary skills.

Q. Teamlease has started a skills university, what was the idea behind it?
A. The Skill gap is huge in the job market, many of the reports have suggested that 90% of the jobs in the market need skills, whereas 60-70% of candidates do not possess the required skills. Due to this mismatch, we thought let's look at the university where we are able to bridge this gap. So, the idea is that we will run the university in a way which will focus on the employability aspect. So today we have about 500 kids in the classroom. Now skills cannot be taught in a way the regular universities are being teaching, the curriculum has to be separate, there has to be more industry connectivity, there has to be more industry participation. That is exactly what the university focuses on. So 500 kids are actually there in the class, but there are fifty thousand kids who are students of the university but are doing the apprenticeship with the industry.
Q. How are they doing that?
A. So they are doing on-the-job training. We run an apprenticeship programme which is as per the guidelines of the Ministry of HRD. On the basis of that, we are providing on-the-job training, and 100% of people have got employment after this. In fact, we have been able to place around 27,000-28,000 students. Everybody has got a job to the extent that some of them have also become entrepreneurs by themselves after going through the apprenticeship programme. That is the whole objective, that how can people build capabilities. But again, I think somewhere the idea was how we make education more relevant, viable, learning outcome based, accessible and affordable as well. And yes, the ultimate objective is that a student should get a job.

Q. We have been talking about skill development for quite some time, but things have not moved much far, how do you look at things?
A. There has been a lot of stress on the skilling part. But, if one would be mistaken if one wants to learn skills in a controlled environment. Skill has to be on job, in the real work environment. If you have to learn the craft, then you have to be on the job. Today what employers are looking for is not only basic skills and capability, but what they are also looking for is the ability to reason, logic, that is, how they react to a situation.

But, I think the major change which needs to be brought about is from the society. Till date, society doesn't accept vocational education to be a matter of dignity.

Q. I think the National Skill Qualification Framework has put a lot of emphasis on skill development?
A. Right now, it still doesn't. There is no apprenticeship credit framework for higher education.

Q. Instead of doing it through the UGC way, why don't you to do it through AICTE. You are a university, that's why you are looking at the UGC. Will going to AICTE be of some help?
A. AICTE says that they do not have the authority.

Q. Since you are a university, so you need to raise your concern with the UGC only?
A. Since it's a university, it has to come under the UGC. So when I go to AICTE, AICTE asks us to go to UGC. Then I went to UGC. UGC said to go to AICTE. Now UGC has a new Chairman also and they are open to looking at it because they know that un-employability is a larger challenge today which the country faces.

Q. Don't you think that industry also needs to come forward? Industries also has a very important role, that is, to train people?
A. On the contrary, I see a change. Today I think that's something which I did not anticipate. Our university partners with all the hotels in the sector and some of the mechanical industries for some of our courses. But having said that, if I look outside my university as well, there are a lot of advertisements today. And in fact, if you listen to the radio, there are lots of advertisements right now which talk about programmes that are not even industry related but are company-specific run by the institutes. So I won't say that industries are not forthcoming. I think the trend has started, and it will catch up definitely.

Q. Which all sectors see the maximum surge in the demand for skilled workers?
A. Definitely, it is the IT sector which is looking for that. I think some of the courses which I see are also IT related because today the kind of stuff which is required in any domain involves the ICT, information, communication and technology. So today IT companies are getting involved not just in the IT software part but with various other courses.

Look at any company or industry, it will be linked to the internet. Banking, retail and even healthcare are being linked. A lot of technologies have a connection with these. How technology empowers these is an interesting subject. In logistics, the warehouses that you see nowadays need a different category of people because they are all technology managed.

They need different skills. When you look at their godowns, you will realize the huge difference between them and those of the older times. The godowns of Flipkart and Amazon are huge. Their management needs too many people, by the way. But they need skilled people to work on those technologies to manage the godowns. So that exposure is very important. Not that I have to learn software development, but I need to have an understanding of the technology. I need to have an exposure to the technology and how it can be utilized in a different way.
Stay updated with latest Education News