Student groups welcome HC decision to grant bail to JNU, Jamia students
Student groups welcome HC decision to grant bail to JNU, Jamia students
Delhi High Court granted bail to students Devangana Kalita, Natasha Narwal and Asif Iqbal Tanha.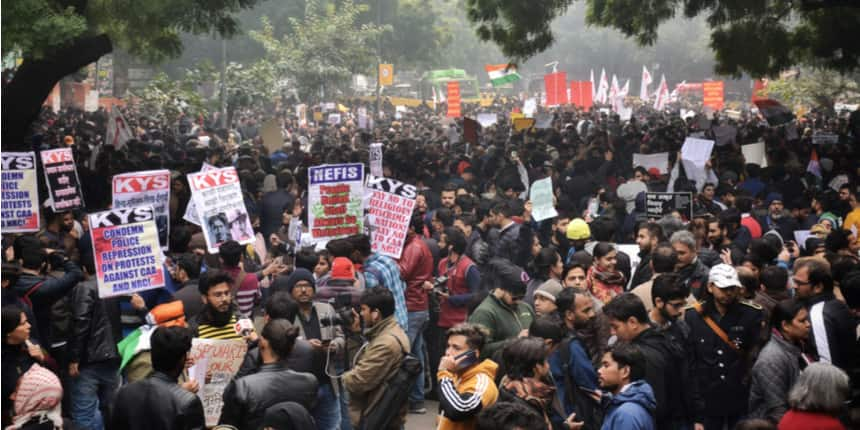 NEW DELHI: Several student organisations, on Tuesday, welcomed the Delhi High Court decision to grant bail to Asif Iqbal Tanha, Devangana Kalita and Natasha Narwal, incarcerated since May and booked under the Unlawful Activities (Prevention) Act (UAPA).. Welcoming the judgement, students called the charges levelled against them as "false " and "unjust" and said that the central government was trying to "shift blame" from the issue.
The three accused students were arrested in May last year in connection with the riots in north east Delhi. Communal clashes had broken out in north east Delhi on February 24 last year after violence between supporters of the Citizenship Amendment Act 2019 and its opponents spiralled out of control leaving at least 53 people dead and around 200 injured. The CAA sought to grant citizenship on the basis of religion.
Welcoming the decision, the All India Students' Association (AISA) said that the judgement "exposes the legal and moral corruption of the Modi government" in imposing the UAPA against anti-CAA protesters.
AISA, in a statement, said: " AISA congratulates lawyers, students and pro-democracy voices who stood tall in the fight for justice. AISA appeals to people of this country to continue and enlarge this unity for justice and fight back the machinations of the Modi government to destroy our constitution and democracy."
The Student Islamic Organisation (SIO) said that decision called out the "hollowness of the bogus conspiracy charges against young activists". The HC in its order noted that neither the SIO nor the "Jamia Coordination Committee", of which Tanha was a member, are illegal or banned outfits.
SIO, in a statement, said: "We welcome the bail granted to Asif Iqbal Tanha, Devangana Kalita and Natasha Narwal by Delhi High Court in Delhi Riots case. The trio, along with others, were unjustly put behind bars over a year ago on false charges in an attempt to suppress the young leadership of anti-CAA movement and shift blame for the Delhi pogrom."
SIO hoped that the verdict will serve as a precedent in curbing the "long and unjust incarceration of innocent persons under draconian laws".
The Delhi High Court, while granting the bail, noted the charge sheet was "not founded on any specific factual allegation" and that the submissions were "based upon inferences drawn by the prosecuting agency". The court also noted that the "in the mind of the state, the line between the constitutionally guaranteed right to protest and terrorist activity seems to be getting somewhat blurred" and called it a "sad day for democracy" if this mindset gains traction.
Asif Iqbal Tanha, Devangana Kalita and Natasha Narwal have spent a year in Tihar Jail while the case was pending in the Delhi High Court. The Delhi High Court, in May, had given interim bail for three weeks to Natasha Narwal following the death of her father due to COVID-19.
Write to us at news@careers360.com.
More From Team Careers360