'Students forgot multiplication': Teachers struggle as schools reopen
'Students forgot multiplication': Teachers struggle as schools reopen
As schools reopen, government teachers across states are finding their students have forgotten English, spellings, multiplication tables.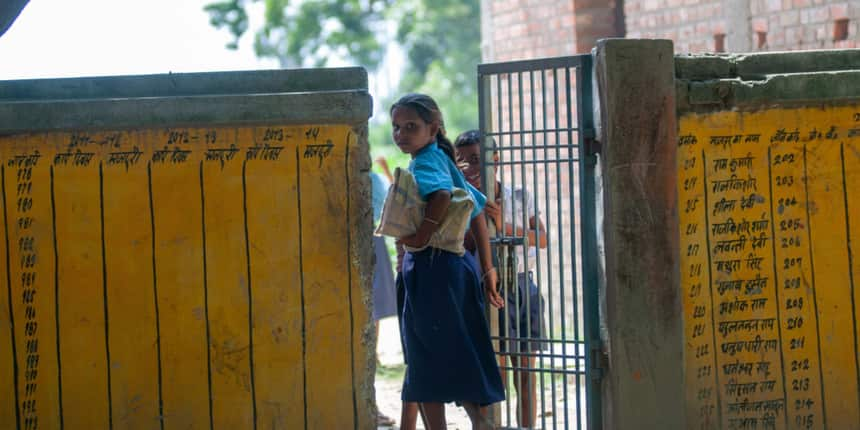 NEW DELHI: As schools across the country remained shut through the COVID-19 pandemic, Asghar Ali would conscientiously call his students every few days to ensure they didn't get disconnected from their school, the government-run primary school in Shuklapur, Ayodhya district, Uttar Pradesh.
The primary schoolers, most of them children of daily-wagers, had no access to the internet and Ali's teaching over the phone remained the sole thread to learning. Ali returned to face-to-face teaching when the Uttar Pradesh government allowed mohalla classes (neighbourhood classes) at the end of 2020.
"When I started teaching the Mohalla classes at first I was shocked because the students had forgotten everything. All the teaching that had been done was for nothing and I had to start again," Ali said.
"I had taught them multiplication tables and spellings of numbers from 1 to 100 but they couldn't even write the spellings of the first ten numbers and had forgotten most of the multiplication tables as well. This was true for 90% of the students. Even the top students of the class were not performing any better," he added.
A study by Azim Premji University found that 92% of primary school children had lost at least one specific language ability, writing skill or listening comprehension, during the lockdown. Plus, 82% children lost at least one specific mathematics ability such as the ability to identify single and two-digit numbers.
With schools reopening, teachers across states are discovering exactly how difficult making up for the time lost due to the lockdown will be.
Board exams
While primary school teachers are dealing with their students having "forgotten" basic skills,, students of Classes 10 and 12 face the prospect of writing board exams without having attended classes for most of the year. While many state boards have docked their syllabi -- the Central Board of Secondary Education (CBSE) by 30% -- teachers still believe finishing the syllabus by the end of the academic year will be a huge task.
"The learning loss is severe since students are coming back to school after 10 months or so. This is especially visible at the village level. Even though the syllabus has been reduced it will be difficult to bring students up to par in this session," said Mahaveer Sihag of Rajasthan Shikshak Sangh (Shekhawat).
"Post the lockdown, we have noticed that students are finding English very difficult to pick up since it is a foreign language," said Panigrahi. "Most of what is taught is on the meaning of words and their usage but they find difficulty with the harder words. We are trying to get the Class 10 students up to speed through special classes." Government school students are also unlikely to speak English at home.
Road-maps for schools
Ali said some of his students in Class 3 have slipped to Class 1 standard of skill and learning. "To bring a student who is at class 1 level to the Class 3 level will take effort. Moreover, the mohalla classes were not conducted everywhere. I was doing it for myself so that I can reduce the burden when classes resume," Ali said.
Some state governments have come up with roadmaps to address the problem in primary schools. Uttar Pradesh has launched a 100-day class called Samridhi to provide a framework for teachers to achieve the required learning outcomes.
"We are conducting 100 days of summer class in which the learning gap will be identified and have set a list of achievable learning outcomes which is categorised as daily, weekly and monthly outcomes. Schools are given an assessment toolkit as well as a list of achievable outcomes," said Manoj Varshney Sainani, District Institute for Education and Training (DIET) Agra, Uttar Pradesh.
Overcoming the gap will be harder for Class 10 and Class 12 students who have to write board examinations within three months. Moreover, most teachers believe that governments have left it to teachers to figure out what to do.
"The government has done nothing. They have left it to the teachers to finish the syllabus which will be very difficult," said Kuldeep Singh of Government Teachers' Union Punjab.
"Teachers will definitely be overworked. We will be working on Sundays and without any leave," said Binod Bihari Panigrahi, president of Odisha Secondary School Teachers' Association.
Online education no substitute
Some believe that the stopgap solution of online learning has simply papered over the problems of access and teaching a group that is spread out..
"Online education is not a substitute for real time classes where students and teachers interact closely. Moreover, some students, especially those who belong to poorer households, have not attended these classes at all," said Singh.
"The situation in our country is such that in most households there are one phone with the parents and two-three children who are going to school. Covering the syllabus before board exams is just for namesake it will be very difficult," he added.
Teachers agreed students from low-income groups have fallen behind more. The opportunities to learn from their environment or to pick up other activities were limited for them.
Students took up jobs
"I have 49 students in my Class 10, 48 of them come regularly except for one. I have gone to his home and tried to convince the parents to send him to school and that I will provide for transportation and food. But the parents are not willing because he is already employed in labour work and is a source of income for the family," said Panigrahi.
Officials at the Delhi Government are banking on time to cover the syllabus before the board examinations.
"The government is putting in tremendous effort to prepare students for the board exams. Learning loss is the teacher's perception based on the experience of teaching in the classroom. The CBSE determines the syllabus and for this year they have reduced it," said Murari Jha of Delhi's Directorate of Education.
"All agencies are trying their utmost to cover the syllabus. Schools are open and the teaching learning process is going on, exams have also been delayed to May. We have time," he added.
In Odisha, the government has planned for constant assessment.
"We will be conducting 100 days of continuous classes to finish the syllabus till April 26. Three unit tests are planned by April to assess the level of the students and parent-teacher meetings will be conducted to apprise the parents of their ward's level," said Panigrahi
Officials said that the resumption of physical classes have sped up the process but there are still those who are left out from this. Authorities said that efforts are also taken to bring back the students who are left out.
"In Delhi, a majority of students are attending classes. Less than 10 percent of students are not coming. For these students who might have left the city or have other problems the schools are arranging tickets and making other arrangements to get them back. The students here have largely been desperate to come back to classes," said Jha.
Write to us at news@careers360.com.