70% Indian students in France studying management: Campus France
70% Indian students in France studying management: Campus France
France offers scholarships worth over Rs 11 crore to more than 500 students every year.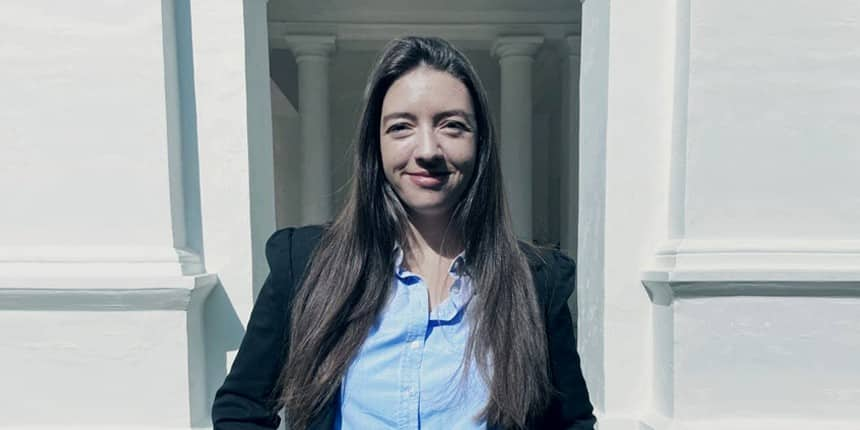 Sanjay
|
Dec 10, 2022 - 2:09 p.m. IST
NEW DELHI: As a study-abroad destination, France is especially popular for its management programmes with over 70% of its Indian students enrolled in them. Campus France, a branch of the French Government, has offices in 12 cities in India and 14 specialists to guide students seeking to pursue higher education in France. Margo GIRARD, national coordinator of Campus France India spoke to Careers360 about France's higher education system, why it is cost-effective, application process, and work.
Q. How many Indian students are currently pursuing higher education in France ?
A. According to the latest official data collected post-COVID-19, there were around 6,000 Indian students in France in the 2021-2022 academic year .
Q. What are some of the recent trends that you observed in Indian students who are looking to pursue education in France ?
A. Nearly 70% of the Indian students in France are admitted in a master's degree of management studies. Engineering programmes come next (11%) and the remaining 19% can be found evenly spread across different majors, including humanities, hospitality and tourism, fashion, design or science, technology, engineering and medicine (STEM). Close to 5% of Indian students are pursuing studies at doctoral level.
Q. Please explain the application process for different programmes offered by Campus France.
A. Applicants who want to study in France have to open a personal account on the "Etudes en France - EEF" (Studying in France) or EEF Website. Once registered, they follow a paperless process that enables them to submit applications for admission and interact with their Campus France manager in the closest city.
There are different application processes for students who are applying in a public or private institutions
Students applying in a public institution for their first year of a bachelor's level course, must make a "Demande d'Admission Préalable - DAP (Preliminary Admission Request) online on EEF website. The registration process for admission to bachelor's level course for the academic year 2023-2024 started on October 1 and it will end on December 15, 2022.
The applications will be examined simultaneously by three universities selected by students. The university's response will come before April 30, 2023 and students have to respond by May 31, 2023.
Also Read | Engineering top choice for Indians studying in Germany: DAAD India
If applicants wish to continue their studies in France from the second or third year of a bachelor's degree or pursue a master's degree, they must follow the process on the Etudes en France website for a student visa.
Students who wish to enroll in a doctorate programme, have to contact the doctoral schools that offer the research subjects of their choice and interests. After obtaining admission, students should apply for a "talent passport" visa.
Students who are applying for a private institution have to follow a pre-consular process on the Etudes en France platform.
Q. Please explain how the French education system offers high quality education.
A. France is a nation which values knowledge, science and technology. A total of 32 French higher education institutions are ranked in the 2022 QS World University Rankings; 13 of them in the Top 500, two in the top 50. Similar trends are displayed in the latest Times Higher Education or Shanghai ARWU rankings. In the 2022 QS ranking by subject, six universities or schools of France were in the top 100 for mathematics, business and management and anthropology. In 2021, according to the Financial Times' rankings, the top five master's degrees programmes in finance are taught in France.
Among European Union (EU) countries, France welcomed the largest number of Erasmus+ (EU programmes for education, training, youth and sport) students, including 126 Indian students, last year.
In French public universities, non-European students pay less than €4,000 (Rs 3.35 lakh) a year for a master's degree.
France offers over Rs 11 crore in scholarships to more than 500 students every year, and 75% of their tuition fees in France's elite public institutions is in fact covered by the French state. A total of 86% of PhD scholars are funded through a doctoral contract with a university or a laboratory where half the student's population comes from across the world.
Also Read | Study Abroad: 'Getting a full-ride scholarship should not be anybody's default plan'
Q. Apart from quality education, what are the other perks of studying in France ?
A. Unlike many other countries, France has a social security and healthcare system that provides international students with full social coverage while studying in France. Getting a "student" status entitles any international person to get medical treatment just like French nationals. This "student" status and the resident permit that comes with it, allow any international student to work two thirds of a full time job, without requiring any further administrative authorisation.
In France, students enjoy many benefits and significant discounts. Students have access to a "Schengen visa" allowing them to travel across the European Union, sometimes through exchange programmes of their host university or school. Once they graduate, they can also apply for a post-study visa and start their professional lives in France.
Q. What is the impact of the agreement between France and India on the 'mutual recognition of academic qualifications' ?
A. The agreement between France and India for the mutual recognition of academic qualifications, signed in March 2018, during the visit of the President of the French Republic to India, is the first such intergovernmental agreement that India has entered into. It has come into force.
As per the signed agreement, the following educational qualifications from India (from government-approved institutions) are now recognised by the French government:
All India Senior School Certificate Examination (AISSCE); Central Board of Secondary Education (CBSE); state boards; pre-university (PU); or any equivalent qualification recognised by the Government of India)

Bachelor's degree

Master's degree

PhD
The following educational qualifications recognised by the French Ministry of Higher Education are now recognised by the Indian government:
Baccalauréat (equivalent to AISSCE)

License (equivalent to bachelor's in India)

Master's and master's level qualifications (equivalent to master's in India)

Doctorat (equivalent to PhD in India)
The mutual recognition of AISSCE and Baccalauréat degrees promotes mobility of students between the two countries.
During her visit to India in September 2022, French foreign minister Catherine Colonna said: "We want 20,000 Indian students in France by 2025." Campus France is sparing no efforts towards meeting this goal.
Also Read | Studying Abroad: How much will it cost? Here are estimates for 5 countries
Q. What are the job and work visa prospects for Indian students graduating from French educational institutions?
A. International students have the right to work while studying in France as long as they are enrolled in an institution that subscribes to the national student health-care plan. Students who are not nationals of EU-member countries must also hold a valid residency permit. The right to work applies to all students, including those who are in France for the first time, those who are enrolled in the first year of a university programme, and those who are enrolled full-time in a language school.
Indian students in France can extend their stay in the country after the completion of their studies. The visa allows Indian students in France to extend their stay for an additional 24 months after the completion of their studies: a 12-month visa, renewable once for a further period of 12 months.
In July 2013, France decided to facilitate travel to France for Indian citizens residing in India who hold post-graduate degrees from France irrespective of the year of graduation. The five-year visa allows its holders to stay in the Schengen area for up to 90 days, with a 90-day gap between stays. Indian alumni of Indo-French dual degree programmes (PG) are eligible to apply as well.
---
Follow us for the latest education news on colleges and universities, admission, courses, exams, schools, research, NEP and education policies and more..
To get in touch, write to us at news@careers360.com.