Suryadatta Innovation and Incubation Centre of Excellence Inaugurated at Suryadatta Institute of Management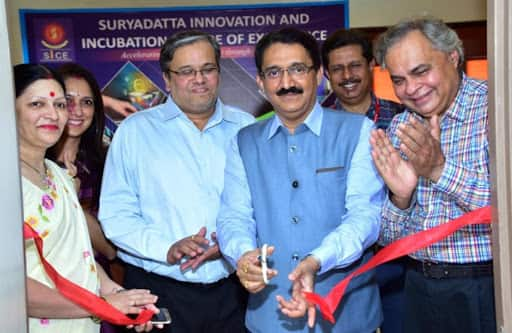 Suryadatta Partners With Innovationext Industry 4.0: An Open Innovation Center to Accelerate Industry Growth
Pune: As Industry 4.0 is shaping a new world, Suryadatta Group of Institutes announces the setting up of the new industry 4.0 Suryadatta Innovation and Incubation Centre of Excellence (SIICE) at their institute with InnovatioNext, India's leading innovation consulting firm. The centre is a futuristic education model based on collaborative open innovation, which will work collaboratively with the industry to develop the next generation of intrapreneurs, technopreneurs, innopreneurs and strategic start-ups.
This centre will provide an opportunity to the students to collaboratively work with the industry for resolving their real life challenges and steer them to faster growth. Mr. Pravin Rajpal, the founder of InnovatioNext, showcased the most advanced tools like Technology App 4.0, 3D Idea Generator (a tool that makes everyone innovate like a creative genius), ready to use mind-maps to develop breakthrough innovations, industry innovation assessment software to create exponential growth for the industry. The centre will transform Suryadatta Group of Institutions into a hunting ground of talent, ideas and innovations by the leading companies.
The centre will not only help students develop new industry breakthroughs, but will also help the industry to steer their organizations with breakthrough ideas developed by the students at the centre. Great results are only possible when the passion and innovations of the young students meets the management experience and infrastructure of the industry. As the world moves on to collaborations based upon innovation systems, the new centre will create a win-win for all the stakeholders of the innovation ecosystem. Day 1 was for the installation of software in the computer labs and interaction with all professors and students to explain the pedagogy and flow of programs.
The centre was formally inaugurated on 12th April 2019 by the lighting of a traditional lamp and cutting the ribbon by Prof. Dr Sanjay B Chordiya, the founder president of Suryadatta Group of Institutions. This was followed by an FDP about understanding the new tools of innovations and also for application of these tools for developing Intrapreneurs, Industry 4.0 innovations and breakthrough projects. The ceremony ended with the handing over of Innovation Torch by Mr. Pravin Rajpal, founder of InnovatioNext to Prof Dr Sanjay B Chordiya, Founder President of Suryadatta Group of Institutions. The objective of the ceremony was to ignite the passions, minds and spirit of innovation in the institution and to develop future ready thought leaders, intrapreneurs, innopreneurs and betapreneurs to steer the industry growth.
On this occasion, Prof. Dr Sanjay B Chordiya, Founder President of Suryadatta Group of Institutions said that "The purpose for this centre of excellence was to foster industrial growth and to facilitate academia of MBA/ PGDM. Including students and faculty to work on live projects for national and multinational companies with various tools available at the centre like Innoveda, 3D Idea Generator, ready to use mind maps etc. Thus the students would become industry-ready professionals with better prospects and would be an asset to any organization they join".
Stay updated with latest Education News