Atmanand Schools: Teachers in Chhattisgarh's top government schools feel they got a raw deal
Atmanand Schools: Teachers in Chhattisgarh's top government schools feel they got a raw deal
Chhattisgarh Swami Atmanand schools have teachers on contract. They seek job security, training, timely disbursal of salary, fewer office chores.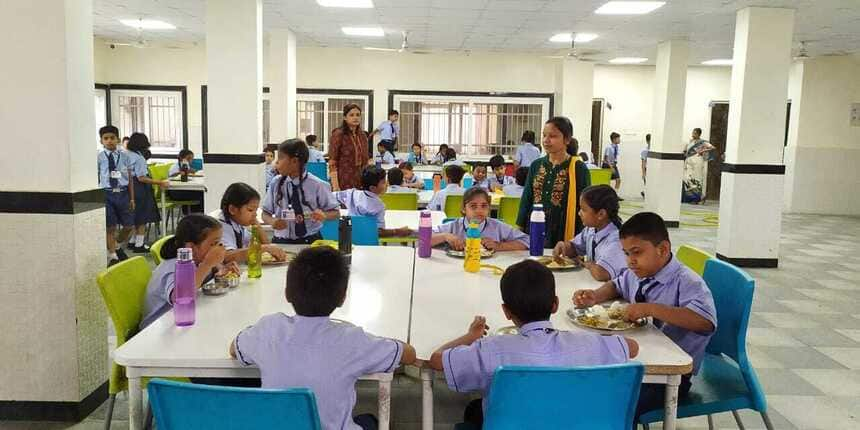 RAIPUR, (CHHATTISGARH): Chhattisgarh's Swami Atmanand Government English Medium School (SAGES) scheme has grown at a furious pace. Starting with the upgrade of 52 schools in 2020, the network now includes 279 generously-funded, English-medium government schools with over 400 more existing schools set for a similar glow-up. But despite this strong start, there are concerns.
Started during the Covid-19 pandemic, the Atmanand school teachers, many from Hindi-medium backgrounds, need more training and support than they have got; nearly all SAGES teachers are on contract, often receive their salaries months late and complained of being overburdened. Apart from these, activists and educators have raised larger questions about the impact "model school" projects have on public education in general, arguing that such a system "discriminates" against children left out of it.
The teachers union and activists argue that the scheme creates inequality as poorly-funded Hindi-medium schools and children, some of the poorest in the state, sorely need funds and facilities that the newly-developed Atmanand schools are now receiving. As previous parts of this series covered, a large chunk of students in the Atmanand schools have come from private schools.
Part 1 | Chhattisgarh Atmanand schools see applications surge 234%; here's why
English-medium and teacher training
The state government had mandated a recruitment process involving a written exam followed by an interview with a committee including district and education officials, academics and subject experts and the principal.
The two parts were to have equal weightage in appointment. However, some schools recruited teachers based on just the interview as per the decision of their district collectors.
In districts like Bilaspur, Kanker and Mungeli, many of the Atmanand Schools appointed teachers from Hindi-medium backgrounds. The transition to English-medium has been especially difficult for them. "Teachers themselves find they must be trained consistently," said Vinod Bek, head teacher-primary, Swami Atmanand Government English School, Tarbahar, Bilaspur. But since the inception of Chhattisgarh's Atmanand schools, teacher training has happened only once.
"Creating an environment in English is tough when both teachers and students come from Hindi-medium backgrounds. Training programmes for teachers and parents are also important," added Bek.
"The last teacher training was when we were inducted in 2020. Since then, no other training has happened," said Usha Chandra, principal, Swami Atmanand Government English School, Tarbahar, Bilaspur.
Part 2 | Atmanand Schools: Chhattisgarh's English-medium schools have a language problem
Alok Shukla, principal secretary, school education, Chhattisgarh, agreed that there hasn't been any training session after induction. "The training will be repeated as often as we can," said Shukla. "When we started, we trained the initial 52 school principals ,who were hand-picked, in the state academy of administration. Rigorous training was given on pedagogy and management by the State Council of Educational Research and Training (SCERT) which also monitors the schools and are in constant touch with all Atmanand school principals."
'Pressure for results'
The focus on Atmanand schools also means their staff are under pressure to perform well and this usually limits the autonomy of the teacher or school to respond to local situations. "Atmanand schools face immense pressure in terms of performance and maintenance of infrastructure. We have pressure for results. After every module, there are unit tests from SCERT that have to be conducted wherein sometimes even though the course is not complete, we still have to take a test," explained Chandra.
"While we are constantly in touch with principals, we have recently distributed Atmanand almanack to every child which includes the details of school activities done daily," explained Shukla. Atmanand schools conduct monthly assessments and also evaluate them on participation in sports and other activities. "Children are monitored along with continuous parent-teacher training and meetings," added Shukla.
Teachers are also burdened with a variety of non-academic chores including finding plumbers and electricians, arranging for funds, and others, said Chandra. "We don't get extra teachers or even sweepers." she added. Recently, after consistent effort of the principal, councillors and full-time sweepers were recruited. Any time a school requires funds, the principal has to write to the SAGES cell in SCERT, complained another teacher. "A proper system must be created and dealing with funds should be easy," they said.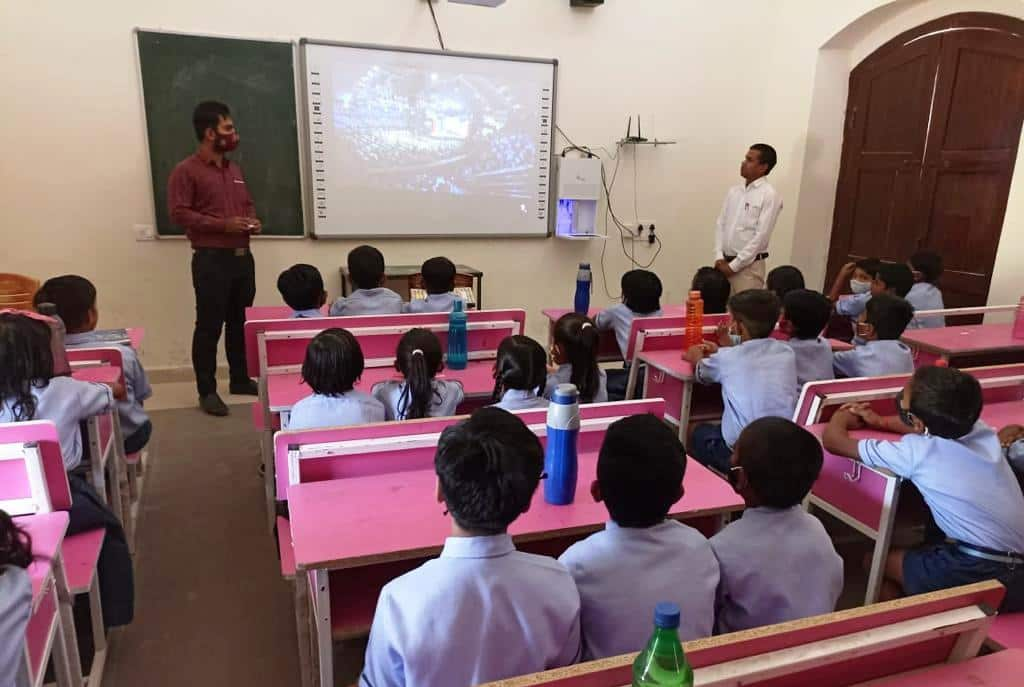 A teacher taking class at Kanker, North Bastar's school
Also Read | National Credit Framework (NCrF) Decoded: How India's students will be marked, fromClass 5 to PhD
"I agree it's a challenge," said Shukla. "While there will always be some challenges because schools and education are a continuous process, we have to keep learning and improving. While we are trying to solve issues and constantly motivate teachers and principals by sharing good practices, it will take some time to solve all the issues."
Teacher recruitment, job security
Despite the state government mandating a common recruitment policy, the actual process varied across districts. For the SAGES school in Kanker, North Bastar, only interviews were conducted and for teachers of Classes 3 and 4 when the posts advertised were for Class 2. Candidates from across the state were interviewed but ultimately, only those from the district were selected.
For senior secondary schools (Classes 11 and 12), candidates were interviewed. "We took demonstrations of teachers during interviews to understand their way of teaching and based on that, we finalised the candidates," said Rachna Srivastava, principal, Government NDHS School of Excellence, Kanker, North Bastar.
No matter how they were selected, teachers hired specifically for Atmanand schools were all appointed on "contractual basis" or came on "deputation". In schools that had large numbers of students, the new teachers joined existing staff.
Also Read | How a Kerala village saved its 98 year-old government school and transformed it
"The new teachers are recruited on contractual basis which means their salaries will be a lump-sum with no dearness allowance, pension scheme or promotions that other permanent teachers receive," explained a member of the state teachers' union asking not to be named. "So, after two- three years, these teachers will receive the same contractual salaries without any increment."
The member added that this set of teachers will face issues throughout their tenure. "Contractual teachers' services are not safe and can be terminated at any point and their promotion will be banned," he added. Their situation weighs on the teachers. "Without proper job security, how can anyone give 100% effort? The future of a school will be secured only when a teacher's future is secured," said another teacher, also requesting anonymity.
The second route to staffing the Atmanand schools is also a problem. The government has moved many teachers from other schools to Atmanand schools, placing them on deputation. "When recruitment [for Atmanand schools] was done, many teachers already teaching in different schools of different government departments like school education and tribal welfare, applied and received a transfer," a teacher explained. While the period of deputation is four years, teachers hope for permanent postings to these schools.
The teachers on contract or deputation also face delays in salary disbursal. "Usually, teachers who are posted receive their salaries on the first of every month. Teachers on deputation and contractual basis have been facing delays of at least two to three months," said another teacher who didn't want to be named.
Also Read | Uttar Pradesh's 1.4 lakh Shiksha Mitras feel betrayed by every party
The contractual and deputation teachers are paid by a non-profit trust headed by the district collector. The SAGES society received funds from a mix of sources and it is erratic. This has caused delays in disbursal of salaries, funds for administration and other school-centric tasks, said the teacher from the union.
Creating inequality
A section of activists and teachers working in Chhattisgarh question the model school format itself. "There are several types of government schools already prevailing in the system which has humongous issues of implementation, funds, learning outcomes and others that affect people who are part of the education system. Rather than solving those, the government has introduced a new scheme over and above others," said a teacher who didn't want to be named.
A union-member observed that due to the Atmanand schools, the regular Hindi-medium government schools have lost their value. "On the one hand these schools are giving good facilities but the adjacent Hindi-medium schools are not, leading to a decrease in the number of children going to such schools. These schools will perish soon. The government on the policy level is discriminating between children and between schools," the teacher added.
Also Read | UP schools will have retired teachers as 'shikshak sathi'
Similarly, Parneet Simha, founder of Bachpan Banao, a non-profit working on teacher training in the tribal areas of Chhattisgarh added: "Every state government is bringing its models. In Chhattisgarh during Bharatiya Janata Party's (BJP) tenure from 2003-2018, they pushed the DAV schools to look after the model schools. But the current Bhupesh Baghel-led Congress government sidelined them. Further, 10 lakh students are studying in the state's Eklavya Model Residential School (EMRS Chhattisgarh) for Scheduled Tribes, Kasturba Model Residential Schools for girls from weaker sections of society, and so many others. But rather focusing on these, the state government is prioritising 5,000 students in Atmanand schools and discriminating further."
(All images by Sheena Sachdeva)
This is the final story of a three-part series on Chhattisgarh's scheme for upgrading existing government schools into English-medium institutions with quality infrastructure.
---
Follow us for the latest education news on colleges and universities, admission, courses, exams, schools, research, NEP and education policies and more..
To get in touch, write to us at news@careers360.com.
More From Sheena Sachdeva