Why there's a 234% rise in applications for these Chhattisgarh government schools
Why there's a 234% rise in applications for these Chhattisgarh government schools
Chhattisgarh's Atmanand schools are drawing students away from private institutions. 452 more schools are being added to the scheme next year.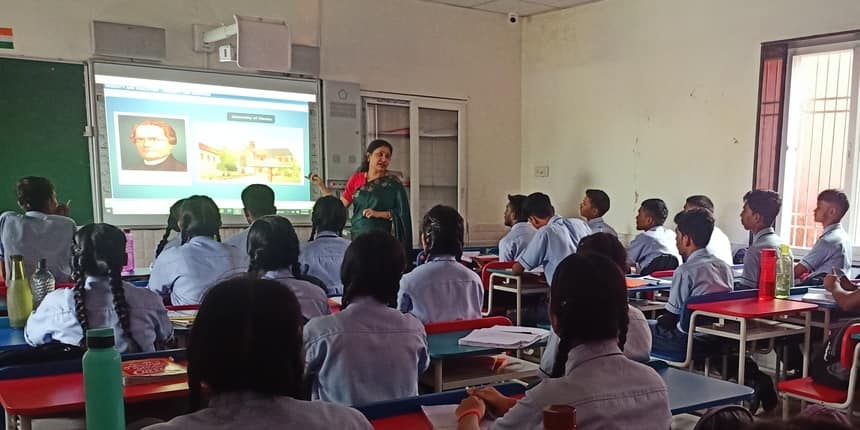 RAIPUR, DURG, NORTH BASTAR (CHHATTISGARH): Abhishek Kawochi, 6, was enrolled in an anganwadi – a government early childhood care and education centre – but rarely went. In 2021, his father, a daily-wager from a tribal community in North Bastar, Chhattisgarh, managed to get him admitted in Class 1 at Government Narhardev English Medium Higher Secondary School of Excellence in Kanker. It is part of the Chhattisgarh government's Swami Atmanand Government English Medium Schools (SAGES) scheme.
"Last year, one of our neighbours informed us about the free newly-opened SAGES school. We got him admitted into class 1. He likes the school and studies are fine," said his father Ashok Kawochi.
Word of the newly-refurbished government schools had also reached Asna Sharma's family and she joined Class 6 at HS School of Excellence, Swami Atmanand Government English Medium School (SAGES) Kumhari, in Durg district of Chhattisgarh in 2020. She moved from a private English-medium school in the same town, drawn to the government school's sparkling new game rooms and laboratories and the great variety of co-curricular programmes.
"There are different activities like singing, dancing, and sports available to students," explained Sharma. Now in Class 8, she said the level of studies has increased along with teachers' focus on each student. She hopes to join the bureaucracy as a member of the Indian Administrative Service.
Part 2 | Atmanand Schools: Chhattisgarh's English-medium government schools have a language problem
Sharma is not the only one Atmanand schools – as these schools are popularly known – have drawn away from private institutions. Helped by the pandemic, they have pulled hundreds of students from fee-charging private schools into free government ones. According to state government data, the number of applications has risen 234% from the 2021-22 academic year to 2022-23 in 29 districts.
Atmanand Schools: Origin, growth
The Bhupesh Baghel-led Congress government in Chhattisgarh started the Atmanand schools scheme in 2020 to upgrade existing schools with low enrolment into institutions parents would actually want to send their children to. They were to be fully equipped with facilities to rival expensive private institutions and teach in English-medium. It upgraded existing government schools into these model schools. Over the past two years, their network has expanded rapidly, helped in part by the pandemic which led to many private English-medium schools shutting down.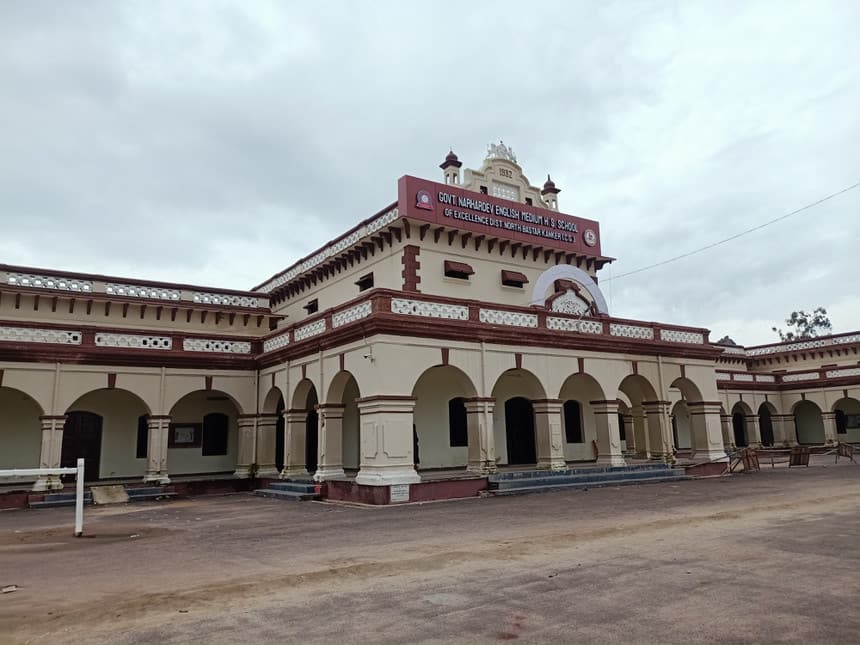 Government Narhardev English Medium HS School of Excellence, North Bastar, Chhattisgarh
From 52 English-medium schools in 2020, the state now has 279 Atmanand schools – including 32 Hindi-medium ones – and another 452 new schools and 10 English-medium colleges have been announced for the next session.
Atmanand Schools: Growth in numbers
Year

New English-medium schools

New Hindi-medium schools

2020

52

-

2021

119

-

2022

76

32

Total (English+Hindi)

279


Atmanand school funding, administration
The Swami Atmanand Government Excellent English-Medium Schools (SAGES) are locally administered. They are run by societies set up at the district level. Each SAGES Society has the district collector as president and is funded by a mix of grants from three main sources.
It receives some from the District Mineral Foundation, a government-run non-profit which collects contributions from mining companies for development projects for the population affected by mining.
Alok Shukla, principal secretary, school education, Chhattisgarh said that a large amount comes from the Member of Legislative Assembly Local Area Development Funds (MLA-LAD).
Lastly, teachers' salaries come from the state's education budget.
Shukla said: "At Atmanand, we are trying to provide better facilities, quality infrastructure. Infrastructure improvement, improvement in the quality of teachers, and teaching in English are our major focus areas. Essentially the idea is to improve the quality of education as much as possible."
Part 3 | Atmanand Schools: Teachers in Chhattisgarh's top government schools feel they got a raw deal
Better facilities include smart classrooms, libraries, and computers along with extracurricular facilities like sports, singing, dancing and others. "The idea is that all schools should have these facilities," he added.
Atmanand school admission demand
While most schools have between 600 and 1,100 students, a majority of students are from scheduled caste and scheduled tribes. 90% of students studying in Atmanand schools belong to extremely poor backgrounds, said Rachna Srivastava, principal, Government Narhardev English Medium Higher Secondary School of Excellence, Kanker, North Bastar.
According to the data shared by SAGES Kanker, 43% students of the total 997 in the English-medium classes come from the Other Backward Classes (OBC); 32% from the Scheduled Tribes (ST) and 5% from Scheduled Castes (SC). In the first year of the school's operation, it admitted everyone directly; from the second year onward, it was forced to reject as the number of applications ballooned. It selected about 150-200 students each year through a lottery and following the reservation system. Income certificates were not sought. Most parents work as hawkers, rickshaw-pullers and in shops.
When Careers360 visited these schools, it was evident that most children from the extremely low-income backgrounds were in the Hindi-medium wings of the schools. Those in English-medium were relatively better off and many of them had transferred from private schools. A handful of parents work as accountants or clerks but this group is concentrated mostly in the state capital, Raipur.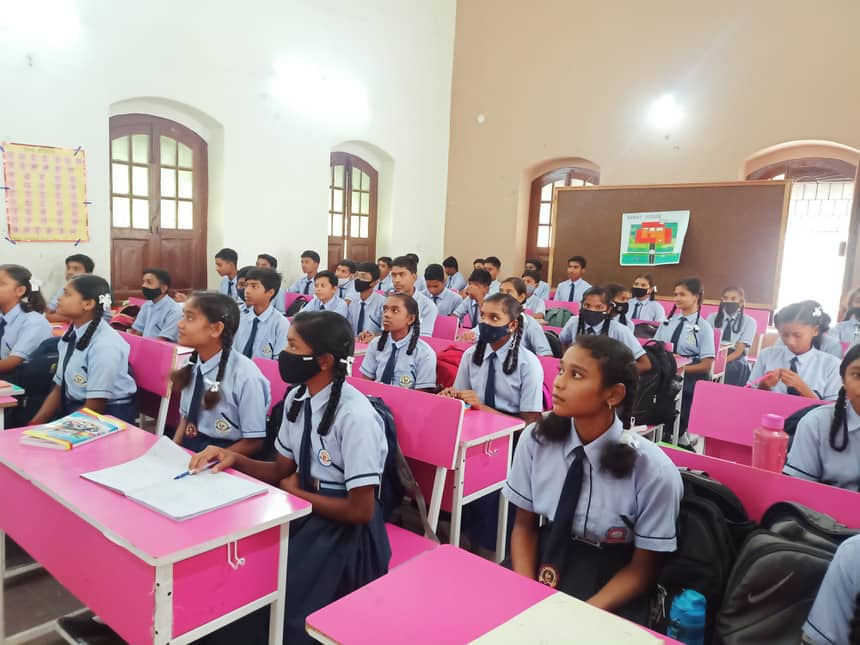 Chhattisgarh Schools: High density of students in Kanker school due to demand Upon their launch in 2020, the Atmanand schools admitted all children who came to them and didn't demand transfer certificates. "In the first year, admissions were from within 1-3 km [of the school] for primary classes, 5-7 km for middle school and up to 10 km for higher secondary classes," explained Srivastava. "We were asked to take students hailing from below poverty lines, single parents, divorced mothers. However, from 2021, we were asked to keep 50% reservation for girls based on the lottery system, leading to 65:35 of girls and boys currently in our school," she added.
Also Read | How a Kerala village saved its 98 year-old government school and transformed it
Each school received thousands of applications and demand has only risen. "In the first year of the launch, seats were filled within a few days of opening," said Aditya Chandak, principal, SAGES Shahid Smarak Higher Secondary School, Raipur, one of the first to open in 2020. The Government Narhardev English Medium Higher Secondary School of Excellence in Kanker received 1,200 applications in 2020. In 2022-23, Swami Atmanand Government Excellent English Medium School Amapara, Balod district, received 600 applications for 50 seats. When they added 10 more seats, they received another 100 applications.
With the rise in popularity of the schools, students who were already enrolled elsewhere started to shift. The number of admissions has risen 63% from 2021-22 to 2022-23.
Manjeet Singh lost his father a few years ago and his mother doesn't work. He got to know about the school from a neighbour who joined SAGES Kumhari in 2021. Singh joined Class 6 in 2022. "I really like the school because teachers are really good and teach well," said Singh.
Also Read | Delhi Government closed down over 200 schools since 2020, teachers allege
In 2021 the roll-strength in each class was restricted to 40 students and later raised by another 10. But many schools are already crowded with more than 50 students in Class 10 making teaching – especially after the many months of school closure due to the Covid-19 pandemic – difficult. "Every parent wants their ward to study in this [Kanker] school . So now, till Class 10, we have an average of 70 students in each class," said Srivastava. The Atmanand schools are affiliated to the Chhattisgarh Board of Secondary Education (CGBSE Raipur).
Unlike model schools in many other parts of the country, including Delhi where admission in model schools are based on admission tests, admission in Atmanand schools is based on just applications followed by a lottery. But the comparison with Delhi is dismissed. "There is no comparison [possible between] any other city or state with Chattisgarh because the demographic is very different. Most places are tribal and far-fetched," said Shukla.
Private school to government
As most Atmanand schools are in English medium, Shukla said, "There has been a shift of students from private to Atamanand schools because the state government is providing private school facilities free of cost."
"I like the way teachers solve every query of each student in the class. In my previous school no such extra effort was made," said Afreen Bano, a Class 8 student who moved from a private school to BP Pujari Government English Medium School, Rajatalab, Raipur.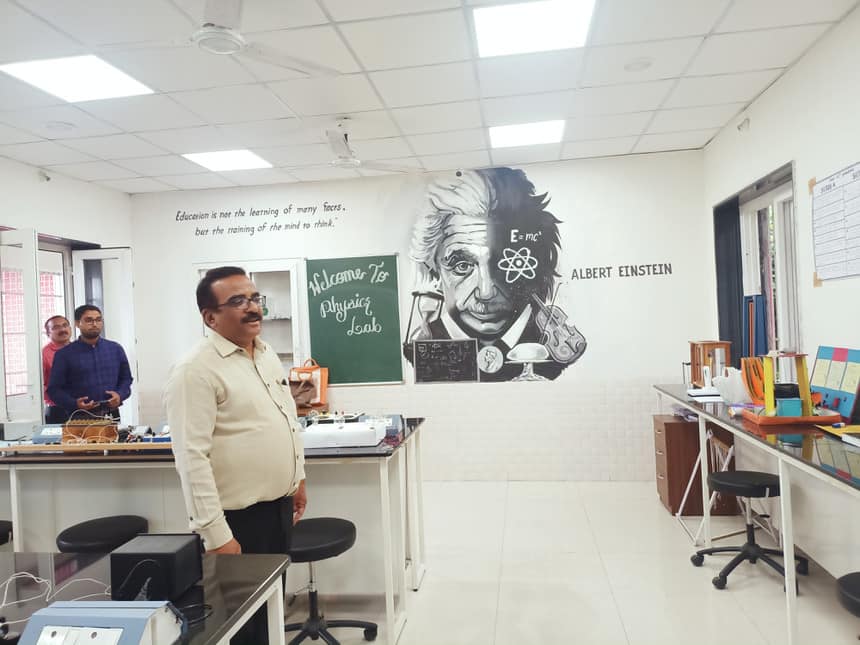 Chhattisgarh Schools: Newly built Physics lab at redeveloped Shaheed Smarak Swami Atmanand English Medium School, Raipur, Chhattisgarh
Dharni Mishra in Class 8 of the Atmanand school in Kumhari, was drawn by the co-curricular activities and programmes. , "The best thing about this school is every week we have co-curricular activities and talented students can represent at the district, state and national level," she said. "I am good at singing, so from this school, I am getting trained for state-level competitions."
Atmanand schools' future
The Atmanand schools aren't new institutions but upgraded existing ones. Selected municipal school buildings were redeveloped with new labs, grounds and classrooms. Shukla added, "The concept was to open schools where the strength is very low."
As space is still a constraint in some schools, they are running in two shifts.
However, there has been criticism too. "Under this scheme, they are not constructing any new schools but rather redeveloping existing higher secondary schools. While the concept was to make schools for poor children, they are shying away from spending money because if they build new schools, they will have to recruit new permanent teachers. In this scheme without spending anything from the state budget, they are grabbing eyeballs and numbers," said Pranith Simha of Bachpan Banao, a non-profit working on teacher training in the tribal areas of Chhattisgarh.
Also Read | CG Board 10th Result Declared; Know how to download marksheet
State activists also wonder about the scheme's future if the current Congress government does not stay in power after the state elections in 2023. Shukla said, "The continuation of the scheme depends on the success of these schools. If the scheme is successful and parents and teachers receive what they want, then whichever party comes back to power, they will have to continue. Because education will be the topmost priority for any government. We are not worried about the political implications of these schools. All we aspire is to do our work correctly,"
(All images by Sheena Sachdeva)
This is the first of a three-part series on Chhattisgarh's scheme for upgrading existing government schools into English-medium institutions with quality infrastructure.
---
Follow us for the latest education news on colleges and universities, admission, courses, exams, schools, research, NEP and education policies and more..
To get in touch, write to us at news@careers360.com.
More From Sheena Sachdeva