UP Election 2022: Uttar Pradesh's 1.4 lakh Shiksha Mitras feel betrayed by every party
UP Election 2022: Uttar Pradesh's 1.4 lakh Shiksha Mitras feel betrayed by every party
Uttar Pradesh: BJP, SP, BSP governments have all failed to solve the problems of temporary teachers in the state's school system.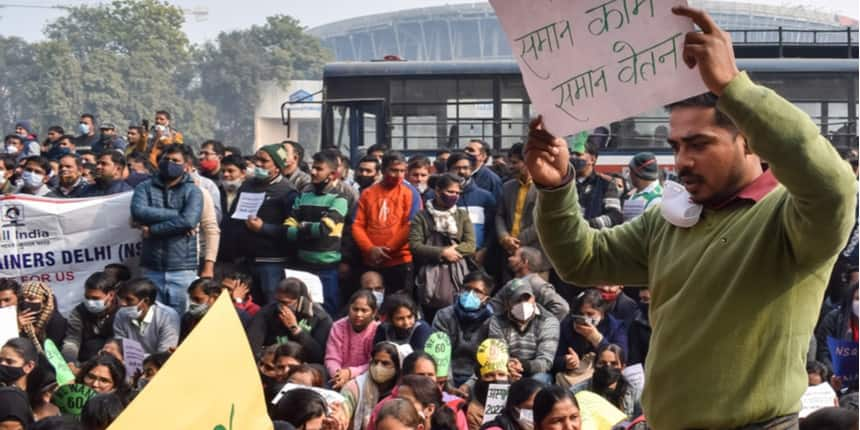 NEW DELHI: Sangeeta Gautam was appointed as a Shiksha Mitra – a friend in education or learning – in Primary School Tiwari Khera, Lucknow District in 2005. It was a temporary position which fetched her a monthly honorarium of Rs 2,250. Over the next 17 years, through the governance of Bharatiya Janata Party (BJP), Samajwadi Party (SP) and Bahujan Samaj Party (BSP), her status remained unchanged and her pay grew to just Rs 3,500. Gautam, now 39, obtained a teaching certificate but remains a temporary employee, paid only for 11 months in a year.
Education is not the biggest poll plank in Uttar Pradesh and the state's contractual teachers, numbering around 1.4 lakh by one estimate, feel betrayed by every party. The Akhilesh Yadav-led SP government which ruled from 2012 to 2017 attempted to convert them into permanent employees with a pay of Rs 39,000-40,000 by relaxing a range of eligibility conditions and waiving the state teacher eligibility test or UPTET. Such regularisation of once-untrained, temporary staff proved both complicated and controversial. Ultimately, the Supreme Court stayed the appointments in 2015 and nullified the conversion in 2017.
The cancellation of the appointments brought Shiksha Mitra's back to square-one in both pay and status despite the fact that by this point, most had managed a teaching qualification and given the general shortage of permanent teachers in schools, were serving as full-fledged teachers and not just assistants as their role had been originally conceived. There were protests in Lucknow and promises of a solution from Yogi Adityanath, the incumbent chief minister from BJP, but none has finally come.
"All we asked for is equal pay for equal work," said Avinash Awasthi, a Shiksha Mitra at Prathmik Vidyalaya, Mall Block, Lucknow District.
Also read | 900 MBBS, 20% increase in PG seats in Uttar Pradesh government medical colleges: Govt
Uttar Pradesh: Temporary teachers, SC case
In 2001, during the tenure of BJP's Ram Prakash Gupta as CM, the Shiksha Mitra scheme was introduced in Uttar Pradesh. The Sarva Shiksha Abhiyan, a central scheme to universalise elementary school education (Classes 1 to 8) supported temporary appointments.
Under the scheme, bright intermediate graduates – those who had completed Class 12 – could be appointed in government schools of their own districts as Shiksha Mitras to assist full-fledged teachers. They were not required to possess any teaching qualification and would be paid an honorarium in place of a salary.
In 2011, the Mayavati-led BSP government made two batches of Shiksha Mitras to organise their training by distance mode. Over 2014 and 2015, the newly-certified Shiksha Mitras were regularised as Assistant Teachers after the eligibility conditions were relaxed and the TET waived by the Akhilesh Yadav-led SP government. The move was instantly opposed in court and declared "illegal" by the Allahabad High Court in 2015. The matter moved to the Supreme Court which cancelled the appointments in 2017.
Teachers like Awasthi and Gautam, whose salaries had shot up for a few months, saw them drop drastically again. The verdict also directed the UP government to support teachers and in consequence, their honorarium rose to Rs 10,000.
Also read | UP Election 2022: Samajwadi Party manifesto promises free education for girls from KG to PG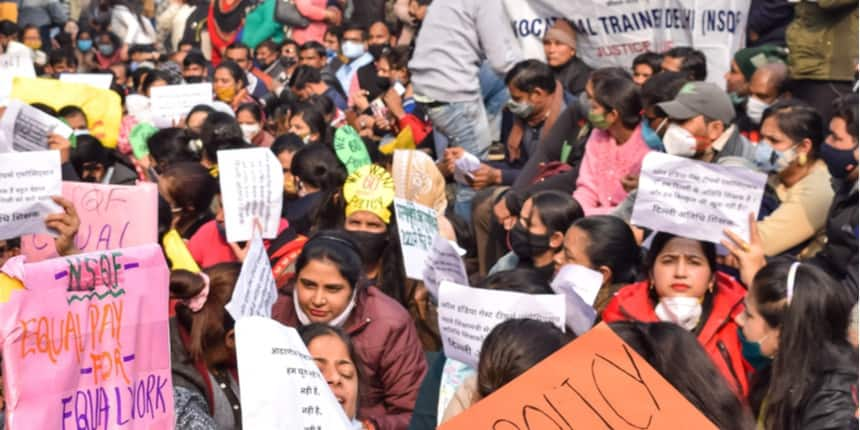 Due to corrupt policies of state government, several Shikha Mitras have committed suicide. (Image Source: Shutterstock)
Equal work, unequal pay
Shiksha Mitras argue that they do the same amount of work as regular teachers but are paid far less because they are considered "less trained".
"All the teachers and Shiksha Mitras in the government schools do the same amount of work but are paid differently. A Shiksha Mitra is considered to be temporary contractual teachers who are paid just 11 months of salary," said Gautam.
"The question is that despite being trained in teaching, why are we still paid on a contractual basis?" asked Awasthi, who was trained in 2011. "Moreover, while all the teachers received their salaries on time, our salaries are always late."
The difference in status means members of this group are treated badly in some schools, said Sushma Singh who works at Basic Vidyalaya, Thari, Lucknow District.
"Shiksha Mitras are subject to several oppressive actions. For instance, they are paid for just 11 months and their contract is renewed every 11 months. If senior officials are happy with their work, only then their contracts are renewed. Further, girls are exploited to please their seniors. These Shiksha Mitras have to do everything else in the school which includes administrative work along with teaching. As these teachers are trained, they may teach students properly. But still, they are exploited by regular teachers and senior officials," said Rama Kant Rai, Convener, National Coalition for Education.
"No one talks about Shiksha Mitras. No support from the government has been received by any family," complained Awasthi.
Also Read| Hijab Row: 'I choose what part of my body I want to cover,' says academic Azra Razzack
Vacancies, UPTET, Super TET
"In 2020, the UP government opened 69,000 vacancies for Shiksha Mitra, in a new manner with the eligibility of TET and SUPER TET," said Jitendra Shahi, district head, Shikshamitra Welfare Association, Agra. "More than 8,000 Shiksha Mitra posts have been filled with increased salaries which have cleared TET and SUPER TET. However, the whole criteria has been made very competitive. Still 1,40,000 Shiksha Mitras who were recruited earlier before 2010 are still underpaid."
Financial distress has led to many suicides in the community but the families have seen no compensation, said Shahi. In 2021, Adityanath announced in the state budget that 1.5 lakh Shiksha Mitras would receive Rs 20,000 each, several reports said, but no money arrived. "The 2017 election manifesto of BJP specifically said that Shiksha Mitras will get justice and status of becoming teachers. Nothing has been done in this context. Several people died in all this process and it happened because the government had given us false hopes," he argues.
Also Read| UP Election 2022: Uttar Pradesh's dozens of new medical colleges face teacher shortage
'Does not want to regularise'
Rai said that the current state government is not willing to make the Shiksha Mitra permanent. Every government has treated the Shiksha Mitras as a vote bank but has no real intention of solving the problem, he said. "The Yogi government has used the National Education Policy, which talks about rationalization of schools, to combine government schools. This reduced the number of vacant posts and schools without teachers. The government states that disabled or migrant children will be taught online. Hence, there is no requirement for many teachers or regularising the Shiksha Mitras," he said.
Also Read| UP Election 2022: Congress manifesto promises free education for tribal, backward classes
On her part, Gautam feels cheated. The "brightest minds" from districts were appointed as Shiksha Mitras just as they finished school. Because they got a job, they gave up pursuing further education or exams. She said: "Because they got the job, they are bound by it and are still working hard at minimum wages."
---
Follow us for the latest education news on colleges and universities, admission, courses, exams, schools, research, NEP and education policies and more..
To get in touch, write to us at news@careers360.com.
More From Sheena Sachdeva