Atmanand Schools: Chhattisgarh's English-medium government schools have a language problem
Atmanand Schools: Chhattisgarh's English-medium government schools have a language problem
Chhattisgarh Swami Atmanand Schools: Teaching in English-medium is difficult when students are most comfortable with Hindi or Chhattisgarhi.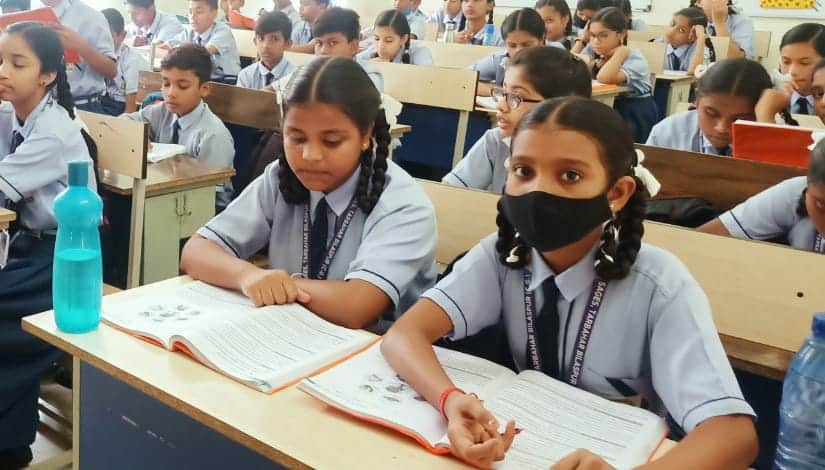 RAIPUR (CHHATTISGARH): In 2020, Government Higher Secondary School, Kumhari, in Durg district of Chhattisgarh, transformed into HS School of Excellence, Swami Atmanand Government English-Medium School. It enrolled 16 students who had been studying in Hindi-medium schools and moved them to English-medium in Classes 2 to 7.
In 2020, the newly-refurbished and rechristened Atmanand schools admitted practically everyone who applied. A few schools in the tribal areas even allowed students from nearby Hindi-medium government schools to transfer. But they quickly learnt their lesson. From the next year onwards, the number of students the Kumhari school allowed to switch from Hindi to English dropped drastically – 10 in Classes 2-5 in 2021 and just three in Classes 2-5 in 2022. Going forward, these schools will admit students transferring from the same medium of instruction.
When the Chhattisgarh government launched the Swami Atmanand schools scheme in the middle of the Covid pandemic in 2020, it had two salient features – it would provide quality infrastructure and teaching would be in English-medium, except in schools with large numbers of Hindi-medium students. There, English and Hindi-medium sections ran parallely. These measures, the Bhupesh Baghel-led government believed, would enable the struggling public schools with low enrolment to compete with English-medium private ones.
Part 1 | Chhattisgarh Atmanand schools see applications surge 234%; here's why
As the first part of this series explained, Atmanand schools have seen rising demand and enrolment, but the switch to English-medium has been difficult to execute because of students' backgrounds and the poor quality of instruction in private schools that were English-medium only on paper. That problem has been compounded by the pandemic's general impact on schooling. In response to demand, the state government has opened Hindi-medium Atmanand schools as well.
Alok Shukla, principal secretary, school education, Chhattisgarh, said: "We have restored several Hindi-medium teachers and students to teach and study in the same schools. No student is deprived of studying in school. All students are allowed to continue their education in Hindi-medium if they can't cope up with English medium books and curriculum."
'English-medium' private schools
The English-medium sections of the Swami Atmanand schools have drawn most students from private schools that were English-medium on paper. "Most students are weak in reading and writing and in spoken English", said Madiha Khan, headteacher of SAGES Shahid Smarak Higher Secondary School, Raipur. This was apparent even when Careers360 visited these schools – in a class of 50 students, many were poor in even the basics of English.
The majority of students who came from private English-medium schools didn't understand how to use articles in a sentence or spell simple words. They were equally bad in Hindi – children even in Class 6 couldn't spell words taught in Classes 2 and 3.
"So, it's not just about government schools but the basic quality of education private schools are giving," said Khan. This is why, despite being English-medium, Bilaspur's Swami Atmanand Government English School, Tarbahar, is taking spoken English lessons for Classes 1 to 8.
Part 3 | Atmanand Schools: Teachers in Chhattisgarh's top government schools feel they got a raw deal
For students who moved from Hindi-medium to English, learning has been just as difficult. "Teachers have had to provide extra classes to these students. The level of understanding of English of such students is very low because English teaching starts in Class 6 in Hindi-medium schools and here, most students have directly entered Class 7 with no admission tests. This is a big challenge," said Khan.
English, Hindi, Chhattisgarhi
Despite the English-medium tag, lessons are rarely transacted in English outside of a handful of schools in Raipur. In the city, Hindi and English are readily spoken; in tribal districts like Balod, Bastar, neither teachers nor students use English.
"Because students mostly understand Hindi, teachers have to speak in both English and Hindi to ensure students understand the concepts in the class," said Sharma. Language is an even bigger issue in places like Balod where children speak Chhattisgarhi. "While they understand a little bit of both Hindi and English, it will take some time for students to speak fluently in English," said Hemlata Verma, teacher, Swami Atmanand Government English Medium School, Amapara, Balod.
Also Read | How a Kerala village saved its 98 year-old government school and transformed it
Vinod Bek, primary headteacher, faces the same problem at Swami Atmanand Government English School, Tarbahar, Bilaspur. Primary school students are most comfortable in their own language. "But here, at Atmanand, the main thrust is on English, hence at school, we have to impose or push them to learn English through creative activities. This will take some time," he said. "During the activities, students feel free and do not hesitate. But in classes they tend to communicate in Hindi. The state government needs to conduct regular training sessions to ensure both teachers and students can speak fluently in English."
The pandemic didn't help. Teachers had to teach online during the lockdown and found students lagging far behind expected standards once schools reopened in November, 2021. "Since last year, we have been taking remedial classes for Classes 1-12. However, even this year, 30% in each class can't read or write properly," said Khan.
Atmanand school remedial classes
Most Atmanand schools across Chhattisgarh are now running remedial classes or implementing peer-learning strategies. "The strength of a remedial class is 20-25 students and it is mainly taken to revise concepts," said Pooja Sharma, teacher, Government NDHS School of Excellence, Kanker, North Bastar, Chhattisgarh. It had a failure rate of 9.7% for Classes 9 and 11 in March.
Remedial classes are usually taken before the main classes so that all students are in sync with the syllabus, added Sharma. Atmanand school Raipur is holding extra classes for reading, writing and basic maths.
Given the massive challenge of teaching children with a learning deficit left by over a year's gap in proper schooling and in a language they don't understand, teachers often blame parents. "Most students come from economically backward backgrounds with the majority of the parents being illiterate. The issue here is that no matter how much we teach students in class, until they get some backup at home, it becomes very difficult to have consistent learning outcomes. And because parents are not serious or don't have an understanding of the curriculum, students don't do their homework or any learning work," said a teacher from the Kumhari Atmanand school Durg. A section of teachers also feel that parents tend to not care because the schools are free.
Also Read | Delhi Government closed down over 200 schools since 2020, teachers allege
However, district officials countered that in several parts of Chhattisgarh, people survive on public distribution systems and can't afford even Rs 100 for their ward's education and that the Atmanand school is to support them.
Chhattisgarh board
For older students who moved to Swami Atmanand schools from English-medium private ones, there's another level of adjustment. The government schools are affiliated to the state board – the Chhattisgarh Board of Secondary Education (CGBSE) – and most of the private schools are affiliated to the Central Board of Secondary Education (CBSE).
Priyanka Kumarya, in Class 9 at Swami Atmanand Government English Medium School, Amapara, Balod, was studying in a private English-medium CBSE school. "The teachers teach well but I am facing issues coping with the Chhattisgarh board curriculum. I find the CBSE curriculum much easier," she said.
While there are some differences between the boards for Classes 9 and 10, in senior secondary – Classes 11 and 12 – the curriculum is more or less the same, said Pushpanjali Kosle, teacher, Swami Atmanand Government English School, Daupara, Mungeli, Chhattisgarh.
"We encourage schools to get affiliation from CBSE schools and three to four schools have got it. But CBSE affiliation comes at a cost where the schools have to match the standards of CBSE requirements. Therefore, it will take some time to reach there. While these schools are economical, it's not about X or Y board but the quality of education that is provided," said Shukla.
Libraries, counselling, transportation
Apart from remedial classes, the schools offer a range of activities to ensure overall development. Chhattisgarh schools have "bagless days" every Saturday, said Anju Sood, principal, BP Pujari Government English Medium School, Rajatalab, Raipur. On these days, the school organises other activities and weekly tests.
Also Read | Around 11% Class 3 students cannot do basic maths: Education Ministry Study
"We have bagless days, activity sessions, library classes and others. Our main purpose for all these activities is to go beyond classrooms and ensure overall development of a child," said Sharma. "40-minute library classes, two days every week, enable the attachment towards books as students were somehow unattached due to Covid."
Recently, the state government has also allotted teachers for counselling of students and parents. "Sessions are conducted to ensure students and parents understand the value of education provided in Atmanand schools," said Aditya Chandak, principal, SAGES Shahid Smarak Higher Secondary School, Raipur.
Around 30 parents come to the Kanker school daily for counselling, said principal Rachna Srivastava.
"We are receiving several cases of students having depression who are not able to express to their parents," said Rakhi Chandra, counsellor, SAGES Shahid Smarak Higher Secondary School, Raipur. "We are trying some activities to help them come out of this condition."
'Travel 10-15 km' to school
Due to their small number, many students travel 10-15 km to SAGES schools. "We have been requesting the principal for a bus service, '' said Tripti Verma, Class 9, BP Pujari Government English Medium School, Rajatalab, Raipur. It might be a while before school transportation becomes possible.
"When we imagined these schools, we didn't expect such a big turnout of students travelling as far as 15 km. But now students have enrolled from far-off areas. And they are so keen to come and study that all of us feel that we should not discourage but encourage them," said Shukla. "We are trying to arrange means of transportation, particularly in remote tribal areas. It's still in the planning stage because the issue boils down to the availability of resources which is a concern."
(All images by Sheena Sachdeva)
This is the second of a three-part series on Chhattisgarh's scheme for upgrading existing government schools into English-medium institutions with quality infrastructure.
---
Follow us for the latest education news on colleges and universities, admission, courses, exams, schools, research, NEP and education policies and more..
To get in touch, write to us at news@careers360.com.
More From Sheena Sachdeva