Teachers' Day 2020: A maths teacher's solution to the plastic problem
Teachers' Day 2020: A maths teacher's solution to the plastic problem
NEW DELHI: Lomas Dhungel, a mathematics teacher in East Sikkim, has started a green revolution by combining education with waste management.
Working as a mathematics teacher in Government Senior Secondary School in Makha village, Dhungel pioneered the 'Hariyo Makha', Green Makha in Nepali, project. What started as an environmental initiative has snowballed into multiple waste management initiatives and helped those who could not afford education.
Spurred on by his love of the sciences and interest in research, Dhungel managed to create a project aimed at reducing the amount of plastic in the environment. Under the Hariyo Makha project, Dhungel converted thousands of non-reusable plastic bags and other items into book covers, started an initiative for reusing papers and used the revenue generated to provide education for dropouts.
Dhungel was named among the 47 teachers from across India who were selected for the National Award to Teachers 2020 by the ministry of education. He will receive the award from President Ramnath Kovind.
'Close to nature'
Having grown up in the picturesque Sang village in East Sikkim, Dhungel describes himself as someone who is close to nature. Dhungel worked as an assistant cashier in the State Bank of India, near the Barsey Rhododendron Wildlife Sanctuary in West Sikkim, before turning to teaching in 2012.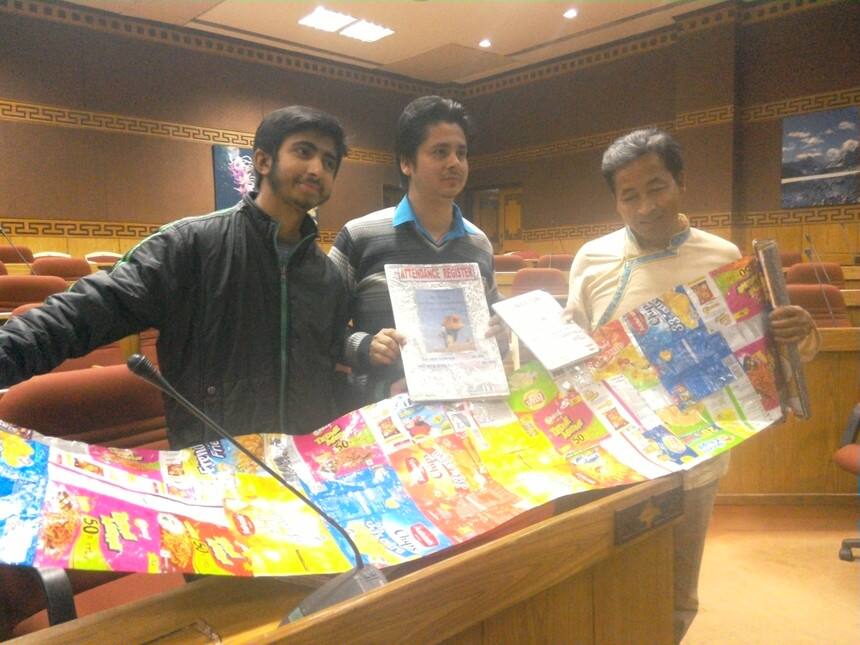 Lomas Dhungel (centre) with the Hariyo Makha products( courtesy: Hariyo Makha)
The 'Hariyo Makha' project started with Dhungel's interest in plastic waste management.
"The main thing that motivated me is that there was a ban on polythene in Sikkim which I came to know about in 2001 when I was still young. I was interested in why polythene was banned because it is such a handy thing. That was when I got interested in plastic waste management."
Even after joining teaching, Dhungel was still deliberating on what he could do to contribute to waste management. In 2015, after years of puzzling over it, Dhungel was struck with the idea of converting plastic into book covers.
Waste to book-covers
Dhungel started working with plastic bags with no resale value, such as those that came with packaged potato chips and other snacks.
Initially, Dhungel started collecting these bags and set up a plastic reuse workshop in the school and taught his students how to clean and join the plastic bags to convert them into book covers.
Later, he approached a private school in the village to see if the scope of this can be broadened.
"We had approached Adarsh Vidya Mandir, a private school in the village itself. I personally requested the principal of the school to allow us to cover all their books using these."
With the help of 36 interested students, who volunteered during their lunch hours, the initiative started selling the book covers to the private school at a nominal fee. Dhungel says that even while working only 15 minutes everyday they were able to produce 1,400 book covers in three months.
"Students were taught the skill, like in Socially Useful Productive Work (SUPW) classes, to clean and sew each and everything. It is time consuming but in waste management you need to have patience. There is no glamour in this field. It is obvious that people will lose interest so it was important to teach patience to students and have them enjoy the work," said Dhungel.
"Hariyo Mako started due to my affection towards mother nature. Initially it was just for the environment, later when we started generating revenue, I worked with the local people and proposed an idea to use the amount for students' education," said Dhungel.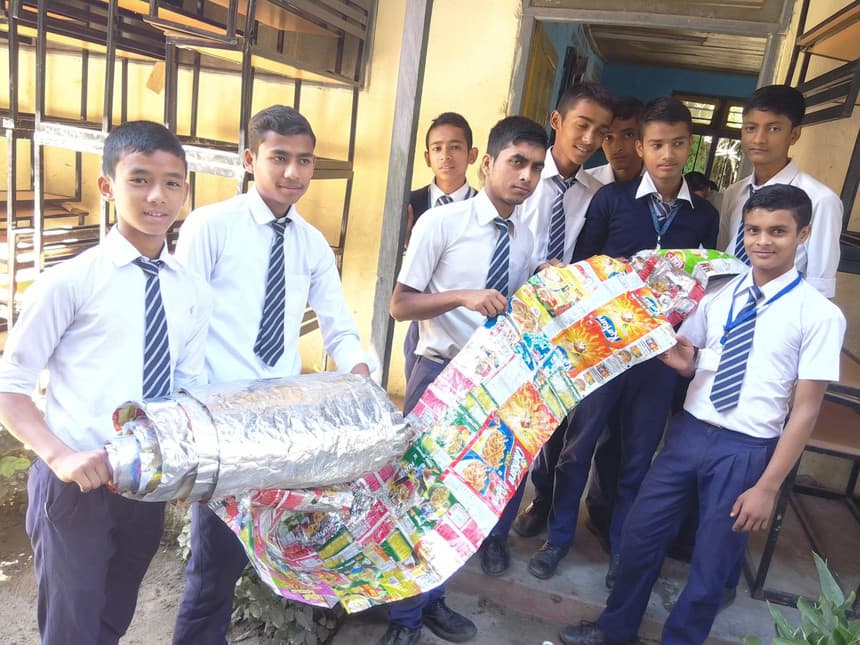 Students posing with the book covers converted from plastic (courtesy: Hariyo Makha)
Bags of chips to school admission
The Hariyo Makha initiative has collected and upcycled a total of around 85,000 scrap plastic pieces into 6,100 book covers, raising around Rs 45,000 . As part of the initiative, volunteers collect plastic and paper from around 30 schools in East Sikkim.
"We are also helping around 30 schools in plastic and paper waste management. Earning revenues. We have earned upto Rs 56,000 purely out of waste management so far. All the amount is exclusively utilised for students," he said.
The revenue generated is utilised to help dropouts and those from financially weak backgrounds to continue their education.
"We cannot help students in regular schools as it takes a lot of money. What we decided was to fund the needy students and dropouts. These students are working because of financial difficulties. We let them work and have helped them get admissions to NIOS and IGNOU."
The project has helped eight students get admission in open schools and universities such as the National Institute of Open Schooling (NIOS) and the Indira Gandhi National Open University (IGNOU).
Reusing paper
Hariyo Makha involves other initiatives as well such as the clean paper initiative and the volunteer paper workshop. In the clean paper initiative, the project collects used A4 size papers from schools and through donations and converts them into clean copies that can be written on one side only.
"For the clean paper initiative, we accept those that are semi used, we don't accept clean ones. The main intention is awareness, the main intention is not earning revenue though we have been earning revenue," he said.
In each copy the name of the paper donor will be mentioned in the first page and the student who makes the copy gets their name in the back cover of the copy, Dhungel said.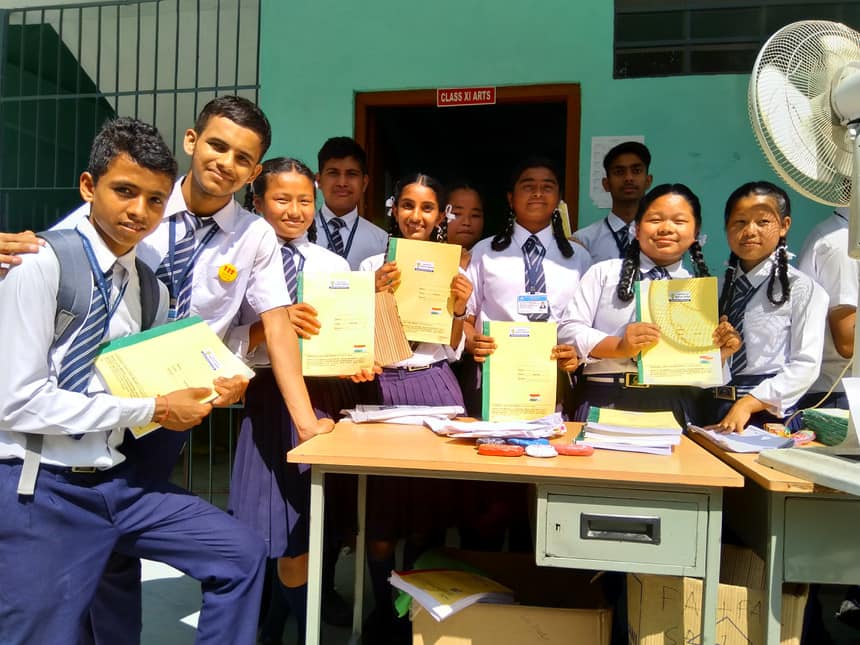 Students with the copies made from reused papers (Courtesy: Hariyo Makha)
In the first phase, a group of 82 students working for 44 days volunteered in making 100 copies that were sold at the exhibition on Environment Day in 2018. Overall, according to Dhungel's estimates, 1 lakh copies have been converted into 1,000 copies since the project began.
"This, in a way, creates awareness among students to not waste paper. One result of the initiative is that the students who are not using one sided papers at home have started to use them," said the Dhungel.
New idea for women's self-help group
Dhungel has also introduced his idea to the local women's Self-Help Group (SHG) working around Makha village.
"Since the SHG members have their children in our schools and I know them personally, I approached them and asked why don't you do some work in this regard and you can keep the revenue. The only thing I asked for in return was to use a portion of the revenue for their own education," he said.
Dhungel said that the aim was to create seasonal revenue for the women SHG members using this initiative that can be used for their education. For this purpose, a plastic collection center was set up under the 'Hariyo Makha' initiative in November 2019.
Dhungel said that he plans to keep the project at a small-scale as the importance of the initiative is the student involvement.
"There have been suggestions to convert this to an NGO but I have never thought of this because I don't want work to go on a large scale because I want my students to learn about waste management and the art of patience. I don't want any extra funds to come to us," Dhungel said.
Also read:
Write to us at news@careers360.com.
Stay updated with latest Education News