Top 4 Design Specializations in 2021: Scope, job roles and salary
Top 4 Design Specializations in 2021: Scope, job roles and salary
Enroll in a design specialization to procure specific career skills. Aspirants have versatile job opportunities after a designing course.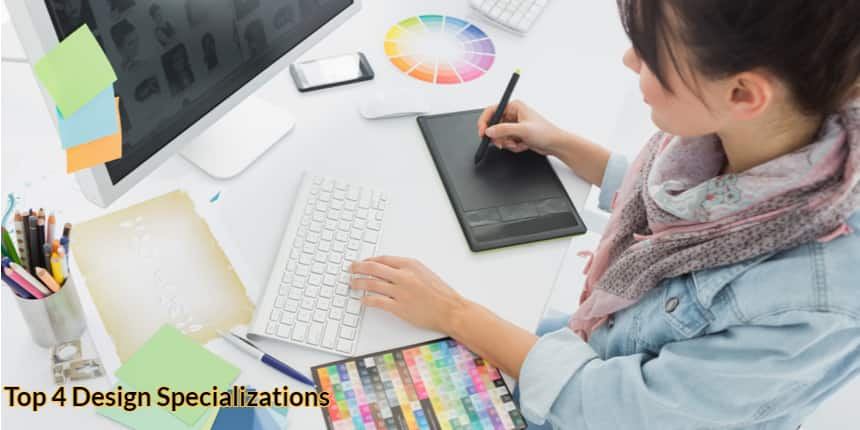 NEW DELHI: Design is applied to every aspect from fashion to product, transportation, and many more. In the last few decades, a career in design has become popular among creative aspirants. Various design specializations are offered in many renowned institutes like NIFT, NID, IITB, Pearl Academy. Also, ample opportunities are available globally after a degree in designing. Check some of the top design specializations that one can pursue in 2021.
Latest: Predict your Chances in Top Design College for Free with NIFT College Predictor. Click Here
Fashion Design
Fashion design is one of the most popular specializations of designing courses. Fashion Designing gets its influence from social and cultural attributes. Many design institutes offer fashion design courses at both UG and PG levels. Respective colleges have specified certain eligibility criteria which students must meet if they are seeking admission.
The fashion industry has been flourishing recently. Fashion design courses open a plethora of opportunities for creative and passionate aspirants. Aspirants after the completion of the course in fashion design get recruited by international and domestic fashion brands and companies. Pantaloons, Snapdeal, AND, Marks & Spencer, Sabyasachi Mukerjee, Rohit Bal, Reid & Taylor are some of the top recruiters of fashion design aspirants.
Job Roles: Fashion designers, Fashion bloggers, Fashion stylist, Fashion merchandiser, Fashion coordinator
Average salary in Fashion Designing: 2.7 lakh to 10 lakh per annum
Interior Design
There is no room for skipping interior design when talking about the top design specialization. Interior designing is an art and science that is applied in decorating the interior of a building to create a healthy pleasing environment. This course trains students to use scientific theories and concepts to bring up artistic work.
There is a lot of scope for Interior design professionals and they do get paid well. Top recruiters of this profession include Homelane, Borito Designs, Vogue Institute of Art, Kuvio Studio, Livespace, Urban Ladder. One needs to be mastered in Communication & Artistic, organizational and Digital skills to be successful in this profession.
Job Roles: Interior Designer, Assistant Architecture, Building designer, Layout designer, Wedding decorators, Set designer, Interior journalist, Exhibition designer
Average salary in Interior Designing: 4 lakh to 9 lakh per annum
Product Design
The Product Design course deals with the design and manufacturing of products used around us. In this course, students are taught to come to grips with complex problems and deliver creative solutions to them. Product designers are responsible for designing the overall components of the product.
After completing the course of product design one can look for job opportunities in various industries and multinational companies or become an entrepreneur. Some of the career options in this profession are product designer, advertising director, graphic designer, product tester, product manager. The salary of a product design professional varies due to the degree levels achieved, job roles, skills and experience.
Job Roles: Product manager, Product designer, Marketer, Advertising director, Business manager
Average salary in Product Designing: 2 lakh to 10 lakh per annum
User Experience Design
User experience design is a multidisciplinary field in aspects of computer science, graphic design, industrial design and cognitive science. User experience design professionals are tasked with the creation of optimal user experience when users interact with physical products or digitals like applications, websites, computer printers.
The User Experience Design profession is highly productive and finds lucrative job opportunities in top national and multi-international companies. As digital technology has boomed in the forefront, many businesses are expanding their online presence. Hence, multinational companies invest a lot in UX design. So with a degree of UX design, one can get a job in Google, Apple, Microsoft, IBM, Infosys Technologies, HCL Technologies, Intel, Amazon, Lenovo and many more.
Job Roles: User Researcher, UX/UI Developer, Graphic Designer, Web Developer
Average salary in UX Designing: 4 lakhs to 10 lakhs per annum.
Write to us at news@careers360.com.
Know More About
Application Date

25 Oct, 2021 - 31 Dec, 2021 (Tentative)
Download Exam Brochure