Towards a biodegradable plastic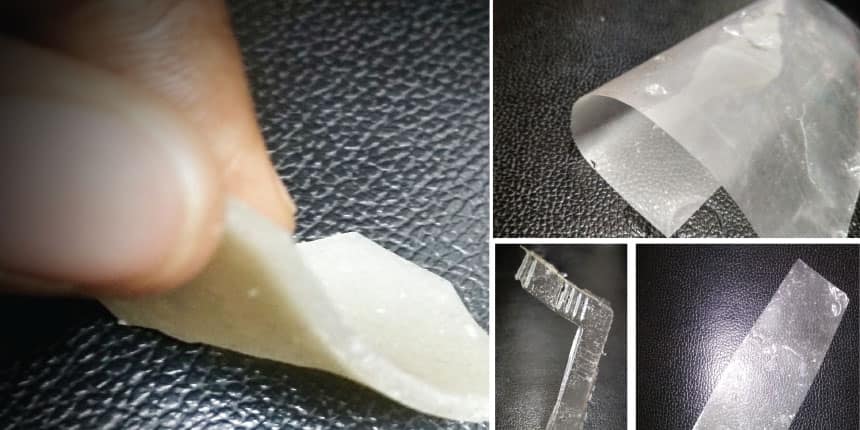 NEW DELHI: Could the humble sabudana – or, sago – come to the rescue?
One of the biggest environmental challenges is the indestructibility of plastic. It is cheap and massively durable. It can take a century to degrade but even then is not fully decomposed. Massive investments are going into finding a replacement that will have a less harmful effect on the environment, the seas and its fauna in particular. Until it is found, national and international bodies have recommended limiting or banning its use.
Three students of National Institute of Technology Raipur, in Chhattisgarh, may have found the answer or, at least, a part of it. They have developed a material that behaves like plastic, is reusable, decomposes fully and fast and has as key components sago, corn-starch and glycerine. The students just need to make the material more stretchable which will instantly expand and diversify its use.
Combatting pollution
Three students of the chemical engineering department of NIT Raipur, who are in their fourth semester, worked on this together.
Nikhil Verma, one of the three, said: "Increasing pollution in the earth's environment, which includes the use of non-biodegradable plastics, was the major concern that brought us together. To overcome the use of non-biodegradable plastic and the problem of dumping and decomposition, we came up with this idea of creating a biodegradable plastic which can decompose easily without polluting the environment, and thus protecting it."
The plastic that is now available in abundance does not fully decompose even in a 100 years. The biodegradable plastic developed by NIT Raipur students decomposes 100 percent in a year. "This plastic is also reusable. This is a better alternative to single-use plastic," said Verma.
However, this is a work-in-progress. The material has been tested for decomposition and the group is working on making it more stretchable.
"The product is a starch-based plastic in which a proportionate mixture of different starches is used. Sago was selected as the main raw material for the 'plastic' as it is cheap and easy to obtain. As of now, it has been tested for 100 percent decomposition and the team is still working progressively to develop high tensile strength in it," said AM Rawani, director, NIT Raipur.
Keeping costs low
According to the National Geographic, every year, about eight million tons of plastic waste escapes into the oceans from coastal nations alone, which is equivalent of setting five garbage bags full of trash on every foot of coastline around the world. This has raised the demand for a permanent and cost-effective solution to address this problem.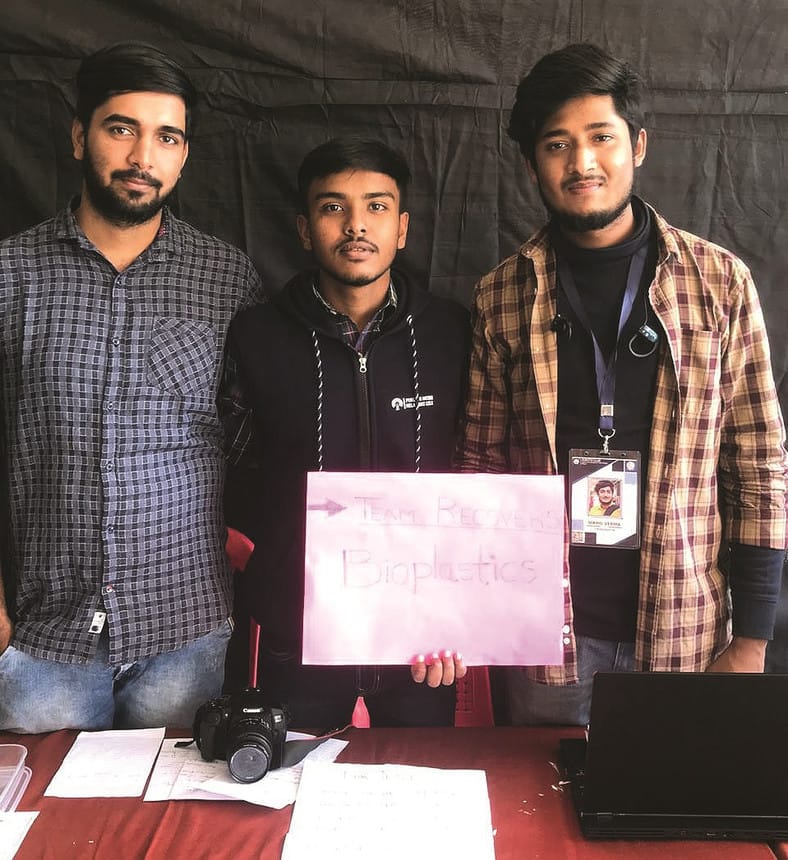 For this invention, the team of Nikhil Verma, Krishnendu Karmakar and Nihal Pandey won first prize at 'Pukar Go Green Fest' held at NIT Raipur.
One reason for the ubiquity of plastic is that it is cheap. Keeping costs low is another challenge facing the team. Verma said that from raw material processing up to drying and producing sheets, one square meter of their 'plastic' sheet will approximately cost five rupees if produced on a large scale. On a smaller scale, the cost goes up to six rupees per square metre.
Their 'plastic' has passed the lab tests with three months of hard work. Nikhil added, "We worked continuously with colleagues in hostels to make it happen. It was tested in NIT's lab after it was made. The material was first made for the competition and was a huge success at it. They are now working on bringing it to the market.
The NIT team is also working on bringing the cost of the product down.
"After getting all the desired properties in our product, we will be shifting to use suitable equipment like boilers, electric dryers and apply suitable filtration methods to get more efficient results, thus leading to a reduction in cost," said Nikhil.
Besides working to find some new starch components and reinforcement fillers that can enhance the product's strength, they are also working on a completely different project, in which they are exploring methods to absorb industrial gases like carbon dioxide (CO2), nitrogen dioxide (NO2), sulphur dioxide (SO2), Chlorofluorocarbons (CFC) by sustainable methods such that it can be directly implemented at the plastic-manufacturing plant locations.
Scaling up
For the past few years, Indian institutions have been putting in money in developing products that benefit society in general. Rawani said that NIT Raipur provides seed and acceleration grant of Rs 25,000 and Rs 50,000 respectively to students so that they can convert their ideas to successful ventures.
He said, "The faculty members of the institute provide technical help and mentorship to the students to promote such innovative ideas. We are working with experts from Wadhwani Foundation, Incubation Centers (36 Inc and Healthcare Technology Innovation Centre- IIT Madras) and the alumni network of NIT Raipur to provide mentorship in the areas of business model, IP [and] compliances."
He added that after getting the desired properties in the product, the institute would proceed to get it patented. The institute is also looking at collaborating with industry for further development of the product with desired properties.
To scale up the products, the students have alredy received offers from some real estate promoters. Nikhil says, "Before scaling-up this project to the industry, we want to make sure that our product line becomes "market fit" by making gradual improvements through product iterations based on user feedback and data, and then scale up through automation."
Also Read:
Write to us at news@careers360.com
Stay updated with latest Education News