Trouble with fee, admission at Ambedkar University Delhi
In January, the university allegedly 'de-enrolled' students who had not paid fees. The AUD administration denies this and has extended the deadline to January 31.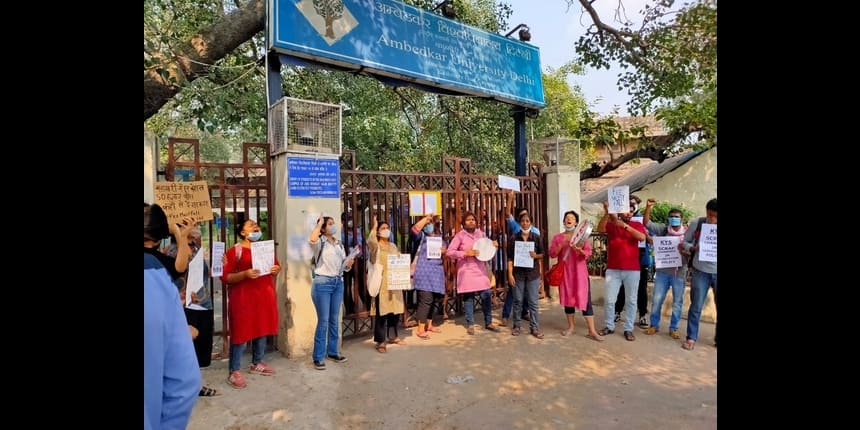 NEW DELHI: Parama Gupta was saved from losing a year at Dr BR Ambedkar University Delhi (AUD) by the villagers of Boulapasa, Kailashahar, Tripura. Gupta, who belongs to the economically weaker section, was required to pay Rs 30,000 for her admission in MA in global studies without the fee waiver promised by the university. The villagers volunteered to crowdfund her semester fee at AUD, run and funded by Delhi Government.
"As per the information brochure and officials at the university, I was required to pay only half of the amount but when my name appeared in the list, the admission notice did not mention any concession for the EWS quota" said Gupta. " I had no money but people at my village made generous contributions and I was able to pay the entire fee within the short time allotted."
As per AUD's admission information brochure, a first-year BA student at AUD will now have to pay Rs 43,880 and a first-year MA student will have to pay Rs 59,760 annually. Since the university revises the fee every year, the issue has been about paying a high fee amid the ongoing pandemic.
"I am eligible for a fee waiver and we have been facing economic hardships during the pandemic. My father contracted coronavirus and then my sister got infected too. The financial conditions at home are extremely bad, and that's why I could not pay my fee. We [students] had informed the university about the dismal condition in October," said Kashif Aijaz, a second-year student of MA film studies. In the first week of January, as many 150 students who could not pay the fee by December 31, 2020, had their names struck off from their respective courses, allegedly, without prior notice.
The university has, however, denied these allegations. "No student has been de-enrolled for not paying the fee as all the students have been given the opportunity to submit the fee by 31st January 2021," an official statement said. It further stressed that AUD has "not denied admission" to a "deserving candidate" merely due to their inability to pay the fees.
On January 12, the dean of student service emailed the students asking them to pay the monsoon semester fee by January 31. Defaulters were earlier required to pay an additional 25 percent as a penalty. That demand has been withdrawn.
However, students who took admission through reservation have been facing problems for months.
In October, students had boycotted classes to oppose a set of new rules related to the documents students applying through these categories have to produce. That problem is yet to be resolved although the admission season is nearing its conclusion at AUD. The process is likely to conclude on January 15.
Caste certificates
Funded by the Delhi Government, 85% seats at AUD are reserved for students with Delhi as their domicile. The remaining 15% seats are for students from "outside NCT", or ONCT. To be considered for the 85%, students have to have written their last qualifying exam -- Class 12 or graduation -- in Delhi. The caste and tribe-based reservation is applicable within this 85%. As per the Delhi reservation policy, 15% seats are reserved for Scheduled Castes (15%) and Scheduled Tribe (7.5%). The university also provides horizontal reservation for physically disabled students and wards of defence personnel.
Until 2020, the university accepted caste and tribe certificates issued outside Delhi for reserved-category admissions to the NCT seats. But from this year, students are mandatorily required to fit into Delhi's SC, ST and OBC lists and submit documents issued by Delhi Government to be considered for NCT reserved category seats. This change in approach impacts postgraduate students in particular. Students who have completed their graduation in colleges and institutions within Delhi will be considered for admission under 85% Delhi region reservation. A large number of students in Delhi graduate from colleges affiliated to Delhi University, a central university which accepts certificates issued by all states provided they meet the central list of reserved categories.
Students have alleged that AUD's new rule will make the university inaccessible to students belonging to Scheduled Caste, Scheduled Tribe and Other Backward Castes.
Anamika Hazarika*, MA History student at AUD from Guwahati, Assam was forced to take admission under unreserved category despite being eligible for OBC quota, single-girl child quota and defence quota. "I had uploaded all my certificates for verification but I never got a response from the admission committee. Later I received a call for confirmation of admission under the unreserved category," said Hazarika.
Hazarika and four of her classmates possess caste certificates issued by the local authorities in their respective home states. However, as per the new rule of AUD, all students who have been given provisional admission will have to submit their caste certificate issued by the Delhi Government. Those who are unable to produce their caste certificate will be denied admission.
"The new rule and the procedure to procure the caste certificate has been complicated unnecessarily. It is unreasonable to call students from Telangana, Bihar, Tripura to come to Delhi and get the caste certificate," Neha said.
An official circular issued on September 9, directed students to upload certificates "well in advance" to claim the benefits of the reservation. "The reservation norms being followed in the admission process are in compliance with the policy and guidelines issued by GOI and GNCTD from time to time," the official statement from the university said.
" I had clearly mentioned the reservation quota in the application form and yet I have been given admission in the unreserved category," Hazarika told Careers360. The authorities, she further said, did not have a proper response when asked about the girl-child quota admission. Hazarika has now paid the unreserved category fee to attend the ongoing online classes.
Ambedkar University admission 2021
On January 8, the university started a special admission drive for students who have been denied admission due to errors in caste certificates to fill up the remaining seats. However, the uploading and verification process ended on January 12, giving only five days to get a valid certificate.
Meanwhile, those who have been admitted provisionally also are anxious about their admissions.
A group of 29 students applying for admission under the reserved category wrote a letter to the university requesting time and leniency on December 16. There was no response from the authority.
"It's a tedious and long process, not to mention an inconvenience to students during a global pandemic. The whole exercise in itself is so time-consuming, sometimes the offices are closed or for others, the SDM [sub-divisional magistrate] in their locality was on vacation so they were directed to go to another SDM office far away," the letter stated.
"Our only demand as of now is just for an extension of the deadline for submission of an NCT ST certificate. The university says that they will cancel our admission and won't even refund the fees that we have already paid. We are all trying to get the certificate and the process is extremely tedious and lengthy. It usually takes about a month and AUD wants us to get it by the end of this week!" said Rose Mary* another MA history student at AUD.
"The admission process is still going and we can see a drastic change in the process due to the new reservation policy. We have 19 postgraduate level courses and all the EWS seats are still vacant after admission deadlines were extended. In 17 PG courses, the seats reserved for OBC are empty and in 16 courses, the seats pegged for SC and ST students are lying vacant," Neha, who doesn't use her last name, told Careers360. Neha, second-year MA Performance Studies, is among 150 students who have been allegedly de-enrolled.
*Name changed on request
Also read:
Write to us at news@careers360.com
Know More About
Rating
4.6/5
Download Brochure