Universities should find solutions to global challenges: Vice President
Universities should find solutions to global challenges: Vice President
Vice President Venkaiah Naidu and education minister Dharmendra Pradhan discussed education during the summit on Tuesday.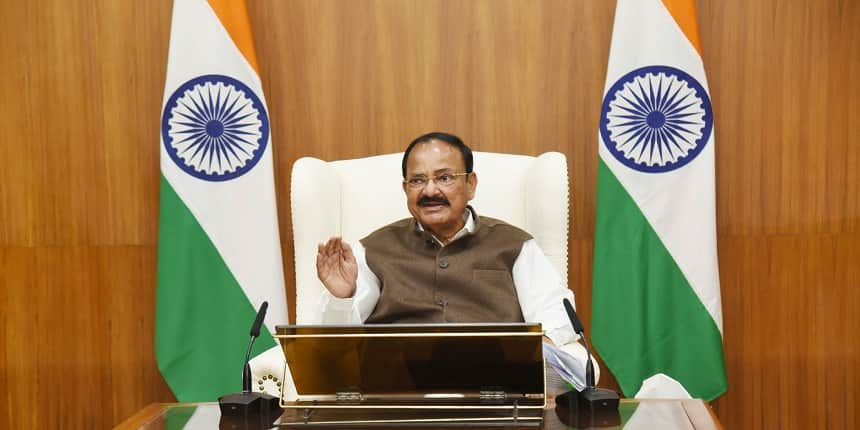 NEW DELHI: Vice President of India, M Venkaiah Naidu encouraged universities to become "thought-leaders" and to find solutions to global challenges like climate change, poverty, and pollution, at the World Universities Summit organised by a private university on Tuesday.
Naidu said universities should discuss various socio-economic and political issues facing the world and bring ideas on them that can be implemented by the government according to their needs and suitability, says a statement issued by the government.
The summit was organized by O P Jindal Global University and its theme was "Universities of the Future: Building Institutional Resilience, Social Responsibility and Community Impact".
Union education minister, Dhamendra Pradhan also joined the summit.
Naidu, Dhamendra Pradhan discuss education system
Naidu went on to highlight the rich linguistic and cultural heritage of India pointing out that India is home to many languages and dialects. He emphasized on the importance of learning in the mother tongue. "To understand a subject in another language, one has to first learn and master that language, which needs a lot of effort. However, this is not the case while learning in one's mother tongue," he added.
Dharmendra Pradhan addressed the event and talked about the government's commitment towards creating an education system that compares with global standards, encouraging research and innovation, and making the citizens responsible while also making them global citizens.
Pradhan further said that the new education policy NEP 2020 signals towards a new imagination of the education system. It outlines Prime Minister Narendra Modi's vision to create an 'Atmanirbhar Bharat'. Quality, equity, accessibility and affordability are the four pillars of the new education policy, he further added.
Write to us at news@careers360.com.
More From Vagisha Kaushik