Flyover School: University students tutor 300 children in Delhi's Yamuna Khadar
Flyover School: University students tutor 300 children in Delhi's Yamuna Khadar
Without electricity, Yamuna Khadar's children were excluded from online classes during COVID-19. They've been tutored by the students since 2020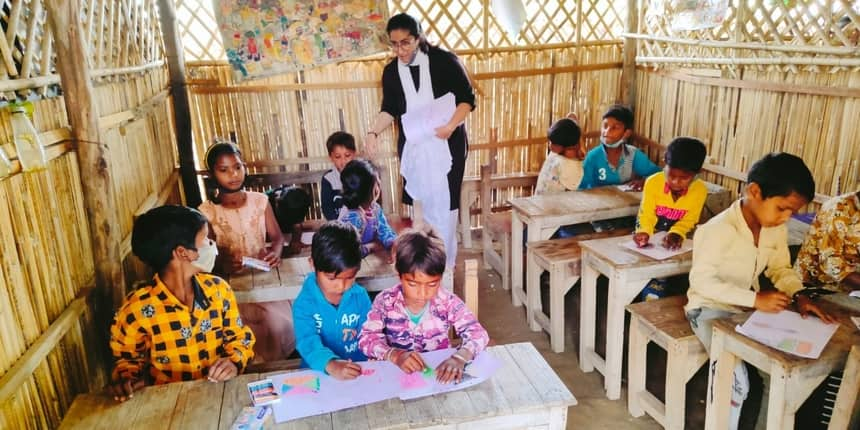 NEW DELHI: Every morning and afternoon, scores of students gather under the flyover near the banks of river Yamuna, in Delhi's Mayur Vihar, Phase-1. They are there for free tutoring; their teachers are university students from the same community, residents of Yamuna Khadar in Mayur Vihar. Deepak Choudhary, who is pursuing a master's degree at the Indira Gandhi National Open University (IGNOU), takes three hours of classes for the young children who are either studying in government schools or have dropped out.
4 min read
Mar 05, 2022
Choudhary, 23, is one of six teachers at the Sharda Yamuna Khadar Pathshala. Themselves enrolled in sundry undergraduate or postgraduate programmes, the 'teachers' stepped up for their community in 2020, during the COVID-19 pandemic, to help children who could not access online classes. Now, with schools open again, their focus has shifted to reducing the number of school dropouts.
From a small gathering of students under a flyover, the Sharda Yamuna Khadar Pathshala has burgeoned into one that provides free tuition for more than 300 children of the community that largely depends on agriculture and daily-wage labour. The pathshala has come as a blessing to the community that has a majority of people from Uttar Pradesh and Bihar who have migrated to Delhi over the past few decades.
Even after the Delhi Government reopened schools from April 1, a considerable number of students are still turning up at the pathshala. The Classes are held in two-shifts – from 7 am to 12 am and the next, from 2 pm to 5 pm.
"Those who go to school in the morning come for evening classes and those who have evening classes come in the morning. Otherwise, there are young children and students who no longer go to school here," said Choudhary.
Preventing dropouts
The pathshala, or school, got its first start in 2018 when its founders realised that many school children living in Yamuna Khadar had dropped out after Class 8. The students realised that even after completing Class 8, most children did not know how to read or write.
"We teach them the basic stuff – writing, reading, basic mathematics. Students who are able to do this are taught the school syllabus…The problem was that our juniors, who study in government school, all passed till Class 8 but then they fail in Classes 9 and 10 because their base is not strong. There are lots of students who dropout after failing Classes 9 and 10," said Choudhary. "We are trying to make sure that the students do not drop out. Once they drop out, it is very difficult to get them back to learning again. They might have started working or might have started doing drugs. It is very difficult to bring them back," said Choudhary.
The pathshala has also started coaching students for the board exams.
"Initially, we only taught small children but later, students of Classes 9 and 10 also started to come. Their parents are mostly labourers and cannot afford private coaching. Then, we started providing coaching for them," said Choudhary.
In January 2022, the pathshala also opened a small library. Choudhary and the other teachers also source other books, in addition to those in the library, based on the requirement of the children.
'No electricity, road, water, nothing'
Choudhary, along with his friends Dev Pal and Meena Choudhary and others, all belonging to Yamuna Khadar, started the pathshala in 2018, However, it was discontinued within a year as some of the team members moved on.
It was restarted in 2020, soon after the COVID-19 pandemic hit the nation. With schools resorting to hybrid modes of learning, reopening the pathshala became a necessity. As per Dev Pal, a 27-year-old law student and one of the founders of the pathshala, Yamuna Khadar has no electricity, making online learning impossible.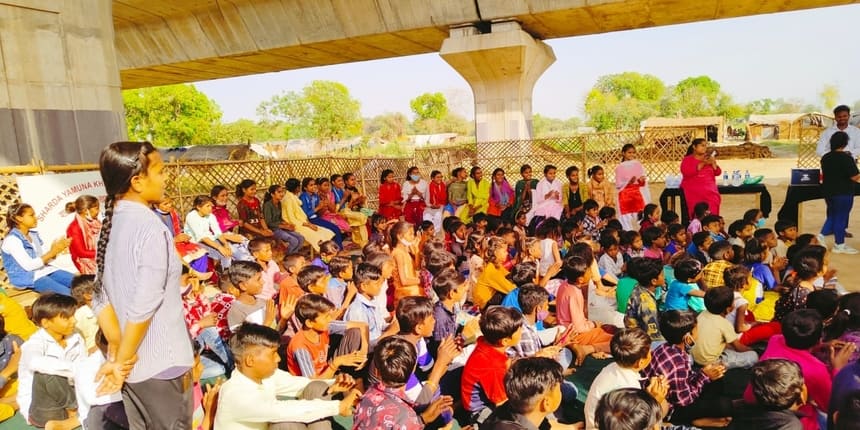 School students at Yamuna Khadar Pathshala
"There is no electricity here. No road, no water facility, nothing. A small percentage of students have phones but there is no electricity. Some students had only one phone in the family. Even that one phone would have a failing battery. They'd use it by swapping the battery," said Dev Pal.
"We thought we would do it only until the lockdown is lifted. The schools gave out assignment sheets. So, we sat with the children to help. Eventually, the number of students increased. It was initially 10-12 students, then it became more than 300 students," said Dev Pal.
The students' initiative also got noticed by well-wishers. In October 2021, the pathshala built a small bamboo hut with furniture made of bamboo with the help of Eka Foundation.
Lack of facilities, politics
However, the problems plaguing the 4,000 families in Yamuna Khadar persist and impact learning. Due to the lack of electricity in the area, only students with solar power at home can study at night.
The Yamuna Khadar community is caught in a tussle between the Bharatiya Janata Party (BJP)-run central government and the Delhi Government, headed by the Aam Aadmi Party. Though Delhi deputy chief minister Manish Sisodia is their member of Legislative Assembly (MLA), the land belongs to the Delhi Development Authority which is under the central government.
Despite approaching both the BJP and AAP members and the High Court, the people of Yamuna Khadar are still without electricity or any other facilities.
"Actually, it's politics, the land comes under the centre, however, Manish Sisodia, is the MLA here. When we approached him, Manish Sisodia wrote to us saying that we are ready to work if the DDA gives permission but DDA did not allow it saying that it is our land and we'll do it. But then they don't do anything," said Dev Pal.
"If Manish Sisodia gives the facilities then the vote bank will shift so the centre is not allowing them to work. This dispute is going on," he said.
According to Dev Pal, the community had filed a petition in the Delhi High Court, in 2019, demanding facilities to be provided at Yamuna Khadar. The High Court passed a favourable order which was later stayed when the DDA approached the court. The members of the community said that they are yet to get a hearing for the case since the pandemic hit.
---
Follow us for the latest education news on colleges and universities, admission, courses, exams, schools, research, NEP and education policies and more..
To get in touch, write to us at news@careers360.com.