We have one ISRO, we need an ISRO for Chemistry, Mathematics, Physics, Environment: Prof. K Vijay Raghavan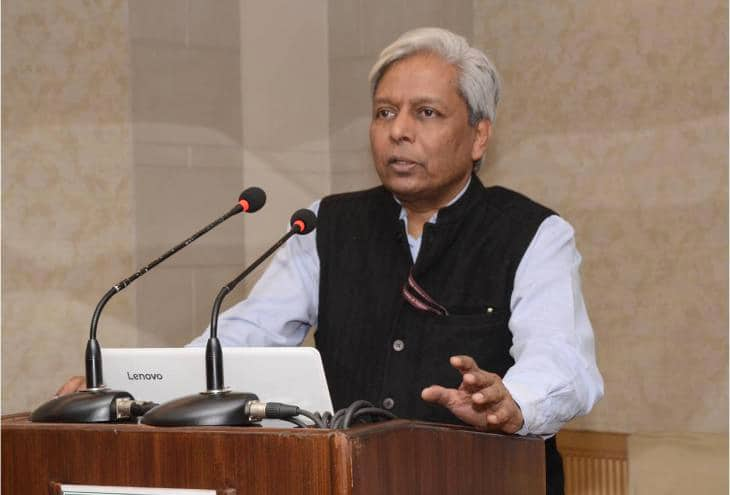 Prof. K Vijay Raghavan, Principal Scientific Adviser to the Government of India speaks to Abhay Anand on bringing science closer to the people and the need for increasing research funding in state universities...
4 min read
Mar 05, 2022
Q. You got into science at a very early age, how do you describe your early days' journey at IIT Kanpur?
A. I joined IIT Kanpur as a student and I can say it is one of the best places where engineering is combined with science so that you get exposure to top quality scientists and not just engineers. That environment really stimulates engineering.
While doing Chemical Engineering, I also got attracted towards Biology because of its terrific library there and I also got the opportunity to work with a very good supervisor there like Dr J P Gupta, who was interested in Bio-Medical Engineering. After completing my B.Tech and Master's, I was planning to go abroad for PhD, but at that time I got a chance to work on a research paper in biology by Prof. Obaid Siddiqi and so I decided to move to biology.
Q. You have spent several decades doing research. While if we look at India as a whole there are very few people who are doing quality research. How do you look at it?
A. I think your point is half right as good research is indeed happening in India and it would be incorrect to say that India is lacking in quality research, there has been extraordinary high-quality research that has happened in the country over the last 70 years.
The reason why people think that lot of work has not happened is that the total number of people working in Science are very small looking at the pool of people India has, in comparison with that of the rest of the world. Looking at the overall picture, India has done very good in the area of science so far and we have got some excellent post-independent scientists.
Q. Do we have less number of people getting into science and research because there is not much encouragement in terms of funding, recognition and time that they need?
A. There are two kinds of funding requirements, one is for those who get funding, they actually get quite a lot, and these are all in central government institutions or in very high-quality research institutions.
Right now the majority of research funding goes to the central government institutions and to some very high-quality research institutions. They get 95 per cent of the funding and as per international standards, they are well funded.
A huge injection of money is needed in state universities where 95 per cent of our students are enrolled. There the injection of money is needed and it must go up.

Q. Should the Centre get itself more involved in this process as right now most of the universities are state universities and the centre should provide them with more funding for research?
A. There is no problem right now for state universities to get money as such in theory, as long as they put in good research proposal, but we don't get good proposals from state universities. This is a chicken-and-egg problem.
So, two things need to be done and that's what our current plan is for the next few months. Our major programme for the next few months is going to be to push for interaction on science between our central institutions and state institutions so that research programmes are instigated in state universities. Then in parallel have rather a large chunk of funds created for funding research in state universities.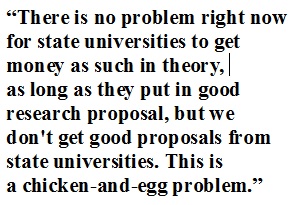 Over the next year, we will see some major announcements with a substantial increase in research funding, primarily for state universities. We are also working on increasing research funding fromindustry and finally, we are going to see a lot of philanthropy interactions. So, we are on an exponential rise, both in terms of breadth and amount of science funding.
Q. How do you look at the practical application of research being done in Indian higher education institutions?
A. One thing that impresses me is the work in our agriculture sector, in engineering, medical sciences and how much technology they use. However, they do not get much attention to what they deserve. They need attention to get inspired and motivated. A smaller group of basic scientists also need to be inspired by creating watermark big programmes for basic science.
But in India, putting proposals which would take basic science to the common people and people to science, our scientific community ash not been very active in this area. Like our environmental scientist would say environmental research is very important, surely it is important but, put it in a big proposal like the prevalence of insects over the last few decades and how we want o change. So, unless you put in a cause-related proposal, it will not have an impact.
Q. Is this problem also because the scientific community do not interact much among themselves?
A. You are right that scientists do not interact much with each other, but there are few things which are needed to be done for science at large scale. The first thing is you need fire in the belly at not just individual level, but at the level of the institution as well, our top institutions have become post offices, they interact with outside but not inside. Leadership in these institutions and community groups are needed to formulate programmes.
Just like we have an ISRO, we need an ISRO for Chemistry, Mathematics, Physics, Environment and that needs to come from the institution. The Government will say that we need a programme XYZ area but unless it is also matched by the thrust from below, it will not work.
Our basic scientists have done a good job in partnering internationally but, they need to now partner locally and drive big projects of this kind.
---
Follow us for the latest education news on colleges and universities, admission, courses, exams, schools, research, NEP and education policies and more..
To get in touch, write to us at news@careers360.com.