Why a lawyer is campaigning for 'plain English' in LLB course
Why a lawyer is campaigning for 'plain English' in LLB course
A Delhi advocate has moved Supreme Court with the plea to introduce "legal writing in plain English" as a compulsory subject in law schools. Is this necessary or even feasible?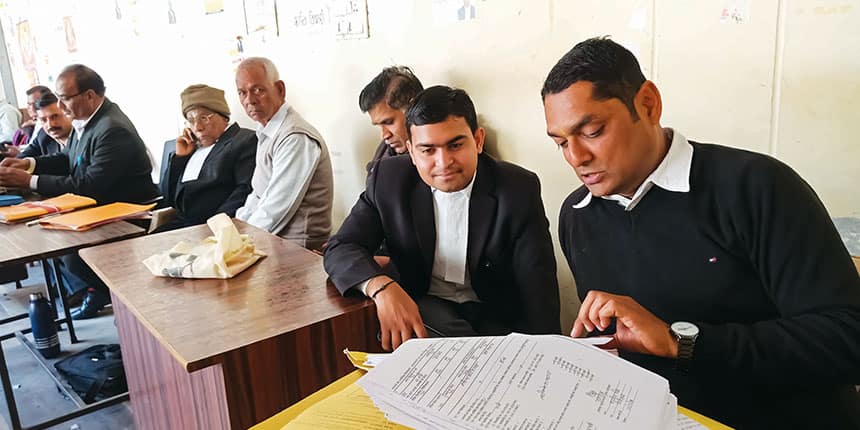 NEW DELHI: In August 2020, Delhi-based advocate Subhash Vijayran filed a public interest litigation (PIL) in the Supreme Court on the language used in laws, judgements and government orders.
Vijayran believes the language in legal documents should be simple so that it is accessible to the common man. He is, therefore, pushing for the introduction of a mandatory subject, "legal writing in plain English", in law programmes across the country.
His petition argues that legal documents tend to be excessively wordy and full of "arcane phrases" and, therefore, inaccessible to the common man. The petition also recommends simplifying government notifications and orders.
However, the petition which recommends that the legislature "should enact precise and unambiguous laws in plain language" does not strike a chord with everyone. Several academics pointed out that laws are designed to cover all possible scenarios and situations. The language of laws, they argue, is necessitated by their function.
'We become verbose'
Vijayran's petition is not a one-off. It is part of a broader movement across countries that seeks to exclude archaic terms from modern legal writing.
"The [language used in] United States of America, for example, is more opaque than ours. But countries such as the United Kingdom and Canada have tried to introduce measures to simplify the law to make it more accessible to people," said Srijoni Sen, chief executive officer of nyaaya.org and faculty-member at National Law School of India University (NLSIU) Bengaluru. Nyaaya.org is a website that provides information on legal matters in
simple language.
Proponents of the simple-language movement have pointed out that some of the jargon used in legal documents and drafts tends to have outdated terms that confuse more than convey.
Vijayran's petition says: "We use eight words to say what can be said in two. We use arcane phrases to express commonplace ideas. Seeking to be precise, we become redundant. Seeking to be cautious, we become verbose. Our writing teems with legal jargon and legalese."
The petition to introduce legal writing in simple English in law schools is to address this problem, the petitioner argued. "Lawyers need to put in extra effort and revisions to make their pleadings clear, crisp, concise and accurate. This would remove the considerable burden off the judges, who otherwise have to struggle their way through a jungle of verbosity," says the petition.
Practice and tradition
Sen said that much of this verbosity comes from tradition.
"There is a tendency to not focus on the immediate matter and explain matters that are peripherally relevant. That could be changed and addressed directly," Sen said.
"The issue arises because a lot of this is carrying over from practice. While drafting, no one is sitting down and writing afresh. They usually refer to what came before. In that sense, law as a discipline tends to preserve and look backward. But this can also encourage certain forms of usage that might not make sense," Sen said.
The petition argues that this form of convoluted, indirect writing is delaying judgments and therefore, justice, for the common people.
"The way laws are enacted, practiced and administered in our country violates the fundamental rights of the masses by denying them access to justice," Vijayran's petition says.
A popular proposal from this group is to draft two versions of a law. One, the traditional way, and one for the common people. Academics agreed that the focus should be on making the law or the legal document more direct and using real-life experiences and examples for clarity.
A simplified version of the privacy policy, for example, will help people understand what they are agreeing to," Sen added.
Problems with rephrasing
Even those advocating for simplification concede that the process will not be easy and, in some cases, may not even be possible. They explained that much of the traditional writing is repeated to imitate a way of phrasing that avoids loopholes in the legal document.
"You can't also make a sweeping statement that all laws tend to have too much legalese. There will be consequences in reframing them in a certain way as it may not cover certain loopholes that the earlier phrasing did. Because this has not been tested while the earlier one has been for years," Sen said.
Legal writing is intended to pre-empt all sorts of situations and phrasing it one way or the other might have an impact on how it is interpreted.
"Writing such as contract writing is standardised for a reason. For example, there is this act of god clause where the law lists possible exceptional situations. Now, if one situation is left out or dropped, you don't know how it will be interpreted,"
Sen said.
Lawyers get it
Some academics believe that even if such reform was to be attempted, it would not bring decisive change.
"The trials would still be in English and certain terminologies will be used to refer to particular aspects. The people will still need to come to lawyers at the High Courts and the Supreme Court to represent the case. Even in the lower courts, [exchanges] are mostly in English and otherwise, in Hindi," explained Anjali Thanvi, chairperson of Legal Aid and Awareness Committee at National Law University, Jodhpur.
Incidentally, the National Education Policy 2020 does recommend "bilingual education for future lawyers and judges" in state institutions. This is mainly intended to help students and litigants of a region.
However, academics pointed out that lawyers who have been learning the profession for years understand and indeed need to use technical jargon. "A common man may understand what surgery is but that does not make him privy to the intricacies of the practice. Similarly, in law, the jargon makes sense to the professional lawyer," said Thanvi.
There are also disagreements over whether laws and legal documents are indeed convoluted. "The fundamental principle in [framing a] law is to avoid ambiguity. I don't think any law or judgment is written to be ambiguous. Rather the purpose of law is to avoid confusion and be direct about what it is addressing," said Thanvi. "I don't think any law school teaches legal writing in a way that makes it more confusing," she added.
The Supreme Court, in mid-October, sought the central government's response to the proposal on introducing plain writing for drafting law, notifications and government orders.
Write to us at news@careers360.com.